FASTSIGNS® of Allen, TX recently donated a vehicle wrap for Patrol Stories, a local organization that fosters positive interactions between Law Enforcement and the communities they serve. The program includes the children's character, Officer Maxwell, designed as a symbol of hope, trust, friendship and respect, who provides a great role model while encouraging morals and good character. Other characters include Officer Maxwell's dog, K-9 Cruz, and their easy-to-recognize Maxwell Mobile named Smitty.
Patrol Stories came to FASTSIGNS in need of an eye-catching way to get their message out into the community through The Maxwell Mobile. Officer and Founder of Patrol Stories, Justin Delacruz, shared his vision with Kevin Kendall, franchisee at FASTSIGNS® of Allen, TX, who was excited to shine a positive light on law enforcement, patriotism and their community.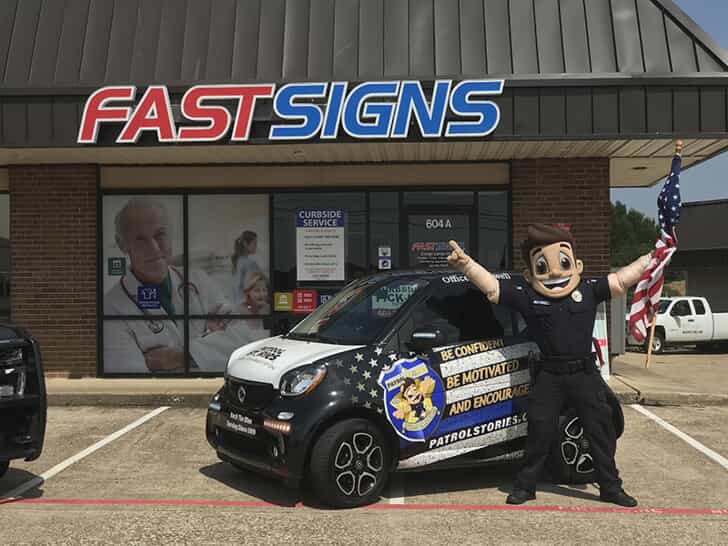 "He immediately stepped up and offered to help with whatever I needed. His support really moved me, and they have been so generous and awesome throughout the entire process," said Officer Delacruz.
Kevin and his wife, Shelly Kendall, are both children of fathers who were policemen, so this project hit close to home for them. After the team at FASTSIGNS had the details, they quickly completed the car wrap within just a few days. The small branded car will simulate a regular police car and will be fully outfitted with lights as well.
"We were thrilled to help Officer Delacruz with this incredible project," said Kevin Kendall. "We wanted to support him and this organization for the positive impact they are making in the community."
Allen Police Department Officer, Justin Delacruz, created Patrol Stories with his own funds to help bridge the gap between Law Enforcement and the community by creating positive interactions between them. What originally began as videos where he shared his daily experiences as an officer has grown into a robust program that educates and entertains children ages 4 to 12. The Allen Police Department is the first to roll out the program, and Patrol Stories looks forward to sharing the program with other cities and police departments for future adoption.
"When I began Patrol Stories, I knew it was a perfect opportunity to learn from our communities and understand some of the things our citizens felt were missing from local policing, including being more active in our communities, showing the humanity of everyday Police Officers and creating positive interactions between Law Enforcement and our citizens. Officer Maxwell and our programs allow us to do all that and more," said Officer Delacruz.
In addition to teaching students the importance of 911 safety, the program also helps build character through The Little Heroes Program, which honors youth going above and beyond in their community and Together, We Can, a program that focuses on anti-bullying efforts.
Officer Maxwell visits schools where he hosts Storytime with Maxwell and engages students in games, challenges and activities. Officer Maxwell has also made appearances at birthday parties and parades, interacting with over 450 children and families during the pandemic. The Patrol Stories crew is now involved in Summer School programs and hosting events such as Popsicles in the Park that provide fun ways to bring citizens and Law Enforcement together.
"This program builds a bond between the community and law enforcement, which we believe is needed at this time. It's been encouraging to see people come together in support of local law enforcement," said Officer Delacruz. "We can build stronger communities if we work together. There's common ground among us all if we look for it and implement it in our daily lives. Together we can and will create a better future and positive connection between all our citizens and Officers worldwide through programs like Patrol Stories."
For more information on Patrol Stories, and to learn more about the upcoming book, "Patrol Stories, the Adventures of Officer Maxwell and K9-Cruz" that will be available Thanksgiving 2020, visit the website here and their facebook page here.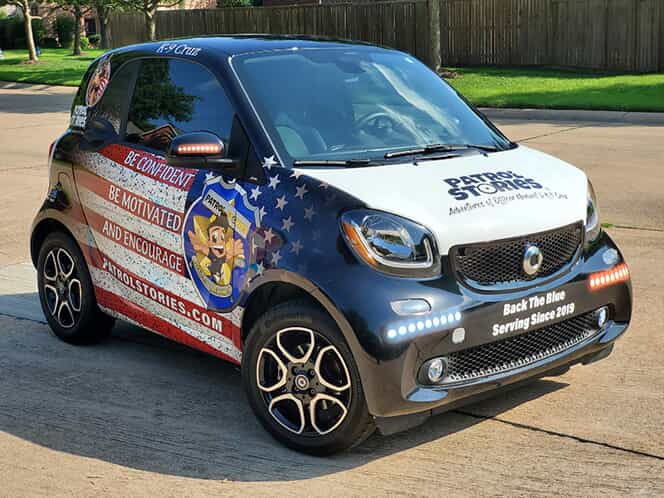 About FASTSIGNS®
FASTSIGNS® of Allen, TX is a locally and independently owned and operated sign, graphics and visual communications company that provides comprehensive visual marketing solutions to customers of all sizes—across all industries—to help them attract more attention, communicate their message, sell more products, help visitors find their way and extend their branding across all of their customer touchpoints including décor, events, wearables, digital signage and marketing materials. To learn more, visit fast-signs.com/allen-tx/ or call (469) 820-3719.