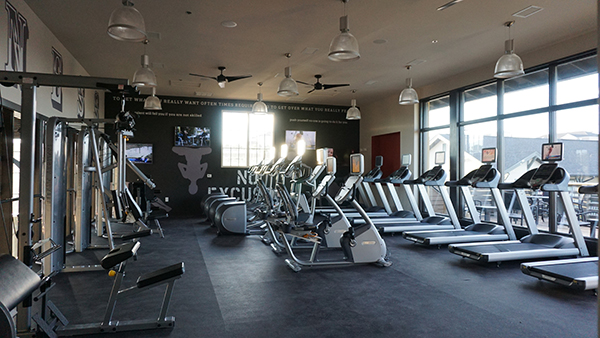 The fitness industry has flourished in recent years as Americans have become more health-conscious. In fact, Americans bought 54 million health club memberships and made more than 5 billion trips to the gym, according to the International Health, Racquet and Sportsclub Association. That's an 18.6-percent increase in memberships since 2008 at more than 34,000 clubs across the country. All of that momentum has increased competition and has gym and fitness centers looking for new ways to engage members and guests. Here are a few ways health clubs are transforming the gym experience through signage.
Performance Metrics
Self-improvement is the name of the game in today's gym environment, and digital signs are giving members the opportunity to track their daily progress. Keep lap times, measure heart rates and record workout regimens on a network of displays throughout the fitness center. These screens, installed as an extension of workout equipment and as shared kiosks, allow each gym member to compete against themselves -- motivating them to get back on track or improve on their last workout.
Virtual Workouts
Many people team up with a friend of family member and become workout partners. For those unable to get to their friend to the gym, or maybe someone just looking for a new workout experience, a virtual workout might be the answer. These interactive workouts use digital technology to project a workout partner that can guide, challenge or even take a swing at you. Yoga, aerobics and boxing are popular virtual workouts that combine fun technology and exercise.
Promotions
One of the most practical ways of using signs around the gym is advertising. Digital displays are capable of letting members know when they can bring guests, highlighting new classes, or inviting potential instructors to audition. These screens are some of the best ways to maintain consistent communication and increase member participation.
Scheduling
With multiple classes, instructors and the ever-shifting schedules of gym members, it's important to keep the fitness center's schedule updated and accessible. Many gyms are using scheduling kiosks at their facilities in addition to scheduling apps to make sure classes are full or available for those who would like to participate. Gym members can simply look up the day and time of their desired fitness class or equipment and reserve their spot. As schedules change, members can check in to see if any spots have opened up or give up their spot in the case of a sudden change.
Etiquette
The popularity of fitness centers means a diverse set of people using a relatively small amount of space. Some members have a lot of experience while others are new to the gym, which can cause confusion and some potentially uncomfortable situations. Be sure to prominently post gym rules and expectations throughout the center. These signs include any ADA signs required by law so that all gym members can feel comfortable and get the most out of their experience.
As the calendar turns, gym memberships are expected to once again increase at a steady rate, and that's a good thing. Many Americans can be uncomfortable or intimidated by a new gym, but with an extensive network of signs and digital technology, fitness centers can be a welcoming community and valuable investment for Americans looking to improve their lives.
Resources
http://www.ihrsa.org/news/2015/4/22/health-club-industry-continues-impressive-growth.html