Reaching your prospects and customers during a professional presentation event is all about achieving brand impressions, getting people excited about the venue and creating new event strategies. Whether you plan a large-scale event such as a trade show or convention or need to organize a quarterly sales training initiative, client appreciation event or VIP dinner, here's a checklist of the 5 things you should consider before planning your next business presentation or company event.
1. Location, location, location
By selecting the right location and venue, you can make all the difference during the planning and implementation of a successful event. When you reserve the site or location, be sure to visit the property before signing a contract. Ensure that the size and shape of the room is appropriate for your expected attendance and planned presentation. If you have speakers, ensure that there is room for a stage, podium and A/V setup. Once you reserve a site for your event, ask for a map of the room that you can consult as you finish your preparations for the space.
2. It's all about the details of décor
Share your vision with your event planner and catering team. Many venues have a selection of linens, centerpieces and china you can choose from. While these choices are typically complimentary, the décor may not provide the look you want to achieve. As you review the options available at your venue, you can determine how to build and plan décor based on your event theme. Coordinate linen and china with the centerpieces and other décor. Local rental companies can provide full event packages or supplement what your event site may already provide for your event. Make your event visually appealing with custom linens, chairs, chair covers with sashes and floral centerpieces. The venue may also provide lighting options such as "pin spots" as a stunning addition.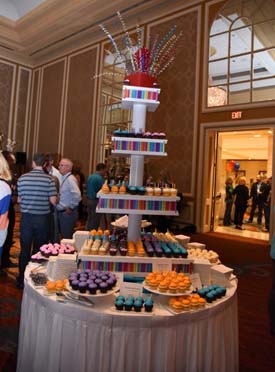 3. Serving up an experience
A meaningful event experience can help you engage, motivate and inspire your attendees. From the menus to your choice in décor, you can serve up memorable meetings or conferences that transform mediocre meals into dining experiences. Work with your catering manager to create something special for your guests. You can often ask the venue's chef to create a special menu based on what is seasonal or find out about specialty items that may not be offered on printed menus. If your event or presentation is lengthy, you may consider presetting salad and dessert items to avoid excess noise. If the presentation is short, you may consider serving everything to lengthen the luncheon and provide a polished presentation. Presenting each course simultaneously at the table can provide an impressive touch.
4. Coordinating the main attraction
Your presentation or speaker can provide an emotional connection to make the event memorable. When attendees enter the room, play music and consider opening the lunch with a relevant video. Work with the venue staff to arrange for a stage, screen, podium and microphone. Additional tips for coordinating the presentation component of your event: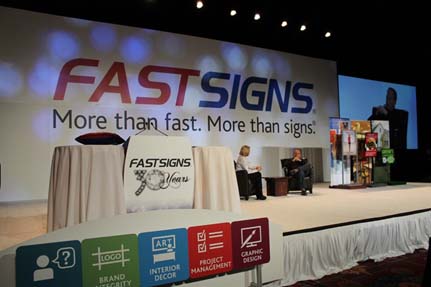 If you utilize a screen, ask for a dress kit to make the presentation look more professional.
If you have multiple speakers scheduled, a handheld wireless microphone provides mobility and smooth transitions between presenters.
Set up a projector with the cables needed to connect to the main laptop for the presentation. Ask for a remote to allow advancement of the presentation remotely from the stage.
Hold a dress rehearsal of the presentation prior to the event, if possible. This will help you pinpoint and resolve any noise issues or other technical difficulties in advance of the live presentation.
Make sure your AV company has a representative in the room for the entire presentation to assist with any unexpected issues.
Utilize podiums, backdrops and stage wraps for event branding purposes. Place your logo and brand message throughout your venue to serve as a backdrop during the presentation.
5. Determining Gifts and Giveaways:
Unique gifts and giveaways is a great way to "wow" attendees and keep them thinking about you after the event. Choose an item that fits your company or organization's mission. For example, if you are a tech company, personalized charging pads or logoed USB drives are a great way to reinforce your brand. Consider having the gifts at each table prior to the presentation. If you are hosting a valet-only event, ask the valet team to place a note and gift in each attendee's vehicle. This shows appreciation for their attendance, but keeps your guests from the burden of carrying the gift from the event.