Casey Wagoner Receives Bronze Sales Award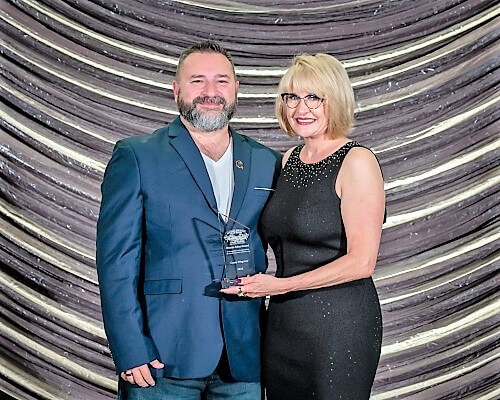 (DALLAS, TX) August 30, 2022 – Casey Wagoner, Outside Sales Professional at FASTSIGNS® of East Dallas was recently recognized at the 2022 FASTSIGNS® Outside Sales Summit in Indianapolis, Indiana.
Casey Wagoner received the Bronze Sales Award, which recognizes outstanding achievement of Outside Sales Professionals who generated record sales from July 1, 2021 to June 30, 2022. With over 760 independently owned and operated FASTSIGNS centers in 8 countries worldwide, 107 Outside Sales Professionals in the FASTSIGNS network received this award.
"We are so proud of Casey for his outstanding sales achievements; he deeply cares about helping his customers accomplish their goals, and goes above and beyond for our customers to ensure they receive excellent service and quality products," said Jason Myers, owner of FASTSIGNS of East Dallas. "We look forward to continuing to help local businesses and organizations solve their communications challenges with innovative sign and visual graphic solutions."
Casey helps businesses and organizations of all sizes and industries promote their brand, increase their visibility, communicate their message, and get people where they are going.
FASTSIGNS of East Dallas is open from Monday through Friday from 8:30am - 5:30pm.
About FASTSIGNS®
FASTSIGNS® of East Dallas is a locally and independently owned and operated visual ideas company. FASTSIGNS is an industry leader that began over 35 years ago and has over 760 centers in the U.S. and internationally. We celebrate the spirit of creativity and the power of possibilities. Working with FASTSIGNS can leave a lasting impression for your business. What we make together is a brilliant reflection of your brand, your personality…your statement.
FASTSIGNS is frequently recognized for franchisee satisfaction and through franchising awards which include being ranked #1 on Entrepreneur's Highly Competitive Franchise 500® List for the sixth consecutive year for 2022 as well as being named a 2022 Best-in-Category Franchise by Franchise Business Review. Let us help you "Make Your Statement." Visit www.fastsigns.com/630 or call 469-206-3488.
###