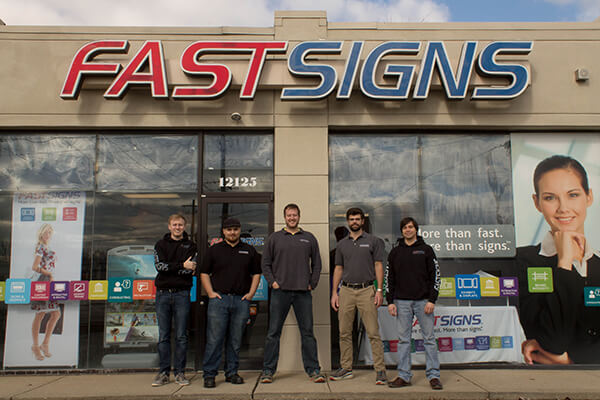 Whether you're looking for a new logo to brand your business, new graphics to attract attention or distinct signs to communicate your message, have you ever wondered what happens behind the scenes? Take a look into the life of a FASTSIGNS® graphic designer. Stephen Pierce from FASTSIGNS of Cincinnati, OH – Mason shares his design philosophy, creative process and why he loves his job.
Tell us about how you started in graphic design and the visual communications industry.
My background is fine art and graphic design. The blending of art and design influenced me to pursue design as a career. Just like great art, good design can communicate big messages. When I started my career, I worked for a national trade show exhibit company making large displays, structures and graphics. The value of clear and strong communication became apparent. Fast forward ten years later to 2016 and I am still applying that same methodology to create eye-catching signage and visual graphics at FASTSIGNS.
Do you work with other team members and what are your roles?
We have five team members. Jon is the Owner and fills all roles including design and production. Adam is our Visual Communications Consultant. He places orders and collects vital information from clients so when I receive it in the design department, it's ready to create. Charles is our project manager and oversees each project to ensure accuracy. He also plays a large role in production and installs. Chad is our Production Specialist. He ensures sizes and the final product meet the customers' requirements and finishing needs.
What types of graphic design and signage projects do you help customers with?
I help customers with many kinds of projects ranging from simple directional signs to complex wall murals for a corporate headquarters with art and photography. Other projects include vinyl decals, logos, vehicle graphics, banners, educational posters, fine art prints, labels, packaging and business cards among many others. My favorite part of being a graphic designer at FASTSIGNS is helping a new business brand their company. Creating the logo, color schemes, fonts and overall esthetic of a brand is an exciting process.
Can you give an overview of your center's creative design process?
Our center's design process starts with understanding the client's needs and offering a variety of solutions. This means helping the client by presenting different solutions that are effective for their needs. Sometimes a client may not know how to reach their end-user, the customer. We offer a different ideas and perspectives that they might not have originally thought of. Customers come to us for our expertise. We are confident and can deliver many solutions to solve their challenges.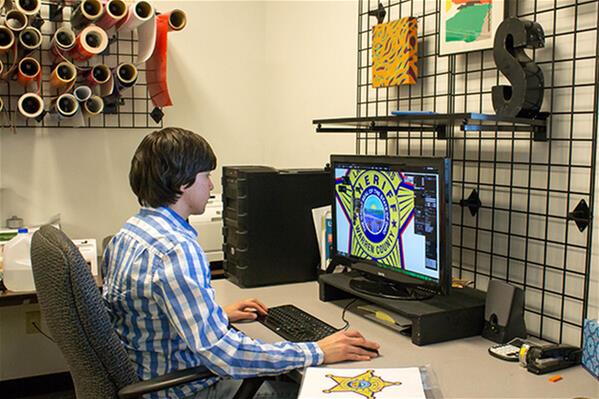 How do you and your team get design inspiration?
We get inspiration from many sources. We look at past projects and solutions to see what was successful and what will work in the future. Looking at how successful brands have navigated their designs over time and have become icons can help us understand what works and what doesn't. Trying new, unseen styles and designs is important to us too. There is nothing like blowing a client's mind with a fantastic design they may have not been expecting!
What is your favorite part of graphic design?
My favorite part of design is the challenge of working within certain limitations and producing something special. Taking complex ideas and distilling them until only the most necessary remains. Coming up with a beautiful solution is so satisfying. Design is about the purest sense of communication and that starts with how something looks, works and feels.
Can you share a unique project or design concept you've completed recently?
We rebranded a local and somewhat famous cigar and smoke shop. The fonts and letters that identified their building and literature didn't represent the store's high-end tobacco and cigar offering. They needed sophistication and strong branding. I recreated their logo by incorporating a tobacco leaf texture and using black and gold font colors to reflect luxury and class. Now, potential customers driving past the store can easily identify the tobacco and cigar shop without even having to read the name. We extended the new brand identity to business cards, building signs and many other visual graphics.
FASTSIGNS of Cincinnati, OH – Mason is owned by Jon Blum