(WINDSOR, Ontario) —In honour of Windsor's 125th anniversary and Canada's 150th anniversary, local sign and visual graphics provider FASTSIGNS® of Windsor announced it will donate part of every sale of 2017 to the Windsor Veterans Memorial Services Committee and the Downtown Mission of Windsor. The charity campaign was created to celebrate the Windsor community by supporting local organizations that also represent Canadian values.
Owners Jackie Raymond and Donna Bilodeau were one of the top five winners of the 2017 FASTSIGNS Cares out of more than 650 centers worldwide for their extensive support of their community through philanthropic efforts in 2016. And, although they plan to continue to support the other charity causes through their various donations of time, communications expertise, products and money, they wanted to create this specific program from pride of citizenship.
"As proud Windsorites and proud Canadians, the team at FASTSIGNS of Windsor have many ways to celebrate our city and our country's birthdays this year. With a strong sense of community and a pride of our history, we have chosen to include in our celebration a giving back proposition," said Raymond.
"We are acutely aware of the sacrifices that our Canadian Military Veterans have made, how they have changed the world and that their courage has paved the way for our freedom and our lives.  It is not enough to just be grateful, we want to show our appreciation by donating to the Windsor Veterans Memorial Services Committee," added Bilodeau.
They said they count themselves among the fortunate to have jobs, homes and enough food to eat. In appreciation of their good fortune, they want to work harder to share and help those who need a helping hand. With a nod to the 150th anniversary, FASTSIGNS of Windsor will donate $1.50 of every order all year long.
"The Downtown Mission of Windsor has been a beacon of hope and light for those in our community who are seeking emergency shelter, a hot meal, or a food pack for an individual or family.  For the past 45 years they have been focused on serving and advocating for those who struggle with poverty and homelessness.  We consider it an honour to be able to provide what support we can."
Previous years' charity participation by FASTSIGNS team members was often accomplished alongside some of their customers. Raymond and Bilodeau hope that creating this campaign by FASTSIGNS will generate even more contributions and even engage more of their customers.
As part of FASTSIGNS Cares in 2016, FASTSIGNS of Windsor promoted a series of charity focused campaigns, such as discounts to certain orders, donating signs for philanthropic events, donating door prizes for non-profit fundraisers, and committing a percentage of sales for periods to be donated to charities. It was the documentation of these and their team's and their own personal volunteer participation in so many events which catapulted their center to the top five centers worldwide.
In  2016, FASTSIGNS of Windsor directly provided support to the following local charities: CIBC Run for the Cure, Sparky's Toy Drive, Raise-a-Reader, Erie Wildlife Rescue, Canadian Red Cross, Tim Horton's Smile Cookie campaign/John McGivney Children's Centre, Ronald McDonald House, Ontario Federation of School Athletic Associations, Forest Glade Baseball League Peewee and Select teams, Friends of the University of Windsor Invitation High School Basketball Tournament, In Honour of the Ones We Love, Habitat for Humanity, and Windsor-Essex Care for Kids Foundation (W.E. Care for Kids).
Also, through their customers, FASTSIGNS of Windsor provided support to Dakkota Integrated Systems' United Way/Centraide Windsor-Essex County, East Windsor Cogeneration Plant Golf Tournament, "Love, Betty" Cancer Foundation and the community food pantry.
Our entire team are Proud Canadians and Proud Windsorites!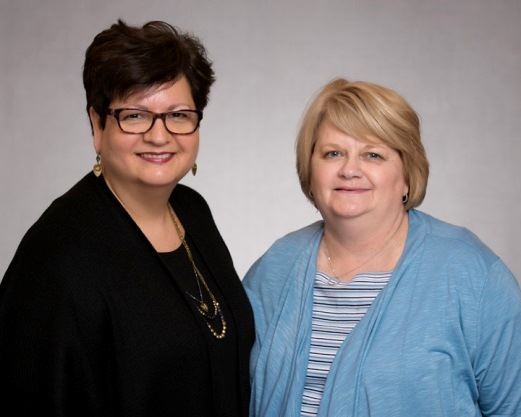 Jackie Raymond and Donna Bilodeau
About FASTSIGNS®
FASTSIGNS® of Windsor is a locally and independently owned and operated sign, graphics and visual communications company that provides comprehensive visual marketing solutions to customers of all sizes—across all industries—to help them attract more attention, communicate their message, sell more products, help visitors find their way and extend their branding across all of their customer touch points including décor, events, wearables, digital signage and marketing materials. To learn more, visit fastsigns.com/658 or call (519) 948-8181.