FASTSIGNS of Brandon Brings Vehicle Wrap to Life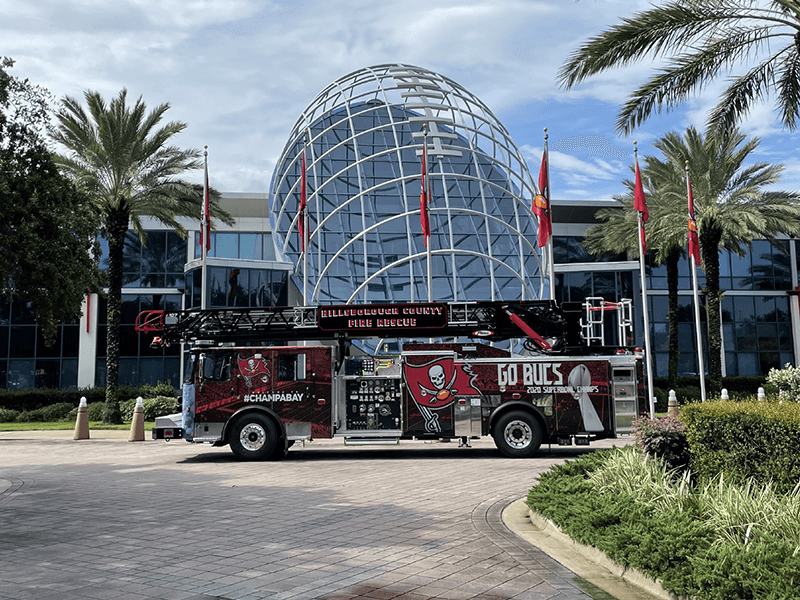 (BRANDON, Flo.) September 24, 2021 - It's not every day you see a fire truck representing all your favorite Tampa Bay sports teams, but that's exactly what recently happened. FASTSIGNS® of Brandon has worked closely with their sister locations in Orlando-Lockhart, owned by Rod Thompson and FASTSIGNS owned by Jack Codron, on design and printing for this incredibly unique project.
"My colleagues and I are all huge sports fans so this opportunity was a blessing," said Rod Thompson, franchisee at FASTSIGNS. "While we produce various types of signs, these jobs keep it all interesting and fun. It was extremely motivating and fruitful to see the finished product."
Prior to completion, The Fire Department had to get permission from each of the Organizations to use their respective logos. The project took six working days to complete.
Rod Thompson's team created the truck design from scratch, taking it from concept to completion. With the help of his production department composed of Bianca Diaz, Matt Leslie and Stacey, and the job being managed by Samantha Graves and Krystle Hugger, they did an amazing job with no mistakes on getting precise measurements and outstanding printing.
Then, Jack Codron and Will Couch's team stepped in and closed the deal in Rod's absence when he contracted COVID-19. The entire vehicle wrap is not only a piece of art but is now a staple in the community. It has been many years since Tampa has been a champion in any sport; now they are multi champs across many beloved sports teams.
"The details on the fire truck are unlike any wrap I've ever seen, and I am so proud to be a part of something of this magnitude," said Will Couch with FASTSIGNS. "The Chief mentioned that this truck was aimed to help the first responders, to boost morale during these troubling times. We believe it will do just that."
FASTSIGNS is located at 2020 W Brandon Blvd, Brandon, FL 33511, and the center is open Monday through Friday from 8:30 a.m. to 5:00 p.m.