University of Mobile

The Challenge
University of Mobile was renovating the Weaver Hall, Center for Excellence in Healthcare. As a Baptist University, they wanted to incorporate Bible verses and photos to showcase their students throughout the interior of the building.
The Solution
FASTSIGNS® created and installed a comprehensive solution for the University of Mobile. They installed a University of Mobile exterior sign made of black acrylic letters onto a low brick wall. They also installed a pylon sign on aluminum posts made of aluminum composite with a black background and white lettering that highlighted the College of Health Professionals, the Department of Natural Sciences and the University Administrative Offices.
For the interior, Bible verses were mounted in brushed silver laminate acrylic dimensional letters at different thicknesses to put more emphasis on certain words. Other dimensional letters highlighted "Know" and "Be Known", as well as designating their Center for Excellence in Healthcare Practice. Large acrylic pieces with standoffs were placed throughout the main lobby and stairwells creating a photo collage to highlight their core values. In an effort to make the signage versatile, FASTSIGNS used two pieces of acrylic so the photos could be easily interchanged.
A 32-ft timeline wall with vintage college photographs was created. For a consistent look, they used all Black and White images and included their Ram Red school color and decade dates as dividers between the photos. The team also created all ADA signage for these new rooms.
Since the Board Room had moved to a new building, FASTSIGNS added an additional branding piece to their conference room table with leather computer place mats displaying their embossed seal. The board of Trustees photos were printed on acrylic with standoffs and dimensional letters were installed above the photos. Branded mats were created for the front lobby for additional branding.
The University of Mobile has a special tagline "Higher Education for a Higher Purpose," which FASTSIGNS added in the hallway outside of the president's office.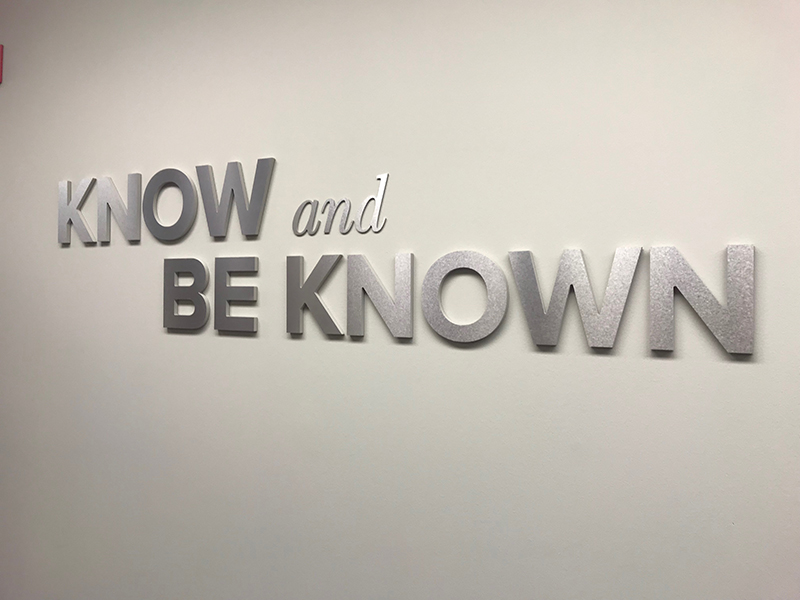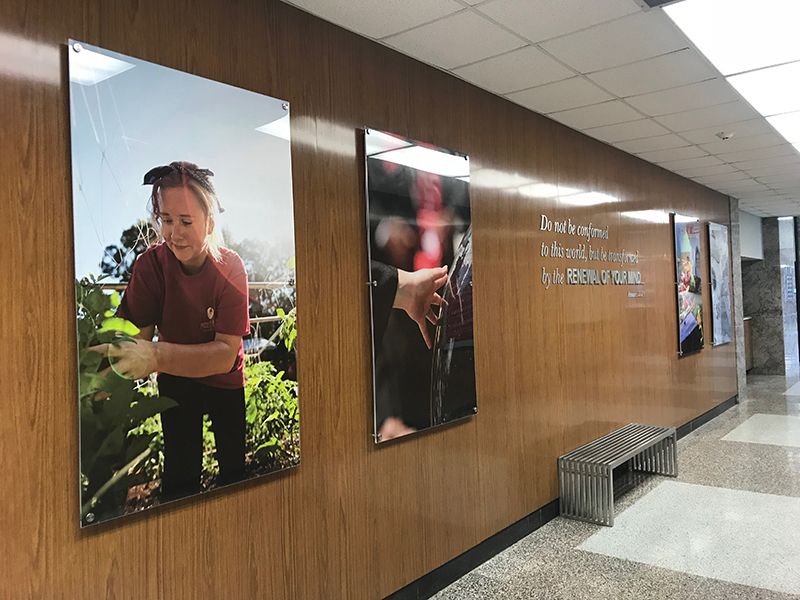 The Result
The ribbon-cutting event was a success and students were excited to see themselves in all the photographs. One student had the pleasure of seeing his grandfather in the historical timeline which highlights University of Mobile, past and present. University of Mobile has already approached FASTSIGNS about plans for another 32-foot signage wall in another building on campus.

*FASTSIGNS of Mobile, AL is owned by Pauline McKean.