FASTSIGNS of Apopka Business Development Executive Honored by Apopka Area Chamber of Commerce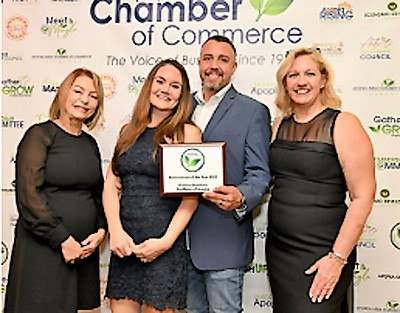 (APOPKA, Flo.) December 13, 2022 - Charles Chambers, Business Development Executive at FASTSIGNS® of Apopka, was awarded the Apopka Area Chamber of Commerce's 2022 Businessman of the Year Award.
Charles has been with the FASTSIGNS Apopka family for four years, where he quickly made his mark in the industry and the local business community. In 2019, he completed his FASTSIGNS International Sales Certification and immediately in 2020 and 2021, he was recognized among the top FASTSIGNS professionals in the industry receiving a Bronze Award despite the challenge of COVID 19 to the industry and local economy. He is an excellent example of dedication and excellence. It is no surprise that this year, he hit a personal goal and walked the national stage at the FASTSIGNS International Summit to receive a Silver Award for his increase in sales.
Charles is an Apopka resident, husband and father. His dedication to the Apopka community is evident as continues to merge the gap between professional life and community commitment. He served as an Apopka Area Chamber of Commerce Ambassador and on the Board of Directors, and he will start his term as Chairman Elect in January 2023.
"I'm humbled by this recognition and look forward to continuing to make an impact in the Apopka business community," shared Charles Chambers. "I love what I do, and I love that I can do it right here at home. I not only get to make a big impact on my clients' bottom line and change how their clients see them, I also have personal growth opportunities like representing my company in local leadership. It is truly a blessing."
"This is what it is all about for me as a business owner," said Rod Quick, Franchisee and Owner at FASTSIGNS of Apopka. "Providing my team with resources they need to succeed is one thing, but seeing them develop individually, take initiative and win at high levels is the ultimate reward. I'm honored to have Charles as a part of my team. He's a team player, goal oriented and has a true spirit of excellence. I am incredibly proud of what he is accomplishing."
FASTSIGNS of Apopka is located at 3030 E. Semoran Blvd, Ste. 156 and is open from Monday through Friday from 8:00 a.m. to 5:00 p.m.
About FASTSIGNS®
FASTSIGNS® of Apopka is a locally and independently owned and operated visual ideas company. FASTSIGNS is an industry leader that began over 35 years ago and has over 760 centers in the U.S. and internationally. We celebrate the spirit of creativity and the power of possibilities. Working with FASTSIGNS can leave a lasting impression for your business. What we make together is a brilliant reflection of your brand, your personality…your statement.
FASTSIGNS is frequently recognized for franchisee satisfaction and through franchising awards which include being ranked #1 on Entrepreneur's Highly Competitive Franchise 500® List for the sixth consecutive year for 2022 as well as being named a 2022 Best-in-Category Franchise by Franchise Business Review. Let us help you "Make Your Statement." Visit https://www.fastsigns.com/apopka-fl/ or call 407.774.0003.
-###-