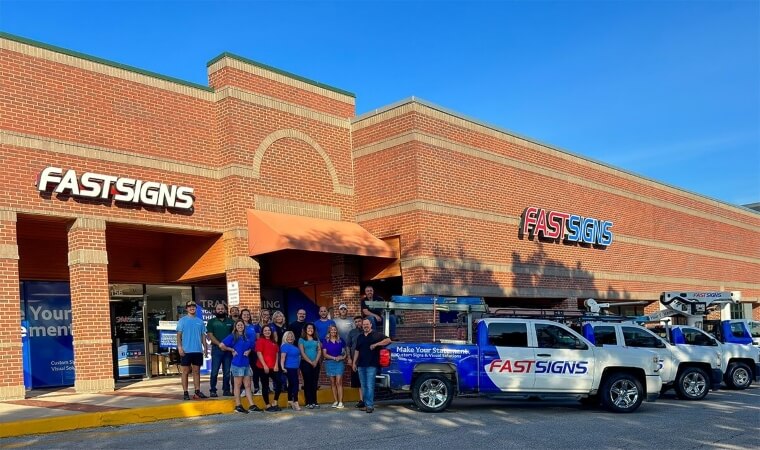 Apopka, FL May 25th, 2023 - FASTSIGNS® of Apopka recently received their Electrical Sign Specialty License (ES12002241) upon passing the state examination and going before the Florida Electrical Board for approval. Franchisee Rod Quick will also be able to bring this capability to his second FASTSIGNS center located in Daytona Beach, Florida.
Now licensed to install and service electrical signs, they are able to protect customers from the danger of using unlicensed contractors for electrical signage work. When customers use FASTSIGNS® of Apopka, FL for their electrical signage needs, they will not only have a wider variety of services available to them, but they will also save money and time, as most sign shops must rely on subcontractors to provide electrical signage services.
"Customers can rest easy knowing that the work completed on their property is done directly by their licensed and insured FASTSIGNS partner," said Rod Quick, franchisee at FASTSIGNS® of Apopka, FL. "We are thrilled to offer this capability to new and existing businesses needing electrical signage for their retail store, restaurant, clinic, office, healthcare establishment and more."
This Electrical signage license will set them apart from their competition, allowing them to perform LED conversions, repair electrical signs, install monument signs, install LED cabinet signs, install LED Channel Letter signs and install electrical marquee signs. FASTSIGNS® of Apopka, FL now owns a bucket truck for installation work, their installers are lift certified and they are dedicated to following OSHA regulations.
About FASTSIGNS®
FASTSIGNS® of Apopka is a locally and independently owned and operated visual ideas company. FASTSIGNS is an industry leader that began over 35 years ago and has over 765 centers in the U.S. and internationally. We celebrate the spirit of creativity and the power of possibilities. Working with FASTSIGNS can leave a lasting impression for your business. What we make together is a brilliant reflection of your brand, your personality…your statement.
FASTSIGNS is frequently recognized for franchisee satisfaction and through franchising awards which include being ranked #1 on Entrepreneur's Highly Competitive Franchise 500® List for the sixth consecutive year for 2022 as well as being named a 2022 Best-in-Category Franchise by Franchise Business Review.
Let us help you "Make Your Statement." Visit www.fastsigns.com/apopka-fl/ or call 407-774-0003.