Spring is upon us and, for the average business, this means a potential boost in sales; for their customers, a lot of winter plans that go into action. With spring, there is a new birth of life in nature, and in businesses, an opportunity to demonstrate what services they have to help others with their plans and intentions. May and June overflow with a cascade of demands from graduating high school and college seniors, to homeowners moving into their next phase in life; anticipating needs that, frankly, they have not anticipated. Many are moving into new apartments or pursuing endeavors to purchase a home, or scrambling to find a new tenant for rental property while relocating to a new job in another location. As the weather warms up, and the air is filled with fragrant flowers and an eagerness for upcoming celebrations popping into full bloom. Whether it's a prom, graduation, a wedding, baby shower, sporting event, retirement party, an open house or a simple intimate dinner party, to ensure full attendance and positive remembrance at your upcoming event, you'll want to have eye-catching signage. When it comes to really grabbing people's attention, a sign can be your best bet. According to the results of a nationwide survey commissioned by FedEx Office, more than half of small-business owners find in-store signage and graphics effective in attracting customers.
This is the perfect chance to start letting your audience know about your upcoming event, and to trigger them into thinking about planning ahead so that you end up on their very busy calendar, or to entice them into planning spending their budget on your product or service.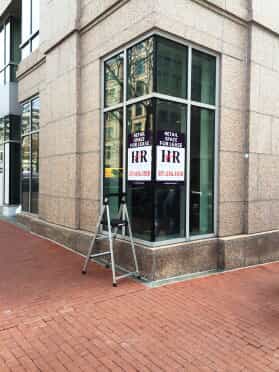 Remember:
Yes, size matters. Simply put, the larger the letter, the easier it is to read. This is especially important if you're creating roadside signage or signs that will be displayed at a significant distance – at a conference, for instance.
Style conscious. Different typefaces also affect legibility, so also consider this when choosing how to express your text.
Know your timetables. Communicate your event well ahead of time.
Easy on the eyes. Provide a visually pleasing method to relay our information.
Get to the point. Messages are clear, concise, and convincing. Use graphics in an appealing, creative manner.
Contrast for readability. A sign's contrast will usually determine its readability. Contrast, therefore, is a huge factor for any engaging sign. For example, you might consider a dark color on a very light background, or the opposite of that – black on white or white on blue. Pairing similar colors can decrease a sign's readability.
Location, location, location! Place information in a location that will be easily seen. High profile visibility results in multiple returns on investment.
Send a new message. Change signage and graphics at periodic intervals to catch attention.
Use compelling color. The choice of color plays a big part in a well-designed sign. Often, color can help convey a brand's identity. Studies have shown that 80% of the recognition of a trademark is due to its color. Beware of "trendy" colors though – today's hot color might be tomorrow's eyesore, and you want to make sure you invest wisely in your signs.
Be memorable. You don't want to be that event that had folks wandering around hotel hallways wondering where the breakout session was, or the dinner that had nice music but no visual ambiance. Be sure to put enough attention on table toppers, banners, backdrops, bulletin boards, and every visual aspect in order to ensure you go down in the books as the one that was memorable… in a good way.
Perhaps you have a more unique, specialized need that requires tailored signage: awards and plaques to help recognize achievement, room and department identification signage, or way-finding signage (both static and digital) for conference events. FASTSIGNS can help you with this as well. Whether you are an event planner looking for a creative way to tell a story or transform a room, or even just whet people's appetites about your upcoming event well ahead of time – or a business owner advertising your company at the latest project site – proper placement and timing are key in ensuring your audience is tuned in to the message and image you want to broadcast.
You may know the old grade-school riddle: "If April showers bring May flowers, what do May flowers bring?" Answer: "Pilgrims." Our goal is for April showers to not only bring May flowers, but also may they bring pilgrims who will become your next customers, event attendees, and bring flowering profits to your business, and blossoming relationships that will last well beyond spring!