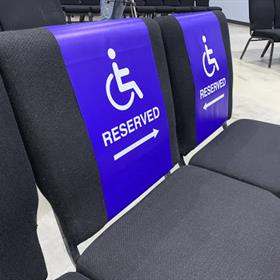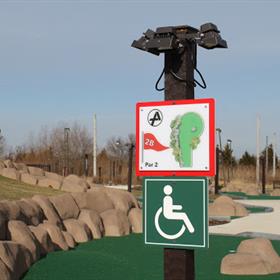 You're most likely familiar with some aspects of the American Disabilities Act of 1990, which "prohibits discrimination against people with disabilities in employment, transportation, public accommodation, communications and governmental activities.", but as a business owner, it's worth taking the time to familiarize yourself with its more strict requirements. One requirement that business owners should take notice of right away is the presence of ADA signage on your property.
What Are ADA Signs? 
ADA signs are building signs that are specifically designed to provide people with disabilities the same access and functionality to business facilities as people without disabilities. ADA signs must present the same information to every person regardless of physical limitations.
What Are the ADA Signage Requirements?
There are several specifications that need to be met for your ADA signage to be in full compliance with federal law.
Location
All ADA signs that identify rooms must be located adjacent to the door they identify.
Permanent room signs must be mounted so that the characters are between 48 and 60 inches from the ground. This can include materials such as ADA plastic signs. 
Braille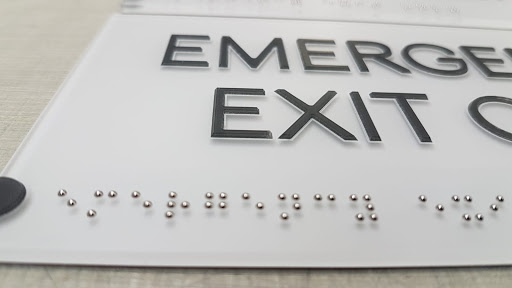 All ADA signs require tactile lettering to assist visually impaired visitors
Braille must be lowercase except for proper nouns
All Braille must be rounded or domed
All signs must use a sans serif type style
All ADA-compliant signs require a minimum of 1/8-inch between adjoining characters
All signs must have backgrounds and characters that don't emit a glare
ADA signage with visual characters must have a high light-dark contrast between the characters and their backgrounds
These are just a few of the requirements. For more specific details, ADA signage guidelines can be found here.
Why Does Your Business Need ADA Signs?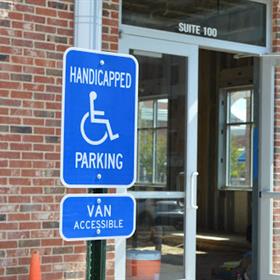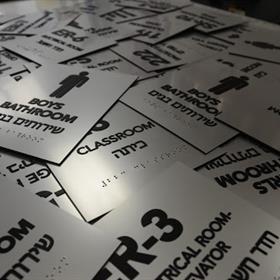 The simple answer to this question is that ADA signs are required by federal law. But ADA signage also ensures that employees, visitors and customers share the valuable experience your business strives to provide. That experience delivers your business a strong reputation and continued business and brand loyalty. Custom ADA signs can help keep your business on brand and in compliance.
Installing ADA-compliant signage will also keep your business safe from lawsuits or government fines. While the government does allow some time to correct any mistakes or oversights, a well-publicized violation could significantly damage the public perception of your business. If you're unsure of whether an ADA sign is required, it's best to err on the side of safety.
FASTSIGNS is experienced in bringing sites into ADA sign compliance, and we offer free consultations. Our experts can help with custom ADA signage including ADA restroom signs and ADA parking signs. Find the closest FASTSIGNS Center to you for help with all of your ADA compliant signage needs.