Fun is not a word commonly associated with buying a car. Sure, it's nice to get those keys in your hands and walk out of the dealership as a car owner, but part of that excitement comes from knowing the process is officially over. For many, the traditional auto dealership experience can be intimidating. But through the use of digital signs, dealerships are beginning to transform that experience from a stressful encounter to a coordinated, efficient, and yes, fun partnership.
Take the Pressure Off
There's a lot of pressure on both ends of a deal. The customer wants to get the best possible car at the best possible price, and the salesperson wants to secure a deal that is profitable for their dealership. That pressure can lead to some hesitation from consumers that want to take their time with such a big decision. Auto digital signage, such as digital kiosks, can relieve some of that pressure by allowing customers early in the buying process to familiarize themselves with the dealership, the salesperson and the products.
Give Customers Information They Need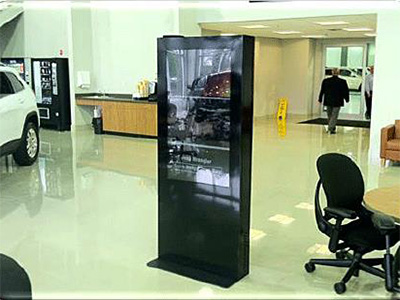 Prospective car buyers are at varying stages within the process. Some want to know what features are available for specific models, while others may still be narrowing down what size of vehicle they need. Touchscreen auto dealer signs can provide an interactive display that guides them through each step. Whether it's readily available inventory or financing specifics, digital signs can provide a wealth of information that a salesperson may not have committed to memory.
Let Customers Engage With Your Brand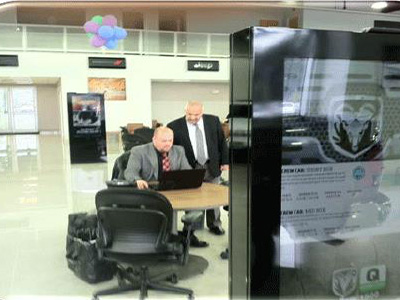 Auto digital signage is a proven winner when it comes to keeping customers engaged at the dealership. According to Friedman-Swift Associates research, an auto dealer marketing plan within the dealership increases the recall of dealer-related information by more than 50 percent. These marketing plans regularly include a network of digital signs that inform customers, but maybe more importantly, the auto dealer signs entertain customers. Instead of leaving the customer in a waiting room of stale music, an LED screen could showcase products or detail pricing and features.
Keep Customers on the Right Path
One of the big advantages of auto digital signage is the ability to customize messaging. Dealerships have the ability to change and fine tune messages that keep customers focused and on the path to purchase. This can be done by strategically setting up your digital signage in high-traffic areas or next to popular displays.
Show Off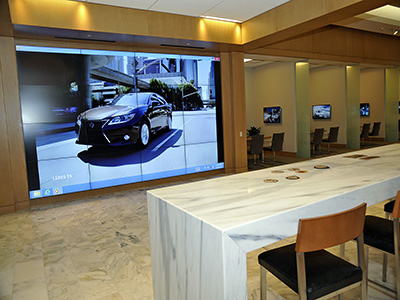 Photo credit: Dallas Morning News
Customers want to be on the cutting edge. Display your dealership's capabilities through impressive digital displays. The Park Place Lexus Plano in Texas installed this 9-foot by 12-foot video wall when they opened their new dealership. The wall is able to show one complete image or be broken down into multiple screens, offering versatility and the ability to attract attention.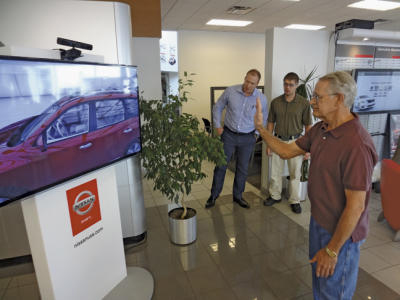 Photo credit: Denver Post
At Erlich Nissan in Greeley, Colorado, potential car buyers were able to virtually interact with vehicles. Virtual software, in coordination with digital kiosks, allowed customers to inspect the exterior and interior features of vehicles, including entertainment options and legroom. These are the practices that are transforming the car buying experience. A practice that was limited to face-to-face interaction, a test drive and a handshake is evolving. Auto dealerships must adapt their communication style to fit a culture that is becoming more dependent on digital screens for information, entertainment and influence.
Resources
http://www.denverpost.com/budwells/ci_21653032
http://yourplano.dallasnews.com/2013/09/06/park-place-lexus-plano-opens-new-dealership/