An interactive brand experience provides the opportunity to create a more memorable impression with a customer, patient or prospect; it goes beyond marketing and allows the opportunity for a deeper experience with your brand, its mission or services. Your signs and visual graphics play an important role in the interactive experience. From innovative digital technology to finding new and fun ways to use printed signs, these three organizations found ways to encourage deeper engagement while still providing functional value.   
1. Organization Historical Timelines
Show visitors, customers and patients your company history and culture with a visual representation of your organization's timeline—create a connection. Carnival Cruise Line had an interactive timeline designed and installed that complements their space and is easy to maintain. For visual interest and depth, dates and logos were made from dimensional numbers and letters. Interactive touch screens were placed at strategic points along the timeline to provide information and history, and to engage with guests. The content on the screens are able to be updated as needed. The executive team is proud to show visitors the timeline on the way to their offices. Guests can see where the company started and intentional blank spaces let them know that there is more to come.
2. Immersive Graphics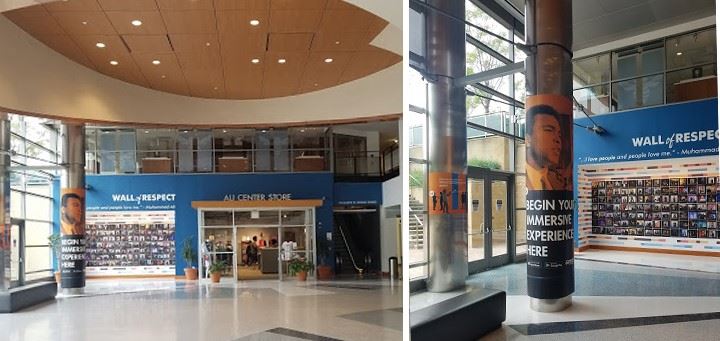 During a renovation project at the Muhammad Ali Center, two columns in the main lobby were wrapped with an image that serves as the target for an Augmented Reality app that provides an interactive experience for visitors. Plaques highlighting the details of Ali's major fights were also placed underneath clocks that represent the time zones each fight occurred in. These applications along with the many murals, graphics and exhibits at the Muhammad Ali Center complement one another and provide an immersive experience for visitors to learn about Ali from the moment they arrive. 
3. Photo Frames and Loyalty Cards

Providing photo opportunities encourages brand interaction and social sharing. Custom rewards cards help increase repeat visitors and help build brand loyalty. Sugar Rush Marshmallows uses unique marshmallow characters in all of their branding, including the loyalty cards and stamps that they provide loyal customers. To create a more engaging experience, the sweet treats brand gives away decals and handheld fans at outdoor events, and a custom photo frame lets customers pose with the Sugar Rush characters for sharing on social media.
Inform, entertain and improve communication with signs and visual graphics that generate a more interactive experience with those who come in contact with your organization. Ready to create memorable connections and encourage deeper relationships with your brand through interactive experiences? FASTSIGNS® can help.