Trade shows are an opportunity to showcase your employees, products and business. And many businesses are investing big resources in sophisticated, modern trade show displays. Staying on-trend in your trade show display ideas shows your business is relevant and forward-thinking.
The use of advanced technology and social media is a guiding force for many trade show display ideas. As we move further into 2016, we're already seeing some trends solidify themselves as must-haves for the trade show floor. Here are some exhibit and display ideas that could make your organization the talk of the event.
Modern Lounge Area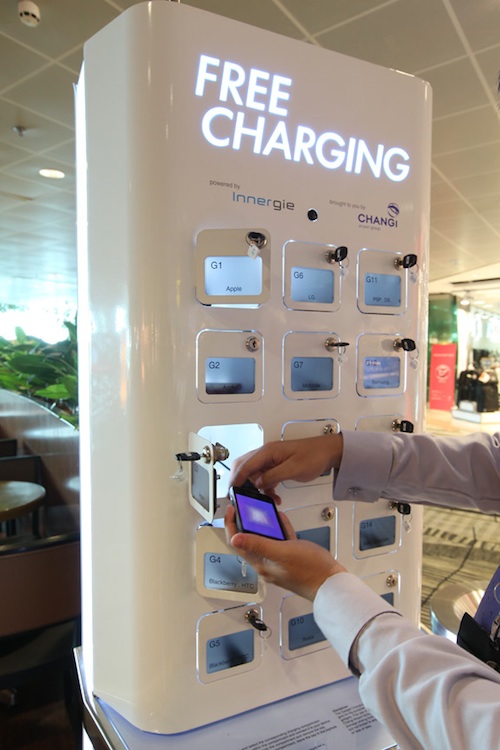 Photo credit: Out of Town Blog
The idea of a lounge area is nothing new, but a sofa and a scattered assortment of magazines will no longer keep visitors occupied with your display while they take a break. The first order of business for your modern lounge area is installing a phone charging station. These stations are widely used in airports, but it's becoming a more common feature at trade shows, where attendees are always on-the-go. They also give you more time to interact with the guests as they wait for their phone to fully charge.
Consider replacing the magazines with tablets or interactive kiosks. These digital tools offer a more dynamic experience and increase engagement with professionals that have grown accustomed to getting information from their preferred online sources.
Interactive Floor Projection
Take advantage of all of your available space while giving your display a true "wow" factor with an interactive floor projection. Floor projections are unusual, exciting and most of all, captivating. The technology allows you to create customized content that attendees can interact with in real-time. Guests can create sounds, enhance visual effects and play digital games, all while interacting with your brand, logo and products.
LED Lights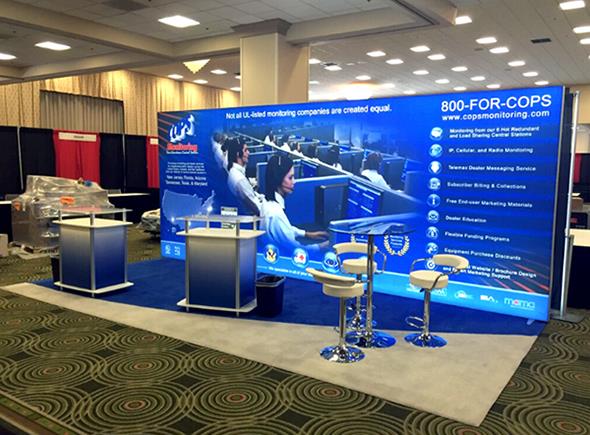 Photo credit: Indy Displays
Backlit displays give your stand a modern look while also giving you the freedom to customize your content. A mixed media approach is important if you want to reach as many visitors as possible. LED lights attract attention and provide a platform for videos, motion graphics and powerful images. Change color schemes, messaging or sequence; LED lights give you the chance to respond to what is working within your display.
Touchscreens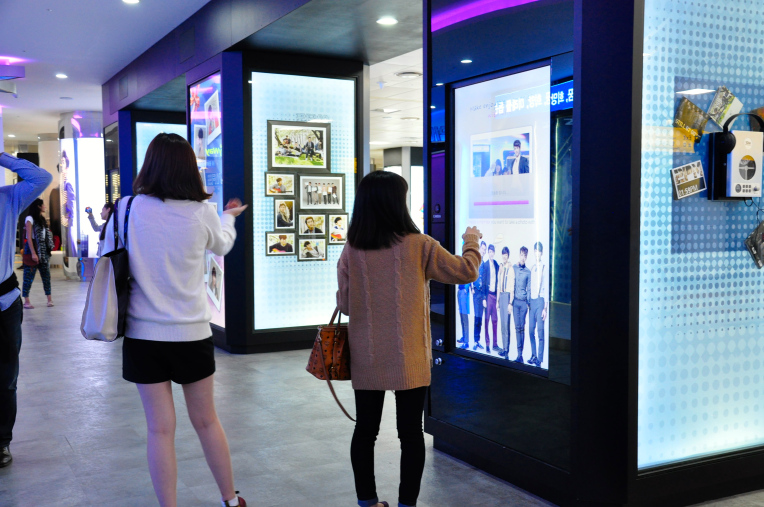 Photo credit: Susan Zhuang
The public is getting used to touchscreens at home, so you shouldn't hesitate to use them in your display. Touchscreens are useful for employees managing the display and visitors wanting to interact with your business. Employees can use touchscreen displays to give virtual tours, update their presentation or gather lead information. Attendees can use them to find out more information about your products or play interactive games. Touchscreens are a must for modern trade show displays.
Mobile Technology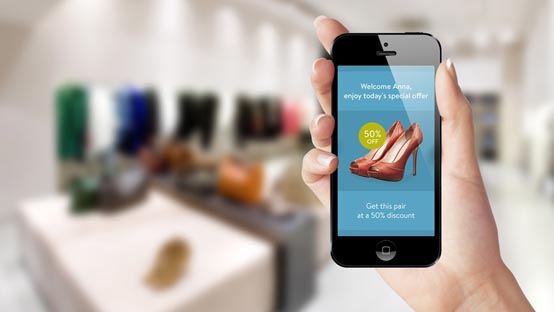 Photo credit: Estimote
People are now relying on their phone to search, gather information and make important decisions. It will become more important in 2016 to connect with attendees using mobile technology. Tweeting trade show insights using a hashtag and posting photos to Facebook and Instagram are important, but creating a SnapChat story might create the most buzz. Record and edit short snippets on your phone to form a lively and coherent story that promotes your business' trade show activity.
Beacons are also on the rise in the trade show environment. This digital technology allows users to receive promotional messages based on location from apps they have downloaded on their phone. A beacon system is able to figure out the location of an attendee on the trade show floor and alert the attendee of nearby companies or products.
Trade show displays have come a long way, and we expect that growth to continue as technology inspires more creative and complex trade show display ideas. What trends are you using or looking forward to? Share the most impressive ideas you've seen on the FASTSIGNS Pinterest board.
Resources
http://www.forbes.com/sites/homaycotte/2015/09/01/beacon-technology-the-what-who-how-why-and-where/#7bd3643e4fc1 
http://www.models4tradeshows.com/trade-show-trends-2016
Related Articles
5 Unique Uses for Digital Signs at Manufacturing Trade Shows 
4 Unique Design Ideas Sure To Get Your Booth Noticed at a Trade Show 
Stand Out from the Crowd and Build Sales at Your Next Trade Show