Rarely do we get a second chance when it comes to making that first impression. At FASTSIGNS®, we love getting to help organizations and businesses of all sizes make great first impressions with custom signs, graphics and branding. Here is a look at a handful of visual communications executions that made a first-rate impression in 2018.
1. Grace Church
Grace Church in Roseville, MN underwent an interior remodel in an effort to make updates that would appeal to newer visitors, while honoring what existing and older congregants love about the church.


​
A special interior decor vinyl was installed on to create a wood-paneled effect for several walls, highlighting the digital check-in stations. Large wall graphics of the Grace Church logo were incorporated throughout the interior.


​
A church map directory, hanging signs, dimensional letters and arrows help guide visitors and members. A room ID system was designed with removable insert windows to accommodate the many different events and meetings that take place.
Parents bringing children to the kids area are visually greeted with a large welcome sign above the designated check-in kiosk. The kiosk stand is covered in the Grace Church branding elements, which are also mirrored throughout the church, including frosted designs on their glass half walls and exterior-facing windows.

​
To help communicate at-a-glance the vision of Grace Church, words and images are featured together on key walls. Wanting the ability to change the wall images each year, FASTSIGNS selected materials that will allow flexibility without damaging the wall beneath.
2. Muhammad Ali Center
After 16 years, The Muhammad Ali Center wanted to revitalize their facility with renovations to their main entrance and lobby to better recognize donors, showcase influential friends and welcome new and returning visitors.

​
As their donor campaigns have grown, the center needed a better representation of those who help Ali's legacy continue. Displays featuring donors and the original founders were reworked and repurposed to merge together into a new display. All of the donor recognition pieces were then put together in a centrally located area for visual cohesion. The Wall of Respect, which showcases the many influential and famous friends who have visited the center, was remade with new materials to fit the expanded recognition area.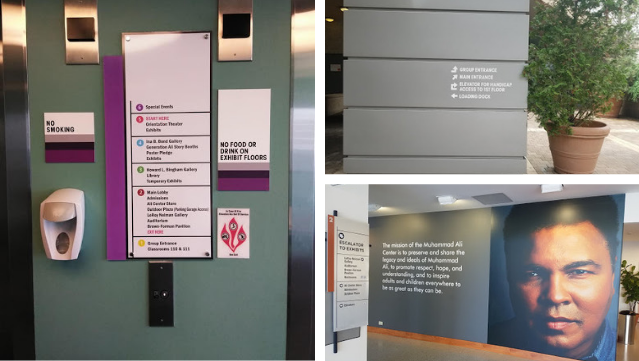 ​
Metal letters were placed on the new canopy above the Ali Center Store. A 10-foot portrait of the iconic boxer was used to create a mural that highlights the center's mission statement. New directories and room designation signs were also installed to create a cohesive wayfinding experience.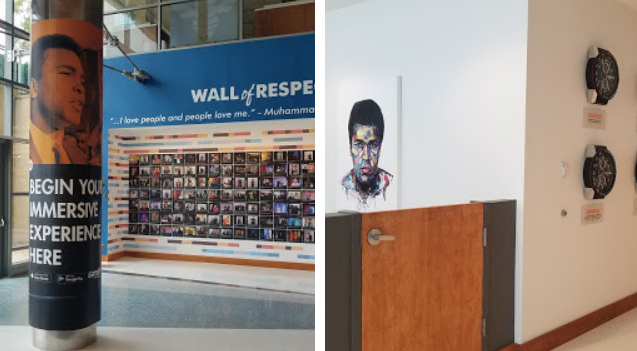 ​
Two columns in the main lobby were wrapped with an image that serves as the target for an Augmented Reality app that provides an interactive experience for visitors. Plaques highlighting the details of Ali's major fights were placed underneath clocks that represent the time zones each fight occurred in.
3. Schell Brothers
Originally from Delaware, Schell Brothers is a home residential construction company that expanded to the Richmond, Virginia, area. They needed to set themselves apart from their competition and get their name out quickly.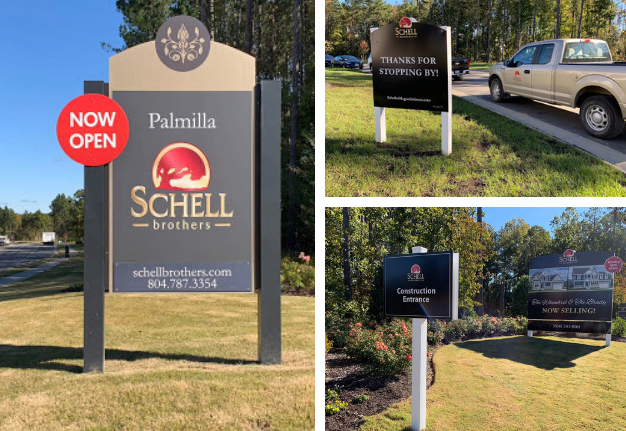 ​
Exterior signs have a "Go Big" focus. This includes utilizing larger signs than other builders in the area, as well as making sure that traffic flow in and around their build sites is well-controlled and easy to follow for both potential home hunters and contractors. Vehicle graphics identify trucks and vehicles as they drive throughout the community.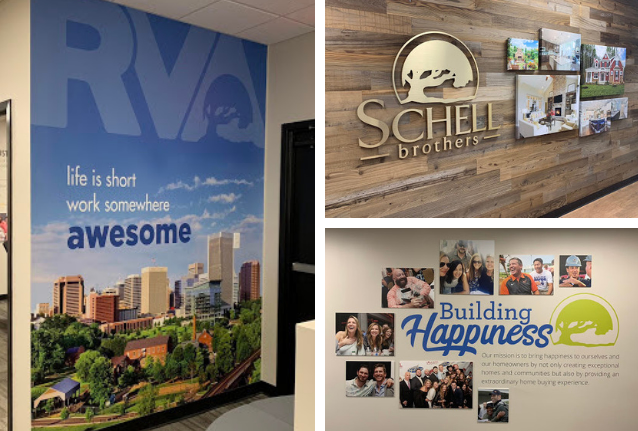 For the interior signage at their headquarters and design center, Schell Brothers wanted to convey to potential buyers that they were different in design, quality and how they conducted business. They utilized their employee-centric business approach in their signs and graphics, including inspirational quotes and images of Schell employees in their showrooms, to communicate that they offer a quality product from quality people. Acrylic standoffs, murals and wall graphics help communicate amenities. Branded door graphics, directional signs and elevator decals guide visitors.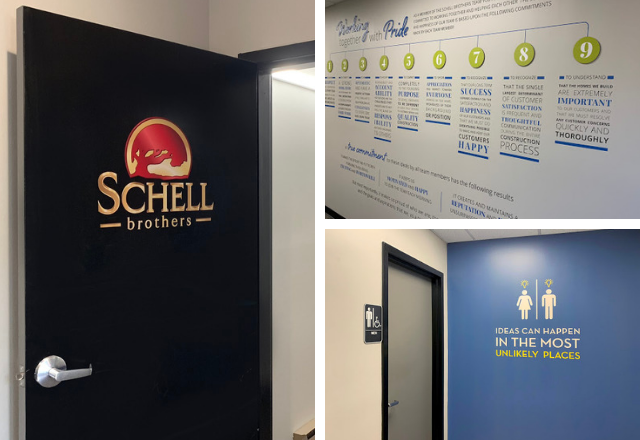 Whether launching a new product or service, entering a new market, remodeling an existing building, updating a campus or preparing for an event, the best visual executions make a lasting impression. Each of these establishments incorporated signs and graphics that represent the distinct personality of their organization and how that relates to what they offer. What are some of your favorite graphic executions? Let us know on Twitter @FASTSIGNS or our Facebook page.