Light is a well-known resource that while abundant and available can easily be overlooked when considering business and brand growth. Photographers, interior designers and retail space owners all know that learning to write with light is a key to creating an emotional effect. The intensity, direction and distribution of light in a space is an essential component to how people will experience your brand. Therefore, an ideal use of light has the power to transform a space and custom visuals drastically.
Ultimately, light plays a leading role in elevating signage to help you create an impression and elicit an exact feeling (from intrigue to intimacy) in anyone who enters your space. As Aaron Rose, an American Film Director, writer, exhibition curator and artist, who understands the value of leveraging light to create a brilliant emotion, once said "In the right light, at the right time, everything is extraordinary."
So, here are five ways that light elevates signs and graphics and helps you create a brilliant reflection of your brand:
Light Enhances Any Sign
Consider a lighted sign to be like your super engaging, always-on sales professional, who is here to illuminate your business 24/7. So when your business has one shot to make a first impression, you do not want to lose business by having a drab sign. From an exterior mounted corporate sign to a vintage theater sign with bulbs aglow, it's obvious why light is used to enhance visual communication.
And let's not forget the science behind it! With our human circadian rhythms, we have an innate ability to be affected by the nuances of light's intensity. This means that a proper use of light has the subtle power to seamlessly guide our mind, mood and attention where the designer wants.
From a backlit sign in a foyer to a custom-crafted neon sign on a restaurant patio, the addition of light instantly enhances a physical sign and the space as a whole. Internal illumination in a sign assists with visibility after dark or in dimmer light conditions to even better advertise a business message or guide people to find their way. External illumination (think uplights, downlights, accent lighting and silhouettes) can work for a business or brand even when people aren't physically present. Illuminated signs also bathe nearby surroundings with an ambient glow and can set either a lively or a calming tone.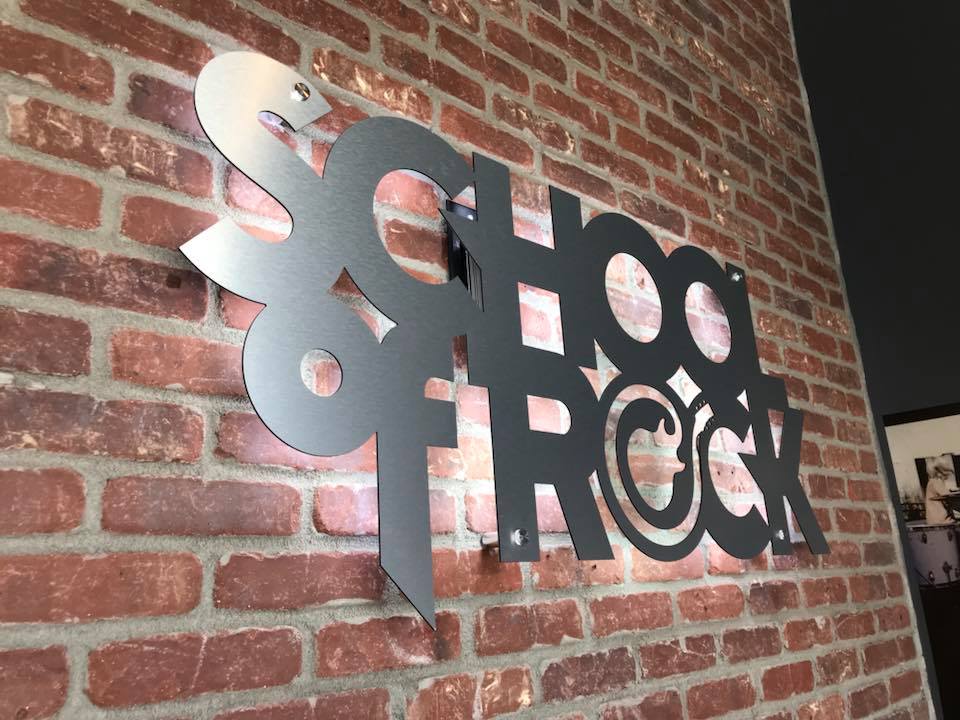 ​
Light Emphasizes a Message
If you've ever been to the theater, you know what happens when all lights go dark and there's a single spotlight bathing an actor who is center stage. It draws the eye in a specific direction, completely minimizing everything else in the room for a period of time. In a similar fashion, contrast lighting with both accent and ambient lighting inside a retail store drives interest to specific products, services or messaging. While light can emphasize messaging and enhance visibility within a space, interior designers have come to realize that light itself provides another method of communication for expressing a brand's core values.
Light Points The Way
Light can also provide an unconventional and subtle method for wayfinding within a space. Are you thinking, "What on earth is wayfinding? It's a term for how people navigate within or around a space. In practice, think of your last visit to a hotel and the series of signs that you met along the way from one that told you where to check in to a building sign where your room was located, and even your room number on the door. All of these various signs come together to create a helpful wayfinding plan.
So what's light got to do with it? Light can actually be incorporated in a meaningful way into how people are directed throughout a space, adding to more traditional directional signs for a layered and effective visual stance. Well-placed signs and graphics in conjunction with light can provide focal points and cues to create a better navigational experience for visitors overall.
Light Attracts Customers
People are naturally drawn to light, screens and signs directing them with creative visuals. One example of this is interactive digital kiosk signs that keep museum-goers engaged and enjoying themselves throughout a new exhibit. Another example is Neon signs. This form has been around for almost 100 years. They are still grabbing attention today, just as much as when Georges Claude, a chemist and physicist from France, debuted them during the Paris Motor Show in the early 1900s. Oui qui!
So why and how has the neon glow been rising in popularity, from business to retail and now extending to events and residential interior decor? Neon signs first became popular in the 80s but began to fall from grace due to cost, their custom nature making it difficult to replace the tubes, and saturation (pun intended) in the marketplace. Then, when a more affordable and sustainable option like modern LED signs came around, the resurgence began. This twist is how FASTSIGNS achieves the look of Neon in a more affordable and safe way. Fun fact: Did you know there's even a Museum of Neon Art? 
​
With the advent of sharing "instagrammable moments" on social media, creative neon signs provide social-friendly backdrops for memorable posts and can even lead to more visibility for your brand, and possibly lead your business to become a well-known and beloved landmark. Or even to get more visibility among people who are sharing your environment on social.
Light Elevates Customer Experience
In addition to custom signs and graphics transforming a space in a positive way, light can greatly impact the overall experience someone has within your space and even how they engage within it.
Whether you want to utilize light to emphasize a message, help someone find their way, keep people engaged or attract your customers, the combination of visual communication and light is one of the perfect pairings for success. As consumers become more particular about how and where they choose to spend their time and money light, visual communication can help you create a memorable experience. Let us help you Make Your Statement in lights to create a brilliant reflection of your brand.