Is your property easy to navigate? Or do people often stop to ask for directions? Effective wayfinding solutions can give people confidence to know where they're going, even if it's their first visit. Here are five ideas to take your property's wayfinding to the next level.
Integrate Themes
Enhance your property's wayfinding signs and visual graphics using themes to differentiate various spaces. For example, eBay's headquarters in San Jose, California has buildings that are named after categories of merchandise the company sells (Collectibles, Music, Toys, etc.). The rooms and offices of each building are named and decorated after specific products of that category. Themed wayfinding signage not only helps visitors easily find their way, but also boosts the company culture.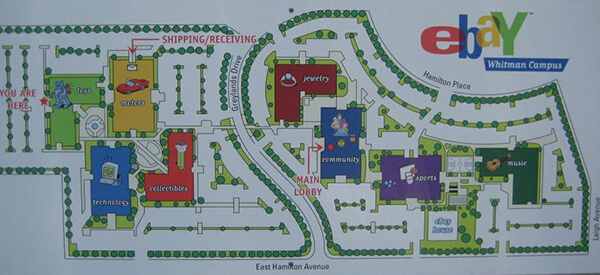 Photo credit: Wikimapia.org
Enhance Décor Elements
Wayfinding signs do not have to be boring. Beautify your space and point people in the right direction by adding unique designs to your wayfinding signs that complement your branding and interior decor. Create depth with directional signage using various textures and overlays. Use back-lit signs to brighten up the hallways. Incorporate identification signage with wall murals, door graphics and more.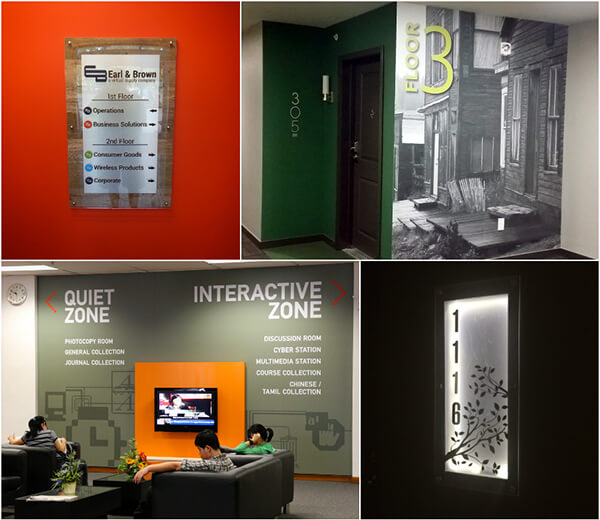 Situate Building Maps In Useful Areas
Give visitors peace-of-mind by placing multiple maps and directories in convenient areas throughout the property such as the lobby, entryways, elevators and stairwells. If it's a large campus with multiple buildings, place durable, exterior map signs along pathways to create a designated area that allows space for visitors to stop and find their bearings. Choose map designs that include clear labels, landmarks, nearby attractions and a "You are here" marker. Consider providing printed brochures of the map for visitors to take with them as they navigate throughout the property.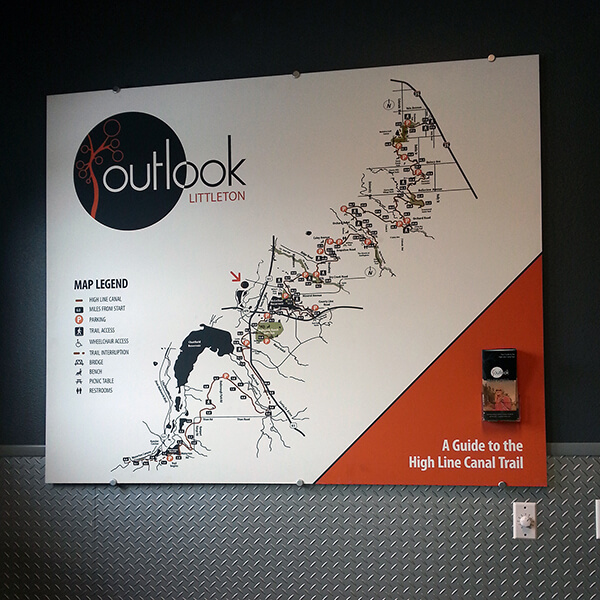 Think Outside-Of-The-Box
Make your wayfinding signs stand out using dimensional, arrow-shaped signs to help point the way, custom designs to complement your branding and unique shapes to reflect the surrounding architecture.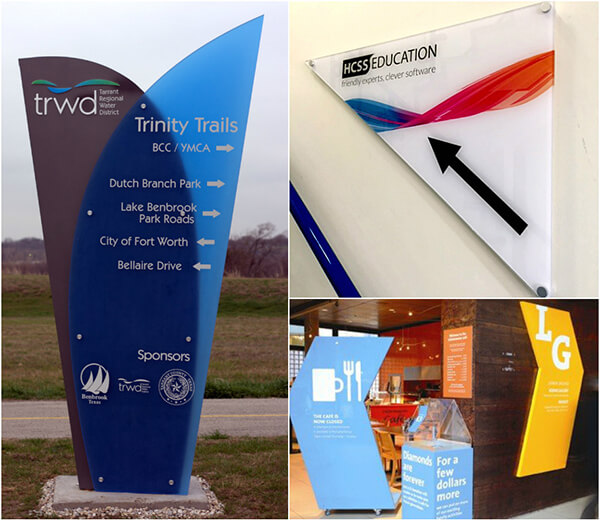 Go Digital  
There are various digital wayfinding solutions to take your property to the next level and create a unique visitor experience. Place an interactive touchscreen display that allows visitors to easily search for their destination and see how to get there. Integrate a digital signage directory that can be easily updated as needed. Use digital room identification solutions that indicate when a conference or meeting room is in-use or available.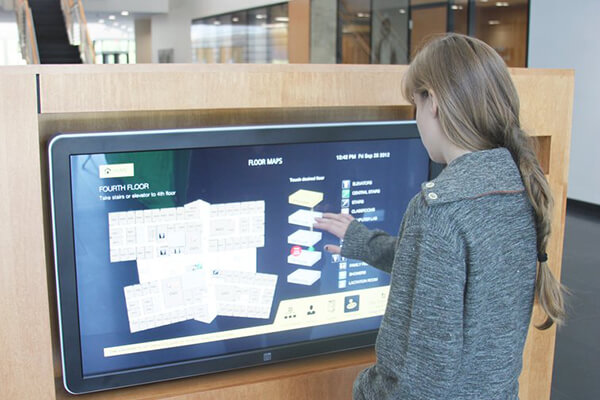 Photo Credit: UniversityBusiness.com
Ready to enhance your property's wayfinding signs? FASTSIGNS® is more than ready to help. Find a center near you.  
Resources:
http://mashable.com/2010/08/07/ebay-facts/#9TmGiWnb9sqi
https://www.smashingmagazine.com/library-signs/
http://blog.trinitytrails.org/2012/02/new-trinity-trails-signage.html
http://sinalizarblog.com/2011/05/19/national-media-museum/
https://www.universitybusiness.com/article/digital-signs-show-way-campus
Related articles:
6 Ways Digital Signage Enhances Wayfinding and Improves the Customer Experience