Companies with various locations, universities with extensive campuses, hospitals, retail chains and property managers of large buildings are reviewing digital wayfinding solutions in addition to updating their traditional signs and building directories. This includes upgrading a building directory to a simple, anytime-update directory display board or as multifaceted as displaying comprehensive information on an interactive solution with floor maps.
I caught up with Tomer Mann, Senior VP of Global Sales and Operations at 22MILES, to discuss this topic.
Mobility: Digital wayfinding signage and kiosks can drive users to a mobile friendly site so they can continue their navigation from their mobile device. This is particularly helpful for complex facilities and campuses and eliminates the need for paper maps. Digital wayfinding integrates well with a brand or school app if available.
Depth of Information: A visitor that is new to a facility may need to find more information than what can be displayed on a printed sign. Digital wayfinding offers layers or pages of information based on the users intent and helps direct people exactly where they need to go while providing relevant information.
Concierge Services: Digital wayfinding systems can also offer similar information to a concierge such as flight times, weather, local restaurants and other curated areas of interest all readily available to visitors in a lobby or waiting areas.
3D Maps: Interactive wayfinding can also present 360 degree birds-eye-views and cross-floor views that result in a good user experience. 3D mapping is more dynamic than a physical model, takes up less space and can be updated more frequently.
Advertising Opportunities: Digital wayfinding solutions offer revenue generating opportunities for property managers to market key vendors on a map and provides recognizable brands or places of interest for users.
Analytics: The content on most interactive wayfinding systems is web-based and results in data that can teach marketing teams and property managers about the popular categories and level of engagement for the maps. With this valuable information, you can adapt or change content to better suit the audience and offer the best experience.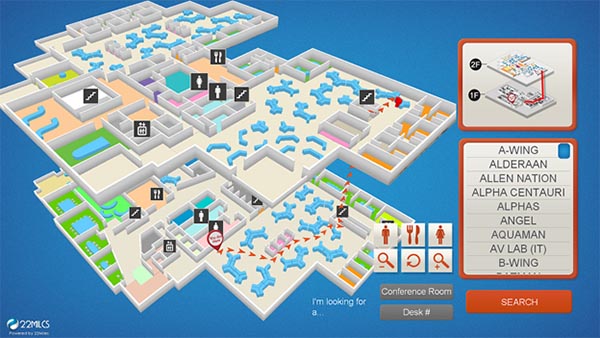 Does your company or organization plan to add digital signage to your static wayfinding system? Ask us about a proven content management solution, reliable hardware and expert content designs. FASTSIGNS® is more than ready to help you with your next wayfinding challenge. Find a center here.