What is brand awareness? Simply, it is the extent to which a brand name is recognized and ideally, it's product or service offering is correctly associated with it. Having good brand awareness is a key component in the ongoing success of a business or organization. So, how do you build awareness?
Here are four very different businesses that used signs and graphics to help establish and grow their brand awareness.
1. Todd Marcus Birds Exotic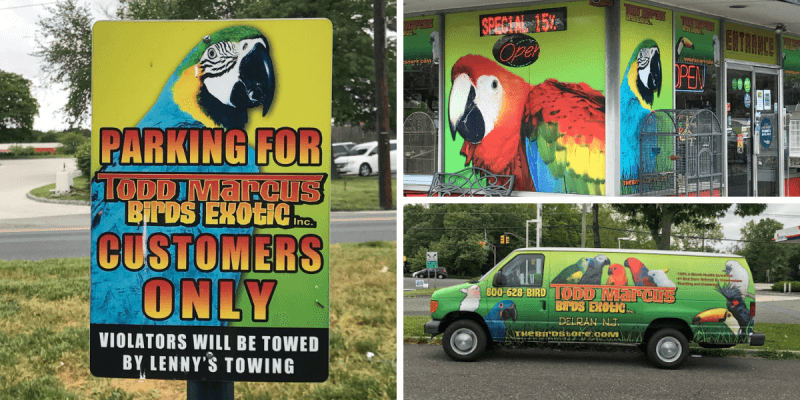 When Zac Marcus took over operations of Todd Marcus Birds Exotic, he wanted to update the 35-year old business's branding and visual image. The existing colors were modernized and the visual change was implemented across all of their marketing materials and signage. From the parking signs and window graphics to vehicle wraps and custom packaging labels, the new branding helps visually communicate what they offer.
2. Pogue Construction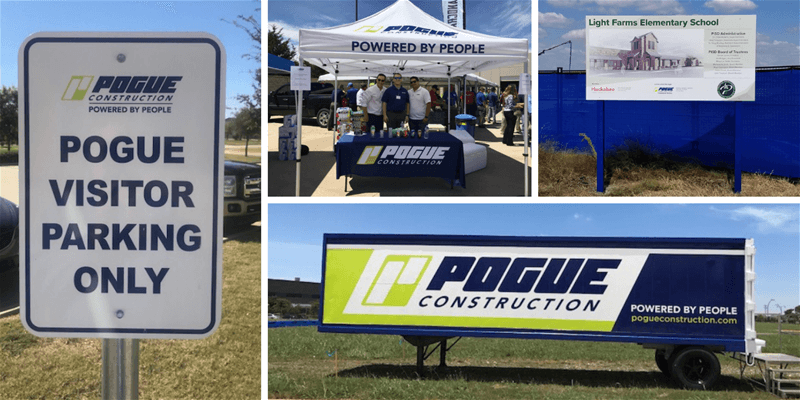 To communicate, promote and live their new organizational mission "Powered By People", Pogue Construction needed to visually transform their signs, graphics and marketing materials. Vehicle graphics were designed, printed and installed on the Pogue Construction semi-trailer, eight 46-foot office trailers and two 56-foot office trailers. Pogue Construction's headquarters was updated with visitor parking signs and a wall mural for the employee gym. A custom pop-up tent and table cover allows Pogue Construction to share their "Powered by People" message at events.
3. Sur 16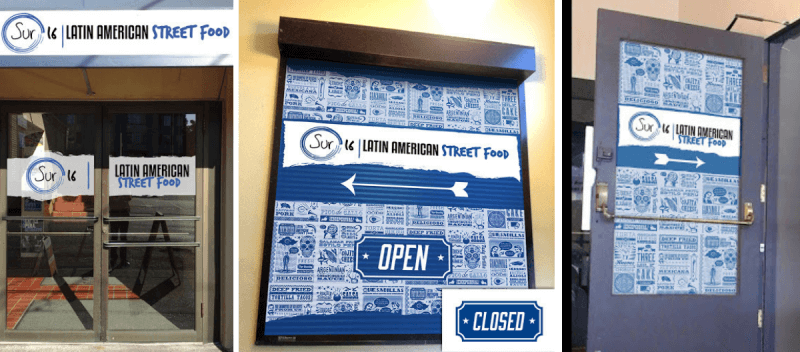 Sur 16, a Latin American-inspired restaurant located in a lively area of Seattle, Washington, needed to attract foot traffic and create a consistent brand identity throughout their visual touch points. They branded their exterior by adding new graphics to the awning and doors, making it easier for passers-by to identify the restaurant. Window graphics attract attention and communicate what the restaurant offers. The cohesive visual brand identity reflects their unique flare and culture.
4. Carli's ROUTE 22 West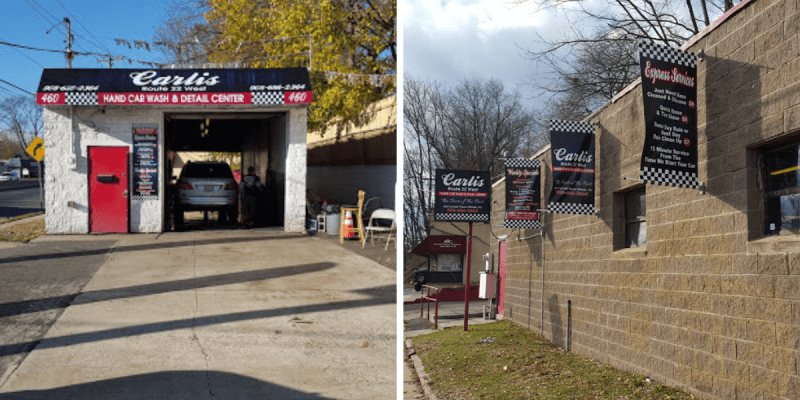 Carlis ROUTE 22 West's new owners wanted to attract new customers to their carwash. They changed the profile of the formerly plain, nondescript building that featured one flat banner on the exterior to a building with multiple vivid graphics and more enticing curb appeal. Their new signs and visual graphics create the subtle impression of architectural changes by utilizing a black, red and white branded awning, boulevard banners, banner flags projected at right angles from the car wash exterior and a lighted pole sign near the street.
Investing in building your brand awareness will help you build familiarity with prospects and customers. Whether you are just starting out or looking to update your branding to better represent your business, the right signs and visual graphics can help.
For more ideas and tips for building brand awareness, visit here.