Just like ads, fashion, and TV shows change, so do generations and the visual ways that resonate with a new generation. There are dynamics that describe GenZ, like how they are the true digital natives. Born between 1997 and 2013, they're a generation that embraces change, and the fact that they value authenticity and transparency, sometimes results in being less loyal to brands.
GenZ and their affinity for all things digital are well-known. However, a surprising statistic from a new national opinion poll from FASTSIGNS revealed more than half of GenZ (55%) are more likely to say signage makes them feel excited/energized than how older generations responded in the poll (43% for GenX and 25% for Baby Boomers).
Gen Z's higher sentiment for signs and graphics is important for brands as they strategize customer experience and branding approaches to better resonate with this generation.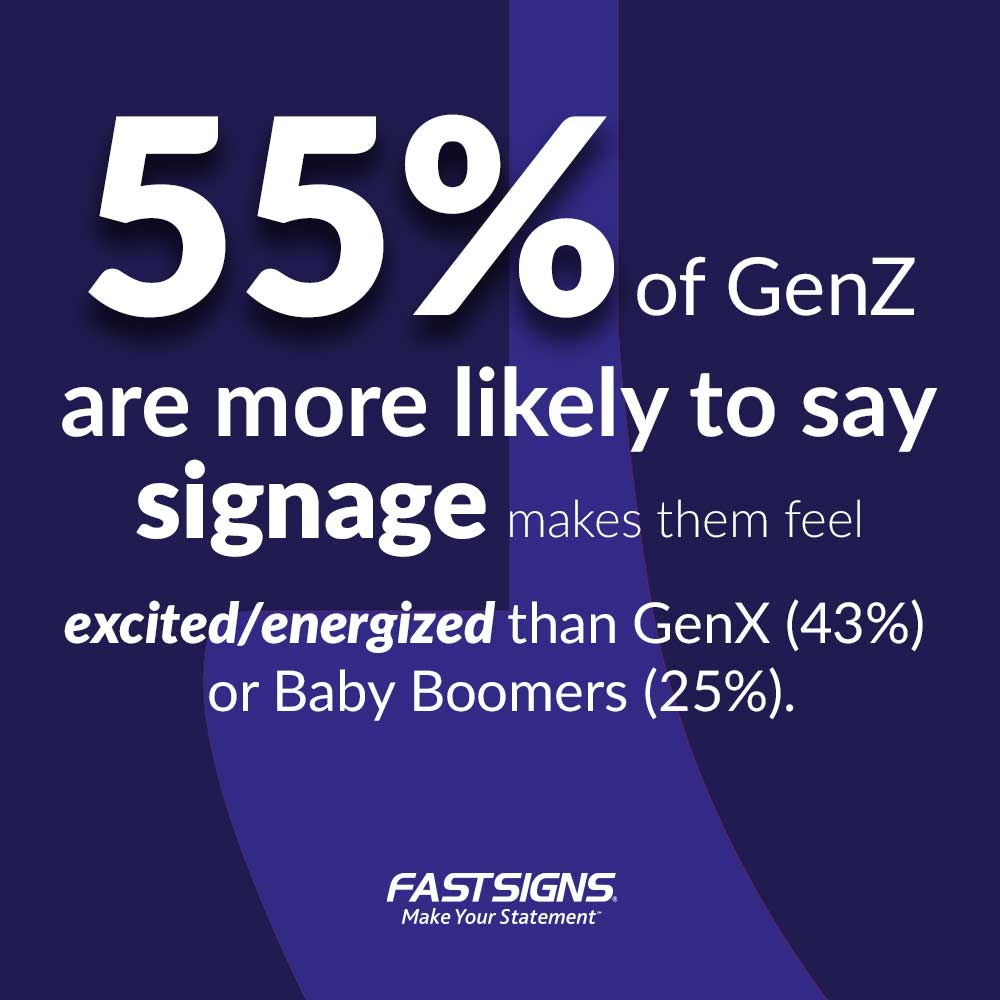 A focus on multi-touch customer experiences
GenZ is defined as a generation of experience. In fact, CivicScience has shown that compared to other generations, this up-and-coming cohort places more importance on convenience and service. They want a better cross-channel brand experience - one that is responsive, transparent and digital-first.
According to Dipanjan Chatterjee, Forrester's Vice President and Principal Analyst, "Most, including Gen Z, are coming out of the pandemic with a heightened appreciation for hybrid, digital, and physical experiences. Brands need to recalibrate their CX (customer experience) accordingly.
The customer experience practice of marketing (CX) has gained traction over the last decade, and visual solutions contribute to going about executing strategy. Whether it's providing easy-to-order kiosks for their favorite food or more simply directing traffic around a frequented smoothie business, today's signage experts know that exceptional customer experience is one way to reach GenZ.
"Gen Z is constantly looking for convenience and ease. If a business is putting out an effort to make a customer's experience seamless, it will be noticed. Digital signage is a large part of innovating brick and mortars," shared Amanda Maggiore, Marketing Manager in the signage and graphics industry and an author reporting on the mindset and values of her generation in the new book, What College Didn't Teach Me.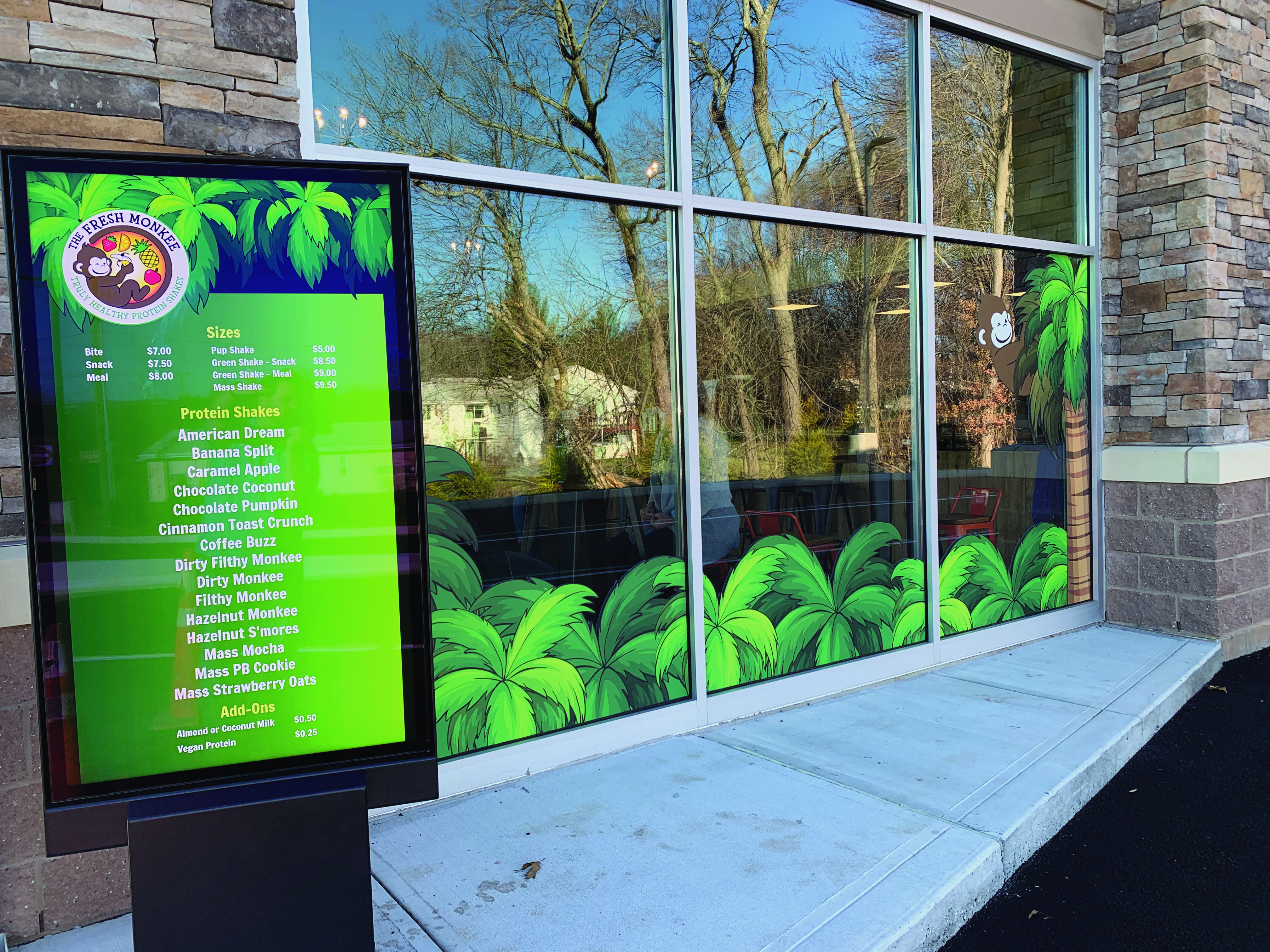 GenZ are embracers of change
2021 polling highlighted in AdAge revealed GenZ wants brands to commit to the ever-changing nature of their generation. Change and an openness to try new things presents an opportunity for up-and-coming brands and start-ups. A national study by Gartner, Forrester and Experience Dynamic discovered that 85% are open to make a change from an established brand to a newer one if delivered a superior experience.
When thinking about the visual possibilities throughout a location, the colors and vibe they create go a long way in both attracting this generation and retaining them as repeat customers. From exterior graphics, to wall graphics, and everything in between, creative visuals can excite GenZ.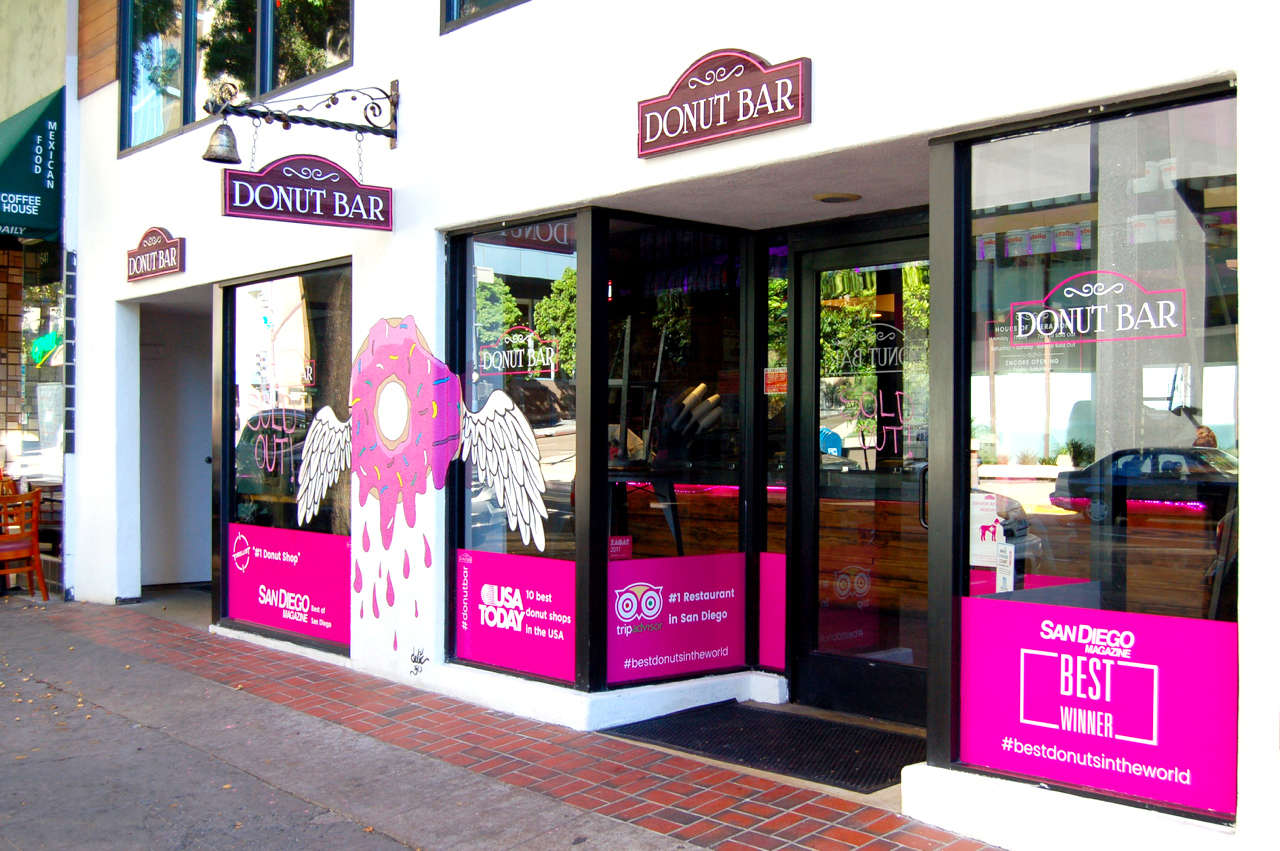 Creating Experiences That Resonate
To capture the attention of this generation, marketers are tasked with creating an elevated experience and environment that will make GenZ stop and take notice.
Nicole Brodsky, a GenZ Marketing Manager in the signage and graphics industry shared, "I think our generation has higher quality standards across the board. In a post-pandemic world where people are more selective about where and when they go out and inflation leading to higher prices, there's a higher expectation on the other end of that for a brand to deliver."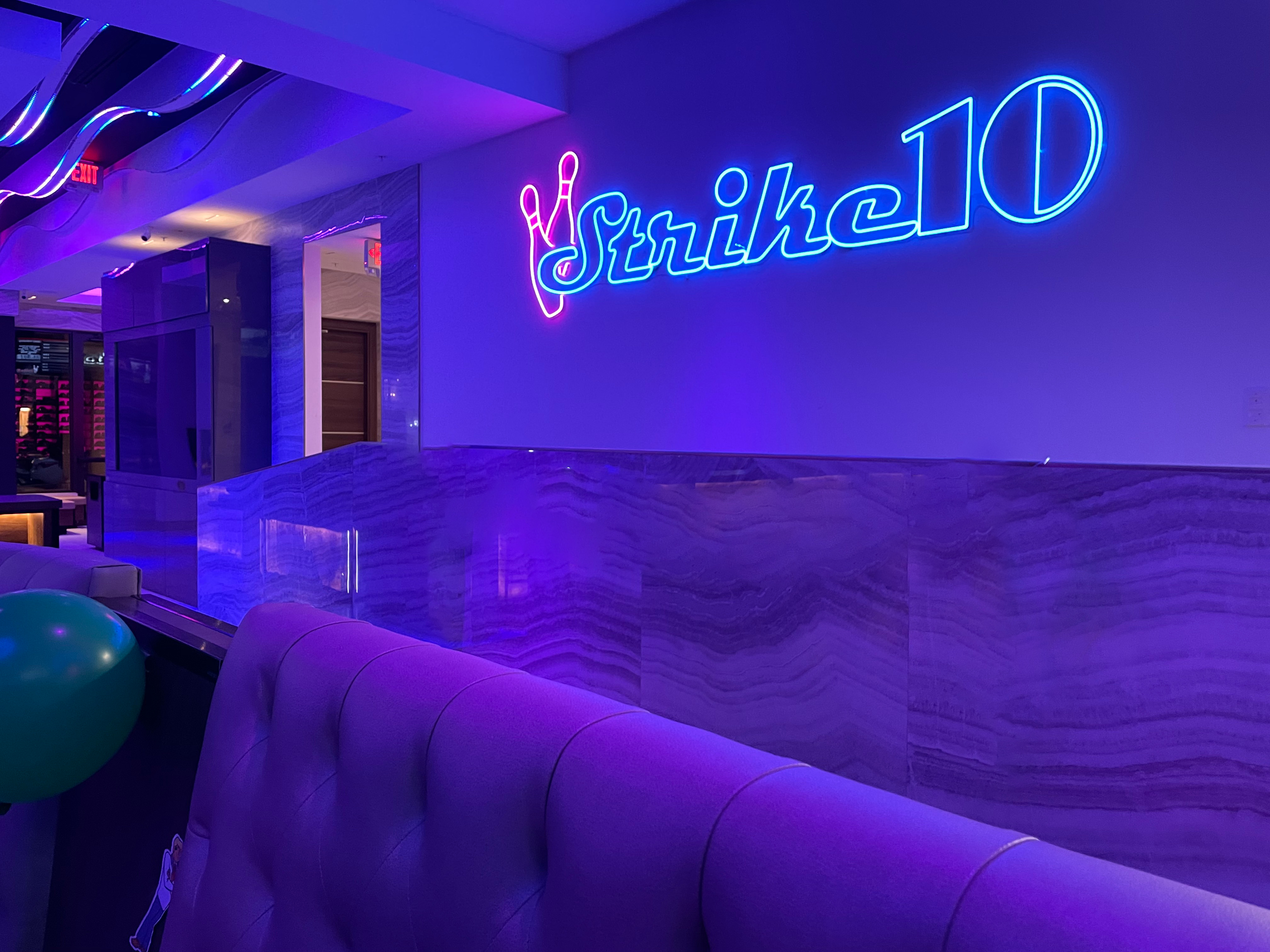 With GenZ focused on more emotional needs, Gartner research revealed experiences that are unique, emotional,and have personal impact on the life of a customer, doubled the impact-to-brand commitment. Brands that create an environment for visually memorable experiences by implementing creative visual and graphic solutions can catapult ahead of their competition.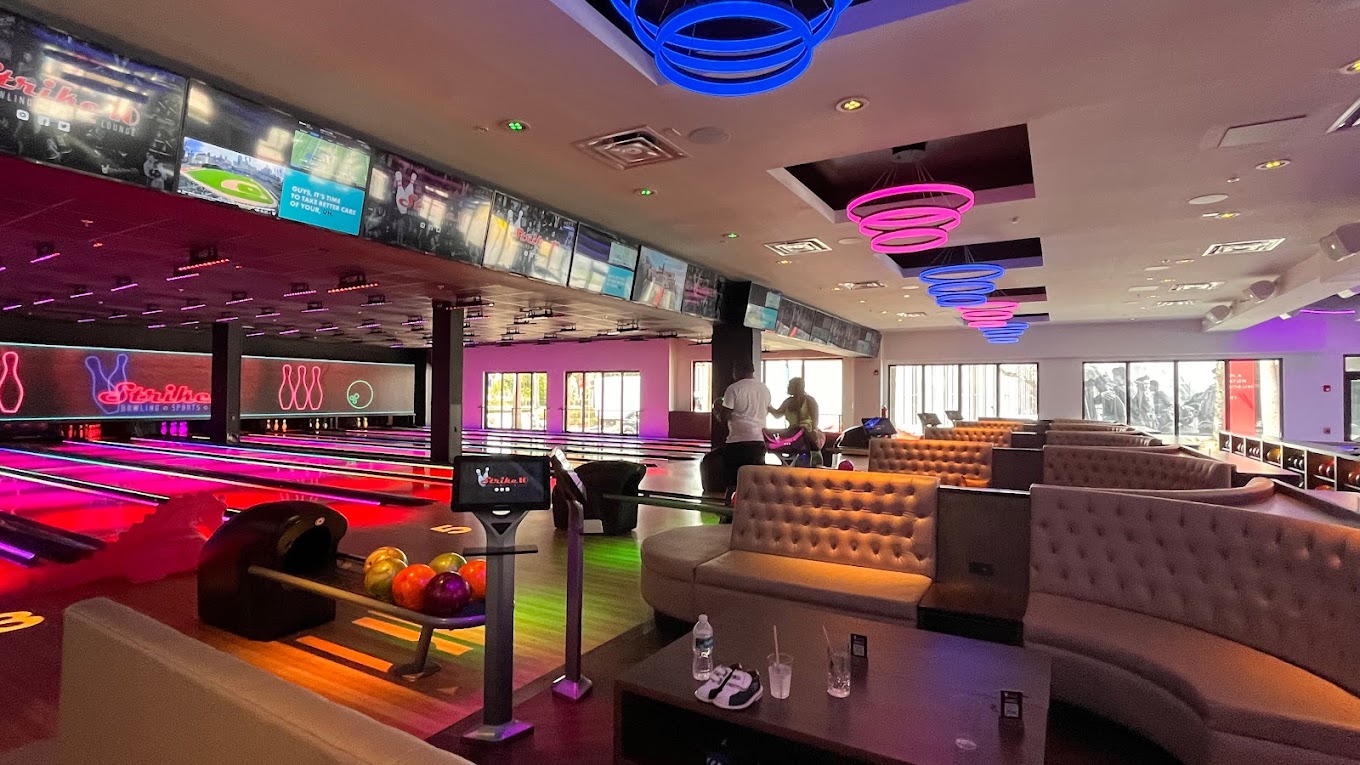 Visual solutions amplify the customer experience
GenZ is eager to get out and "experience." So naturally, they want their surroundings to engage and excite them. For some businesses and brands, that can mean re-thinking how they present their identity.
"Rebranding, and staying fresh and new, is important for all brands, even if you've been around a long time," said Mark Smith, who came from a background in ad agencies and sales, and now owns FASTSIGNS® of Salem. "We talk to our customers about freshening things up and the value that can provide their business."
Because GenZ is particular about where they invest their time and money, brands can fight to be the brand of choice. High-impact signage and visual solutions play an important role. Ready to assess your brand to capture the next generation? Give FASTSIGNS a call today.