More than ever, companies are thinking about how to make the workplace more enjoyable for their employees. That could mean a more casual dress code, more snacks in the break room or more natural light in the office. All of those changes are aimed at strengthening the company culture, which can attract and keep talented employees.
Many studies show that work environment has a significant effect on employee satisfaction and production. But most of these studies were designed to find how employees could be better managed. What the researchers didn't expect to find was the big impact that a physical work space had on company culture and employee satisfaction. So while you should be adjusting your managing style to get the most out of your employees, you should also be upgrading your office décor.
Consistency
Businesses spend a lot of money on branding, where a consistent message creates a company identity for outsiders. Take the same approach to creating a company culture for the insiders—your employees. Dimensional letters are impressive for visitors entering your office, but they also set the tone for your workplace environment: professional, clean and creative. You could also use uniform office plaques to identify rooms, decorate spaces or recognize employees. A consistent identity in the office is as important as the identity outside the office.
Color
We give great thought to the color of our houses and cars, but it can be overlooked when it comes to office décor. Research has shown that certain colors can affect mood and efficiency, so it's worth taking your time to get it right. If your office requires intense concentration, neutral colors, including grays, light browns or off-whites, will work best. If you're looking to inspire creativity and collaboration, employees may enjoy greater contrasts and bolder colors – an ideal place for a lively mural or office wall decals.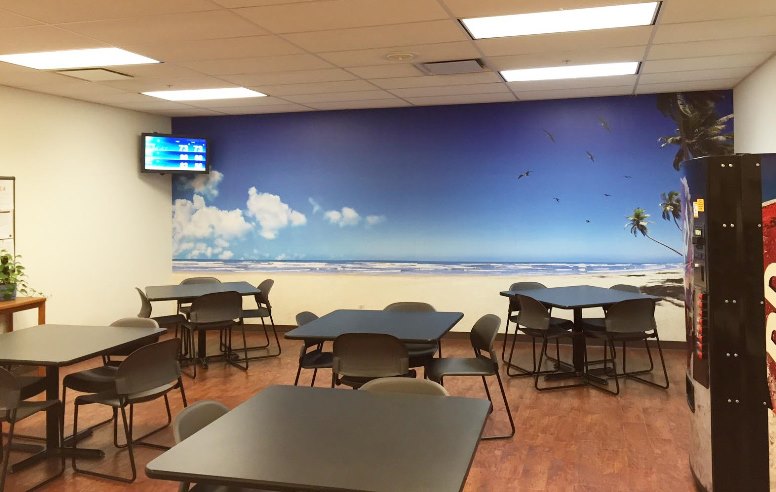 Change of Pace
We mentioned how important consistency is in improving company culture, but don't get too carried away. There's no need for company logos on the bathroom stalls, for example. But shaking things up occasionally can go a long way in keeping employees refreshed and engaged. It could be something as simple as rearranging the break room furniture or using floor and office wall decals to carry out a seasonal theme. You don't need full-scale renovation to keep things fresh.
Choice
Allow employees to show their personalities by giving them options to display personal décor. Encourage them to decorate their workspace with items from home, or even better, carve out a few dollars from the office supplies budget for each employee to buy something for their desk. Plants, mugs, pens, posters – anything that gives their space a personal touch. This will give employees a chance to express themselves, encourage employee communication and showcase your company's unique culture.
Giving your employees the resources they need to succeed is a must for any business. But that means more than buying the nicest computers and the newest software. In the modern workplace, it means providing a physical work environment where employees are comfortable and confident. If you're looking to build on your company culture, take a look at some of our products at FASTSIGNS. We'd love to help with your office transformation.
Resources
Related Articles