Public houses, or pubs as they're more commonly known, have a longstanding history of elaborate signs. In honor of Saint Patrick's Day, we're celebrating the history of some of the coolest signs across the pond.
Did you know the idea of the bar sign came to Britain with the Roman invaders? In ancient Rome, bunches of grape vines outside an establishment identified it as a wine bar. Since there was a dire lack of grapevines in Britain, pubs were marked by hanging a bush outside, hence the popularity of names like Bull & Bush. Over the years placing a boot, copper kettle or bent branch from a tree (a "crooked billet") also identified an establishment as a pub. The first painted wooden pub signs commonly featured pictures of these items since most of the population couldn't read.
These vintage signs are actually excellent history lessons. They often tell the story of the area's trade, landowners or local legends. Names like "The Golden Fleece" or "Mason's Arms" indicate the area was known for its wool trade or masonry work. Many vintage pub signs feature coats of arms, which reflect the historical landowners. Some have entire tall tales behind them. In her e-book, A Book About Pub Names, Elaine Saunders relates the legend of The Drunken Duck pub at Barngates:
"The landlady one day found all of her ducks dead in the yard. Unaccustomed to waste, she plucked them ready for cooking. As she finished, the ducks began to revive and a search of the yard revealed a leaking beer barrel surrounded by webbed footprints. She was apparently so contrite that she knitted little jackets until their feathers grew back."
Some of the coolest English and Irish pub signs are those that bring back these little pieces of history:
The Smith's Arms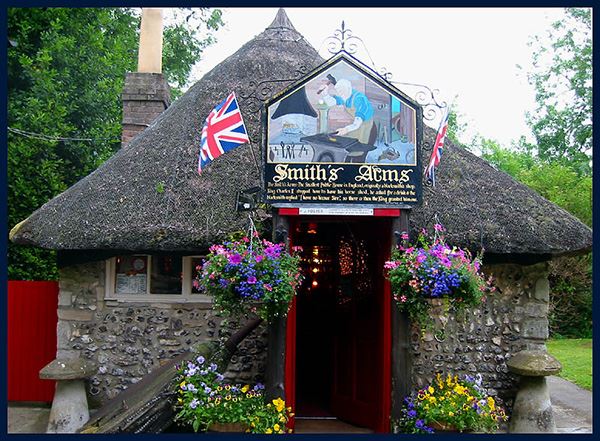 Photo credit: Copyright:  Joan West  (technogran)
The Smith's Arms in Dorset had the distinction as the smallest pub in England along with being a local legend. The story goes that it was once a blacksmith's forge where Charles II stopped to have his horse shod. He demanded a beer while we waited, but was told the smithy was unlicensed. Charles exercised his royal privilege, granted one on the spot and was appropriately served. Unfortunately, it closed its doors in recent years.
Foley's Pub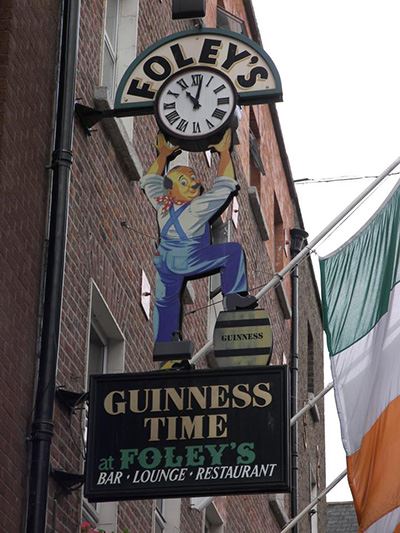 Photo credit: Foley's Bar Dublin
Modern history can be reflected by a pub edifice as well. In 2011 Queen Elizabeth II visited Irish soil, marking the first time a British monarch set foot in the Republic of Ireland since independence. Foley's Pub celebrated the occasion by running up the Union Jack and Irish Tricolor flag next to its historic pub sign.
Ye Olde Cheshire Cheese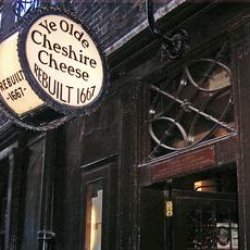 Photo Credit: Joseph T. on Yelp
The sign for Ye Olde Cheshire Cheese in London may not be big, but those that spot it are rewarded with a trip back in time to when the pub was the heart of the neighborhood. As the historic bar sign notes, it was rebuilt in 1667 after the Great Fire of 1666. However, there has been a pub at this location since 1538 and even before that this spot was an inn owned by the Carmelite Monastery. Visitors today can get an Old World pub experience, from the roaring coal fires to the woodchips on the floor to soak up spilled libations.
Have you ventured across the pond and captured pictures of wonderful vintage pub signs? We'd love to see them! Tweet them to us @FASTSIGNS, #PubSigns.
---
Resources:
http://www.lulu.com/shop/elaine-saunders/a-book-about-pub-names-the-history-of-britain-as-told-through-its-pub-signs/ebook/product-2300180.html;jsessionid=B66DDEC06A6611F36254BE63782865C2
http://www.britainexpress.com/History/culture/pub-names.htm
http://drunkenduckinn.co.uk/
https://www.facebook.com/pages/Ye-Olde-Cheshire-Cheese/103831539656339
https://www.facebook.com/foleysbarbaggotst
http://travel.cnn.com/10-beers-10-londons-oldest-pubs-485661
http://drinks.seriouseats.com/2012/04/where-to-drink-in-dublin-best-irish-pubs.html
http://www.independent.ie/opinion/analysis/enda-kenny-royal-visit-will-be-seen-around-world-as-symbol-of-reconciliation-26733353.html
http://en.wikipedia.org/wiki/Pub_names
http://en.wikipedia.org/wiki/Pub#Signs