Summer is on its way, and with the warmer weather comes the fun and excitement of outdoor events and entertainment. Festivals and fairs are a seasonal staple that bring people together to celebrate community and culture. These events bring plenty of joy (and money) to their communities, but don't forget about the group of organizers on the other side of the ropes, stressing over costs, schedules and safety. The popularity of summer festivals and fairs bring larger crowds every season, and event organizers have to adjust their communication strategies to accommodate them and keep things running without a hitch. As much as we look to our phones for instant info these days, outdoor event signage is still the most effective way to get event-goers the information they need.
Schedules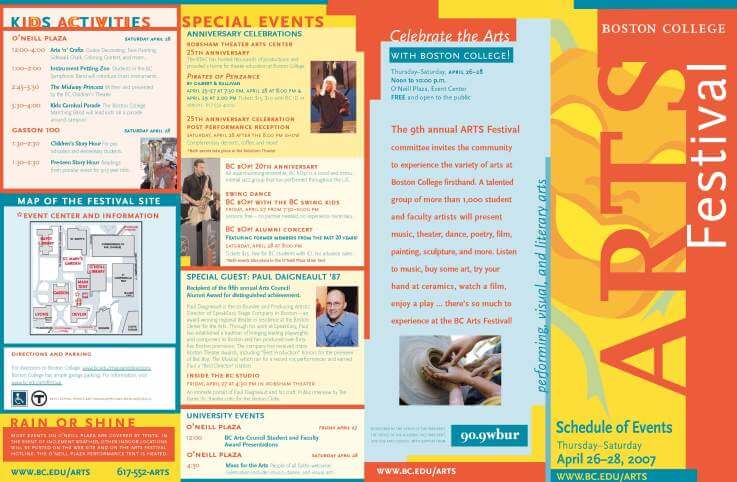 Photo credit: Brooklyn Art Project
Community events can seem hectic, but each event has a definitive schedule to support patrons, workers and participants. When it comes to organizing and running a community event, the schedule may be the most important piece of signage that you produce. Times, locations, a map and event descriptions are often included in the official event schedule to make sure everyone is on the same page. The official schedule should also come in a few different forms.
Perhaps the most common form of outdoor event signage is the schedule brochure. The brochures are designed to be easily read and stashed away in a bag or purse. Attendees can usually pick a schedule up at an entrance, information booth or common gathering spot. When they want to know what's next or where they can find a booth, display or event, these brochures serve as a handy guide to their destination.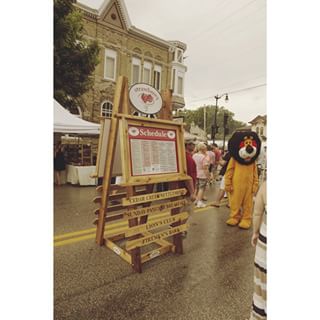 Photo credit: Cedarburg Festivals
The same schedules can be blown up and displayed as a banner or A-frame sign. These community event signs are a great resource for everyone at the event and creates less waste than smaller paper options. Be sure to use the same design for each schedule form. This will limit confusion and create a consistent event identity.
Safety
With the big crowds that these events attract, safety is always a top priority for organizers. We usually think of medical emergencies when considering event safety, but emergency prevention is the first line of defense. One preventative measure is providing accurate and easy-to-read wayfinding signage. Maps can be confusing and clumsy for many in attendance. Prominently posted wayfinding signs can improve traffic flow and minimize confusion. This makes for a more relaxed event atmosphere and reduces the risk of overcrowding and the dangers that come with it.
In the case of an emergency, it's important that your outdoor event signs are properly installed and can be seen from a distance. First aid and information booths should be marked with safety signage that can be easily identified, usually by their use of a universal medical symbol. An appropriate visual communication strategy during an emergency can prevent panic and maintain order.
Commerce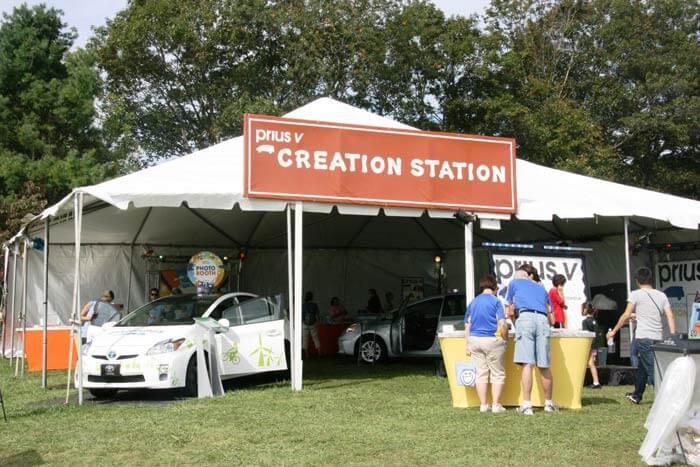 Photo credit: Life is Good
Community events bring people together to celebrate and share, but they also serve as fundraisers for organizations, vendors and participants. Some community events require signage to be consistent with the official event branding, while others allow vendors and organizations to bring their own. Booth and display signs are designed to attract customers, but they also can be used for brand awareness and promotion. Be sure to communicate what type of signage is expected.
When you're at your next festival or fair, take a look around. You'll notice festival signs are as integral to the function of an event as anything. They inform, entertain and protect everyone in attendance. What events are you organizing or attending this summer? Share your favorite community event signs on our Facebook and Pinterest pages.