At each phase of your event — before, during and after — signs and visual graphics can help build traffic, inform about activities, guide people around, generate excitement, communicate your message and extend the theme of the event. 
Below are some of the challenges that you might face when planning an event, and examples of unique signs and visual graphics that can help you solve your challenges: 
Trying to generate awareness?  
Use oversized banners, digital signs, vehicle graphics and inflatables.

Trying to lead people to the event? 
Use directional signs and concrete graphics outside to help lead attendees in. Once inside, use floor and stair graphics, column wraps and elevator door wraps to build excitement.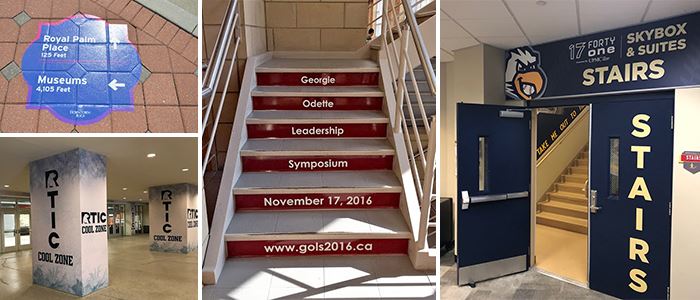 Trying to educate about a product, cause or service?
Use large banners, flyers, exhibits and displays to extend the theme and brand the event.

Focused on recognizing success?
Try a photo backdrop and custom awards. Photos can be used for PR and in social media to promote the success of the event and your brand.
Establishing an ambiance?
Use podium and stage graphics, wall graphics and table graphics to extend your theme.

Want to create a lasting impression? 
Leave guests with a lasting impression by providing parting promotional gifts of logoed wearables or promotional items as people exit to remind them about your brand, products and the event.

After the event, follow up with thank-you cards, themed brochures and links to photos or videos to continue to engage and reinforce key themes and messages. 
When it comes to extending the theme of your event to help make it more successful, FASTSIGNS® is more than ready to help. For additional information on event signage, see our Frequently Asked Questions.