Leopards are well-known for being skilled climbers, the agility they possess, and how they symbolically stand for the ability to carry out many tasks simultaneously. For Sam Leopard, a skilled Outside Sales Professional at FASTSIGNS® of Fort Worth - Alliance Blvd, his agility and sales acumen have enabled him to climb to new heights and set himself apart. 
At the 2020 FASTSIGNS Virtual Outside Sales Summit, he was awarded the 2nd annual Catherine Monson Salesperson of the Year Award, which recognizes one Outside Sales Professional who best represents the concept and the spirit of the brand, both in the business community and within the FASTSIGNS network. In addition to the highest achievement, Sam also received a Platinum Sales Award for generating record sales.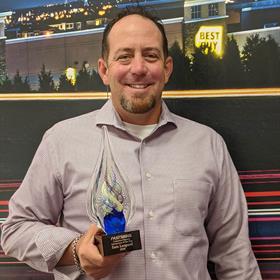 The story of Sam's career began in Iowa. As a horse trainer, he spent countless hours traveling for work. After relocating to Texas to run a horse farm, life on the road started to lose its lustre. With roots in Fort Worth, he selected sales as a career path, and it has been the perfect fit for his personality. The traits that have led to Sam's success are his ability to listen and his desire to assist his customers. 
"I enjoy being able to help people," said Sam. "Sometimes I get called in the moment of panic when someone feels like the house is burning down. I love coming in with solutions and saving the day."
Is there a typical day in the life of a FASTSIGNS Outside Sales Professional? According to Sam, "never!" 
"Most of my success has come from being a fire extinguisher and being where my clients need me. While I use a day planner to schedule out everything that needs to be done each day, rarely does the day follow it perfectly."
Those best laid plans are shifted when Sam is needed onsite to meet with customers and prospective clients. Even in a pandemic, those walk-throughs are just as important to ensure the right signs and graphics are proposed. 
One of Sam's most recent projects included the luxurious DFW ranch retreat, the Lucky Spur Ranch & Resort. The comprehensive branding solution he delivered encompassed everything from glass boards to steel applications, creative canvases to trade show options and even various marketing materials.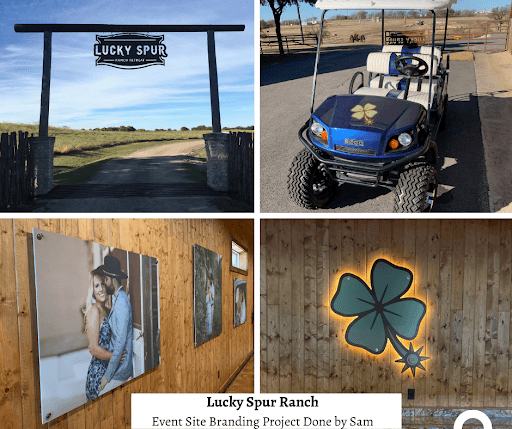 "I'm really lucky to work with the graphic designers that we have on our team. I bring them the initial sketches from my meetings, and they bring the idea to life for the businesses and organizations that we serve."
Sam's authenticity is seen in the honest and humble way he interacts with others. His years breaking and training horses helped prepare him with the skills he would need to succeed in sales. His fierce drive is also why, in addition to his outside sales role, he helps manage  FASTSIGNS® of Fort Worth - Alliance Blvd. When he first began working there, it was a 900 square-foot storefront. With continued growth and evolving to become an all-encompassing visual communications provider, the center is now 4,000 square feet.
What does he believe is most important when working in either role—sales or management? "Treat others the way you want to be treated," he shared. "And it helps to love what you do. Otherwise, you're driving around with little purpose or motivation. Opportunities will be more likely to pass you by."
Those opportunities sometimes come in the form of the vehicle wraps he sees on the road driving to a client's business or a sign hanging near the register at the grocery store. After working in the sign and graphics industry for so long, Sam has become a sponge for everything around him—the good, the bad and the ugly. 
"I look at signs the way someone might look at Instagram," Sam explained. "I see things that work well and those that don't. I learn from that and use it to provide better solutions for our clients."
In addition to his work at FASTSIGNS, Sam devotes his time to helping others through several charities including the Christian Community Storehouse, which is dedicated to the education and well-being of low income children in the community. They provide the basic essentials for children to remain and be successful in the classroom. In 2019, they provided 130,000 services to over 5,000 children. Through Sam's regular involvement with the organization, he brings great value to his local community. 
"When people see you doing things out of the kindness of your heart, they notice," said Sam. "While this helps your business, it also helps you grow as a person."