As you embark on the journey to owning a franchise, an Item 19 in the Franchise Disclosure Document (FDD) can provide key financial information which you need to consider about earning potential. As you examine franchising opportunities, you should review the Item 19 to help answer the question, "How much money can I make?" as well as other important financial considerations.
What is an Item 19?
The Item 19 is a portion of the FDD that informs franchise candidates about the financial performance of existing franchise centers. If you are considering the path to becoming a franchise owner, you will have the chance to look closely at the Item 19 section within the Franchise Disclosure Document.
Why FASTSIGNS® provides an Item 19
FASTSIGNS International, Inc. provides a comprehensive Item 19 in its Franchise Disclosure Document to let franchise candidates know about the key financial metrics of owning a FASTSIGNS® center.
It's important to point out that not all franchisors provide an Item 19 in the FDD. In fact, FASTSIGNS® discloses much more information in its Item 19 than other companies. The level of transparency in FASTSIGNS' Item 19 is reflective of the fact that the FASTSIGNS franchise opportunity is one of the best in the industry. Honesty and integrity are at the forefront of FASTSIGNS' Item 19.
Most valuable information in the Item 19*
FASTSIGNS provides a robust, informative Item 19 to help outline the financial performance of the FASTSIGNS network. The most valuable information in the Item 19 describes important facts including:
Financial performance representations (Item 19)
Number of FASTSIGNS centers in operation
Disposition of all FASTSIGNS centers by volume
Performance of Outside Sales Professionals and the importance of this program to grow volume
Average P&L for the last year, including average unit volume for all reporting FASTSIGNS centers
Learn how much money you can make
After you've read the FASTSIGNS Franchise Disclosure Document with the Item 19, you have reviewed key financial performance to indicate how much money you can make. Many companies refrain from providing this information because sales figures are low or individual performance varies widely among franchisees. FASTSIGNS' comprehensive Item 19 provides a clear indication of financial performance to help potential franchisees make sound investment decisions. Of course, we strongly encourage prospective franchisees to speak with existing franchisees about their financial performance and overall experience operating a FASTSIGNS center.
FASTSIGNS discloses financials in the Item 19 including profitability and owner benefits. You can review a range of actual income, gross profits or net profits based on financial information provided by reporting franchisees. Other important findings about how much money you can make can be learned from the Item 19 including:
Average gross sales
Average Profit & Loss statement for reporting centers
Results of a Financial Benchmark Survey
Real-world glimpse into running a FASTSIGNS center
We are proud that top performing FASTSIGNS centers based on profitability earn 28% profits.* The average center volume is provided for your review. And, you receive a glimpse into centers in the Financial Benchmark Survey submitted by franchisees.
The Franchise Disclosure Document outlines a real-world glimpse into financial performance and examples. It's more than just discovering about owning a profitable business. FASTSIGNS provides an Item 19 to help candidates make a smart decision that helps tie in business goals with personal goals.
As an industry leader for 30 years, FASTSIGNS has a proven record of franchisee satisfaction and average growth sales. Our proven business model, high franchisee satisfaction rankings make FASTSIGNS the leading opportunity in the sign and visual graphics industry.
While many franchise companies are choosing not to provide a complete Item 19, FASTSIGNS has opened the door for entrepreneurs and prospective franchisees to discover everything needed to get started in the exciting visual communications business. From a comprehensive review of financial performance to the long-term stability of the franchise, FASTSIGNS showcases sales and earnings as well as costs and expenses incurred.
As you look at owning a franchise, you should ask about an Item 19. Although it's not required, it paints a picture of financial performance and answers your inevitable questions about your investment. You should be able to talk freely about your potential investment and receive all of the information you need to make a smart decision.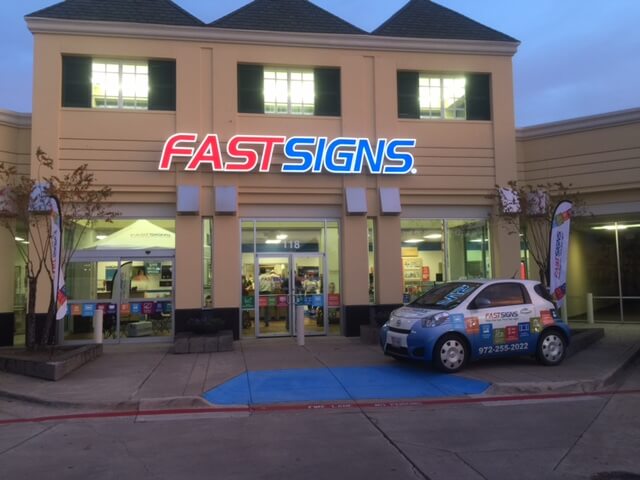 * Per FASTSIGNS International, Inc.'s 2015 Franchise Disclosure Document, P&Ls were prepared based on information provided by FASTSIGNS franchisees. The information has not been audited. The franchisor is unable to verify the accuracy of the expense information provided by FASTSIGNS franchisees and makes no representations or warranties regarding the same. Written substantiation will be provided on request.
This is not intended as an offer to sell, or the solicitation of an offer to buy, a franchise. It is for information purposes only.