From poor design and grammar to unfortunate punctuation and placement, there is no shortage of signs that cause a double take for unintended reasons. As an extension of your brand, your signs and visual graphics should be thought out and planned with care. Here is just a small sample of our favorite sign blunders and lessons learned.

Sometimes these types of funny sign fails are intentional. Sometimes, they're accidental. With the ability to quickly change messaging and content, LED and digital signs would have been a good alternative here to correct the mistake… or continue with future funny messages.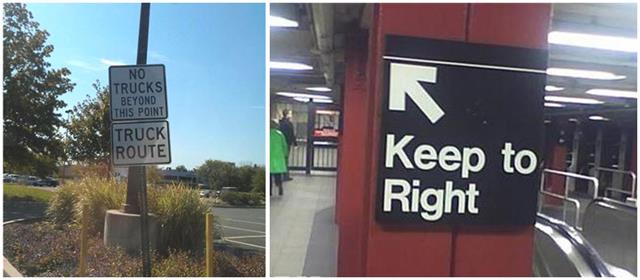 From retail parking lots to hospital hallways, well-designed wayfinding signs and visual graphics are important to help people get where they need to go. Wayfinding signage can also extend branding and make your building or workplace function better. Hand-in-hand with wayfinding, make sure your signs are designed with clear and logical communication for maximum value.

Sign and graphics placement can be as important as the design itself. When determining your needs, consider first where the final product will be installed and how it will be viewed. Vehicle wraps and car graphics are effective marketing tools, as long as the final graphic placement doesn't show your brand in a negative or confusing light. Colorful exterior banners and flags help grab attention of passersby. While the banners above may have been placed in that order on purpose, it may not strike all who see it as entertaining. Knowing your audience and understanding the viewing conditions will help you make the best sign placement decisions for your organization's goals.
The expression, "you had one job" comes to mind when looking at these sign and graphic fails. However, there aren't many who have only one responsibility when it comes to their job; most people have a number of tasks and responsibilities to juggle daily. Fortunately for us—and you—visual communications and signage is our specialty. Worried that your next sign and graphic project will turn into a FAIL meme? Contact your local FASTSIGNS® for help.