6 Amazing Ways to Connect with Your Customers
In today's competitive market, it's important to create customer loyalty for your retail business. Use your in-store signage and visual graphics to set yourself apart from your competition and help you connect with your customers. Here is a list of six amazing ways retailers and restaurants connect with customers and create lasting relationships.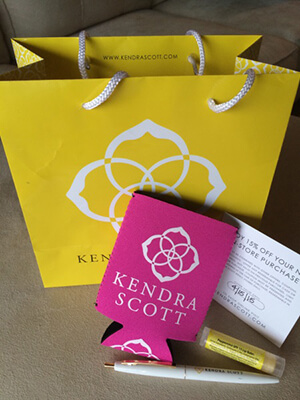 1. Kendra Scott: Promotional giveaways
Kendra Scott is a popular jewelry and accessories designer. During a spring break weekend, Kendra Scott's boutique in Plano, Texas gave away a goodie bag to everyone who walked in the store, even if you didn't buy anything that day. The bag included spring essentials such as branded lip gloss, koozies and a chic promotional pen. By providing complimentary promotional products, Kendra Scott stays top of mind and gives customers fun, useful items. The bag also included a coupon for 15 percent off of a future purchase, which encourages repeat business. And who doesn't like coupons?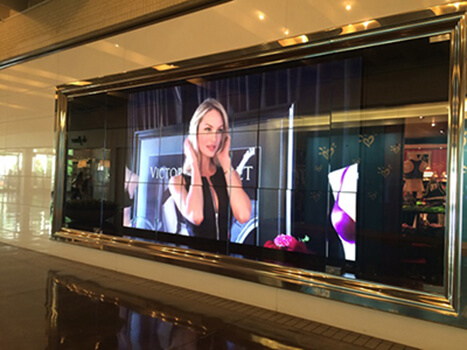 2. Victoria's Secret: Digital video wall
The Victoria's Secret location in Dallas's North Park Mall includes multiple digital displays featuring engaging video content to give customers an experience unlike any other. On the outside of the store, two large digital video walls display the Victoria's Secret annual fashion show and behind the scene interviews with the Victoria's Secret angels. Inside the store, a large video wall features the latest fashion trends and styles. To promote the summer swimwear line, there are scenes of tropical beaches and fashion images from the latest photo shoot. With scenes of splashing waves and sandy beaches, customers are more inclined to try on a swimsuit. The changing imagery and behind the scenes content allows shoppers to connect with the brand on another level and creates a memorable shopping experience.

3. Nordstrom: Social media integration
Nordstrom integrates Pinterest, the popular photo sharing social media network, in their stores to connect with their online audience in real time. By adding "Pin It" buttons on the department store's website, customers and Pinterest users can "Pin" their favorite products and styles. Nordstrom uses their successful Pinterest content in their stores to promote the most popular dresses, shoes and handbags. The retailer monitors the week's "Top Pinned" retail items and places signs and graphics with the Pinterest logo on them throughout the store. Read more about how Nordstrom integrates social media to connect with their shoppers and improve the in-store experience.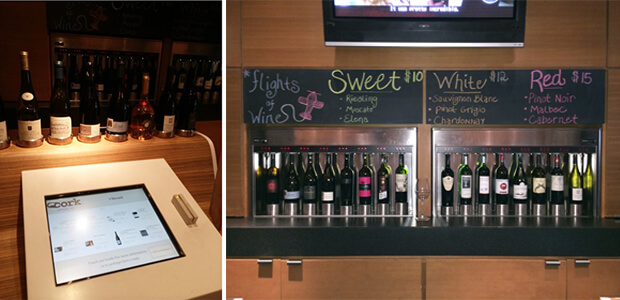 4. Cork Wine Bar: Interactive displays
This Dallas-based wine bar uses interactive graphics and technology to engage customers and create a unique tasting experience. At the bar, there are touchscreen stations for guests to use for ordering and reading about the monthly selection of wines. The digital content is easy to update as the bar changes the wines featured each month. Guests can pre-pay for a Cork Wine Bar card to use at the touchscreen stations, which is ideal for quiet date nights or parties and functions. Behind the bar, traditional signage complements the digital displays and creates a family-owned look and feel.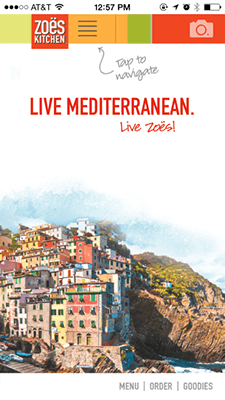 5. Zoe's Kitchen: Mobile app
The Mediterranean-inspired fast casual restaurant chain launched its mobile app in 2013. The app allows customers to stay connected with Zoe's Kitchen from the touch of a smartphone. Customers can place a to-go order in advance without having to wait in line, rate their dining experience and receive special coupons. When customers take a photo of their Zoe's Kitchen receipt through the app, they receive a "Goodie," whether it's a free hummus appetizer with any entrée, any choice of a free side, a large travel cup and more. Zoe's Kitchen recently revamped the app to include a nutritional section with a calorie counter and ingredient information.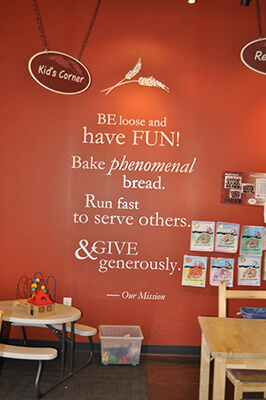 6. Great Harvest Bread Company: Mission statement
Founded in 1978, Great Harvest Bread Company has expanded to over 200 franchise locations nationwide. Using warm colors and wall graphics, each store reflects the same charm and philosophy as its first bakery founded in Kalispell, Montana. As customers walk in the door of Great Harvest Bread Company, it's easy to identify the company's culture from the mission statement prominently displayed: "Be loose and have fun! Bake phenomenal bread. Run fast to serve others. Give generously." The large wall graphics with the mission statement let customers know what the business stands for and emphasizes the bakery's customer service-driven atmosphere. Placing the mission statement next to the "Kid's Corner" play area is also a nice touch.
Learn more ways to connect with customers and communicate in your retail business or restaurant from the book, Signs Sell. Order a copy HERE.
Related articles: