FASTSIGNS of Boca Raton Helps Transform a Blank Space to a Branded Environment.
(BOCA RATON, Fla.) July 27, 2018—ViVi Holding, Inc., an international commerce company, opened its first U.S. headquarters in Boca Raton, Florida. After finding a standard empty shell office space for their new headquarters at 951 W. Yamato Road, the company only had four weeks until its launch party to create a branded work environment for its subdivisions—ViVi Pay, ViVi Mobile and ViVi Tech. That's when FASTSIGNS stepped in to help visually transform the space fast track-style.
"Despite being on a very tight deadline and with existing architectural designs to contend with, our team worked diligently to design, manufacture and install the signs and graphics needed to create a vibrant, impressive workspace," said Chris Kirby, owner of FASTSIGNS. "From the moment you walk in to the reception area, through the glass wall hallways, to meeting rooms and employee break rooms, the entire space has been strategically branded to communicate ViVi Holdings' brands and product offerings."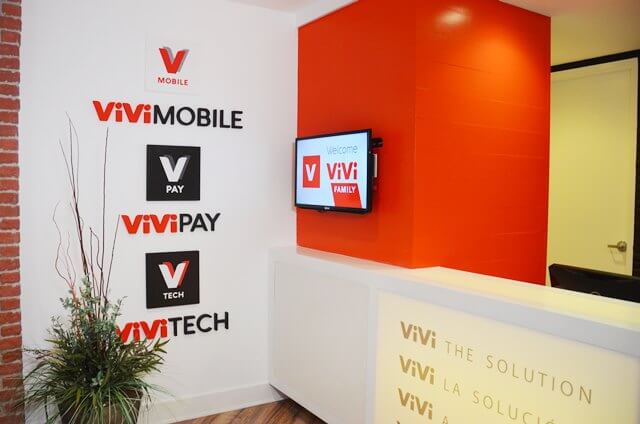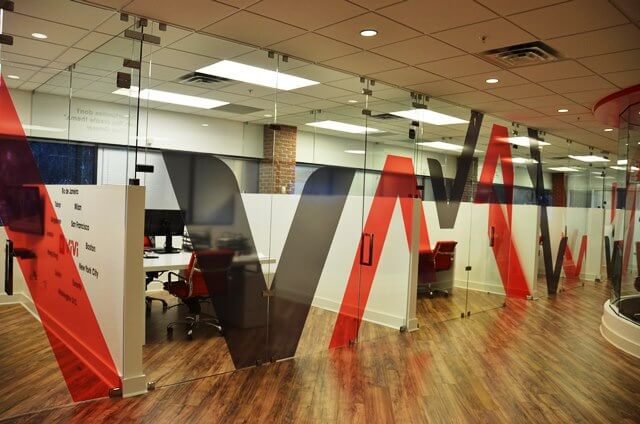 Guests and employees alike are welcomed with backlit dimensional logos and a digital display in the front lobby. The reception desk is branded with vinyl lettering and an illuminated cabinet sign, conveying the company's global reach. Interior glass partitions and doors create offices and meeting rooms; bold colors and frosted vinyl graphics were applied to create privacy, promote safety and complement the brand décor. Identifying the company's departmental areas, branded floor-to-ceiling wall graphics and column wraps were used.
"One of the biggest challenges our team faced was to hide the existing brick walls to match the customer's branding," Kirby explained. "To do this, we used aluminum composite panels with 3M vinyl carbon fiber applied. We installed the panels and painted any remaining visible brick areas black to create a seamless, branded look."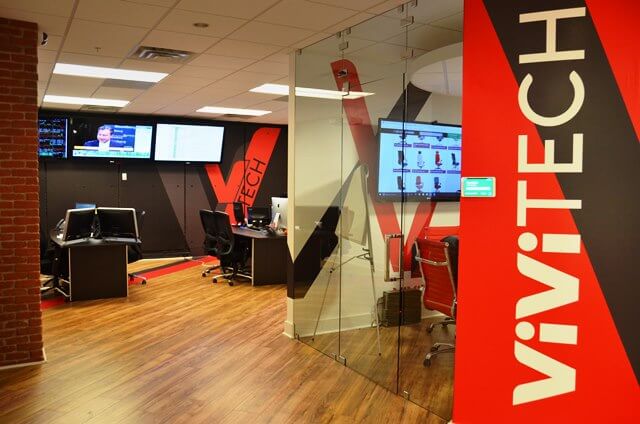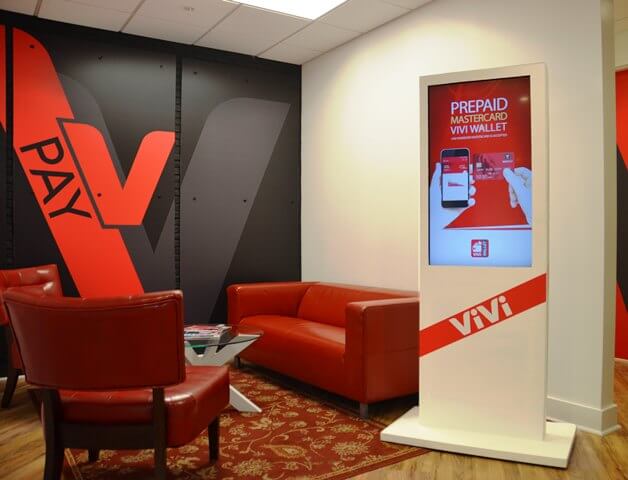 FASTSIGNS completed the entire fit out on time and within budget. The team wrapped and installed two digital kiosks that display product information in an engaging way. Custom-framed prints of world maps were displayed in conference rooms and offices to reflect the company's worldwide presence. ViVi's brand colors, red and black, were incorporated in the map designs. In the employee kitchen and break rooms, the doors and counters were wrapped to identify the areas, and logoed wallpaper was used to accent the décor. Additionally, FASTSIGNS provided custom name badges, lanyards, business cards, packaging and other printed materials.
"In today's work environments, having a professionally designed and branded space is crucial for businesses to make a grand impression," Kirby said. "We are honored for the opportunity to work with ViVi Holdings and help create a stunning, unique office that they can be proud of."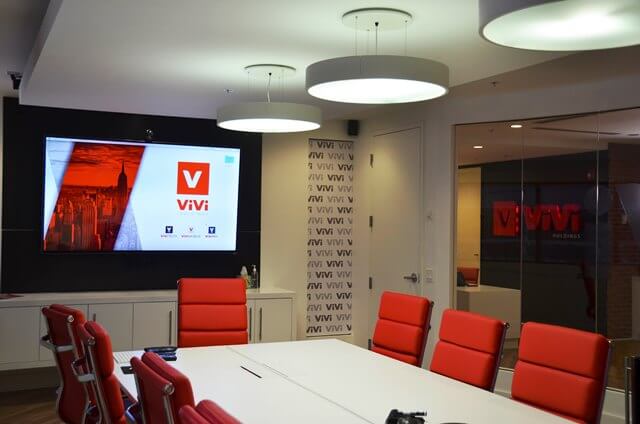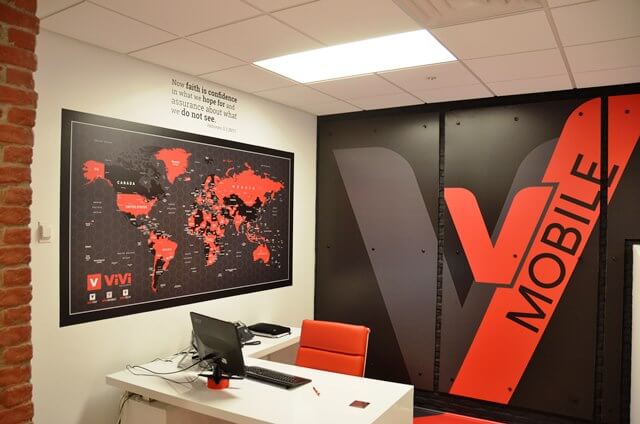 About FASTSIGNS®
FASTSIGNS® of Boca Raton is a locally and independently owned and operated sign, graphics and visual communications company that provides comprehensive visual marketing solutions to customers of all sizes—across all industries—to help them attract more attention, communicate their message, sell more products, help visitors find their way and extend their branding across all of their customer touch points including décor, events, wearables, digital signage and marketing materials. To learn more, visit fastsigns.com/2043 or call (561) 924-1275.