Bonita Springs to see Growth with Merging of Two Sign Companies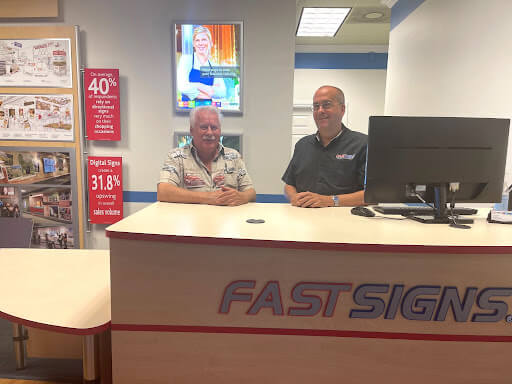 (BONITA SPRINGS, Flo.) September 28, 2021 - FASTSIGNS has teamed up with locally-based Ernie's Signs to better support sign needs within their community. FASTSIGNS franchisee, Robert Haller, first met Ernie Fernandez in 2008 when he opened a 2nd location for Monarch Graphics in Bonita Springs, FL. Ernie created their sign, and when Robert's location became a FASTSIGNS Co-Brand in 2013, Ernie manufactured and installed their new FASTSIGNS sign as well.
"We always worked well together, because we each did different things," said Robert Haller. "As a result, there was never any competition between our companies. But while our companies were different, we also shared similarities that have now dovetailed into one incredible business."
Ernie has owned Ernie's Signs for over 50 years, and Robert has owned Monarch Graphics for over 40 years. Due to challenges from the pandemic, business slowed for Ernie. After several conversations between Robert and Ernie, they decided it would be beneficial to join forces and work together. In addition to Ernie, FASTSIGNS is also gaining the talented installer that Ernie employed, Mike Whittaker who has been manufacturing and installing signs for almost 40 years.
"Both Ernie and Mike are well-known and respected in our community. Ernie's creativity and sign design experience is truly an asset to our FASTSIGNS customers," said Haller. "Adding a knowledgeable service tech also allows us to provide faster service to our customers."
The agreement also provided FASTSIGNS with a Service Truck and a rather extensive array of tools and supplies. In addition to this, FASTSIGNS has also added a new Van Ladder, which will enable them to perform their jobs more efficiently and with an experienced full-time installation crew, that can install, repair, remove, and replace signs more quickly. In most cases, the team can repair a sign in one trip with just the parts stocked on the truck.
FASTSIGNS is located at 28440 Old US 41, Suite 6 in Bonita Springs, and the center is open Monday through Friday from 9:00 a.m. to 5:00 p.m.
About FASTSIGNS®
FASTSIGNS® of Bonita Springs, FL is a locally and independently owned and operated sign, graphics and visual communications company that provides comprehensive visual marketing solutions to customers of all sizes—across all industries—to help them attract more attention, communicate their message, sell more products, help visitors find their way and extend their branding across all of their customer touchpoints including décor, events, wearables, digital signage and marketing materials. To learn more, visit fastsigns.com/2065 or call (239) 880-8858.