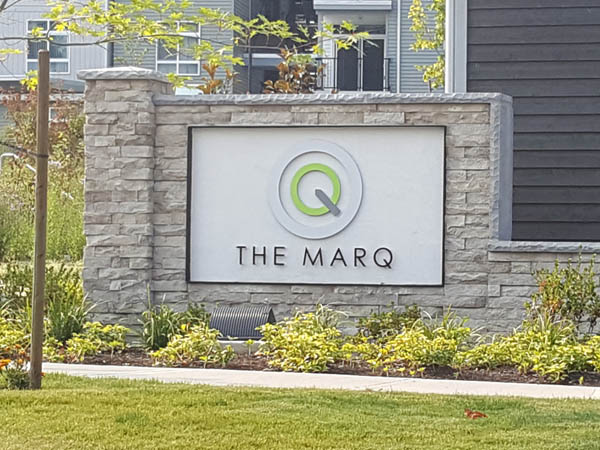 The Wolff Company
Signs and Graphics for Multi-Tenant Housing Brands
The Challenge
The Wolff Company developed two nearby properties, each with their unique branding, and needed to communicate to the communities with signs and graphics.
The Solution
For The Marq apartment property, branded signs and graphics were provided throughout the community to identify units and help people find their way. Two large monument signs with the property's logo are installed at the front alongside the road. Teardrop flags are used to attract attention. Plaques are placed outside of doors and on buildings to identify units. Parking signs and directory signs with a map of the complex are placed throughout the property, and safety and ADA-compliant signs are used to keep people informed.
For the Revel Senior Living property, the temporary leasing office was wrapped to identify the building and display the property's branding. Fence graphics are used while under construction to display the leasing phone number and website for more information.
Additionally, an LED cabinet sign displays both properties.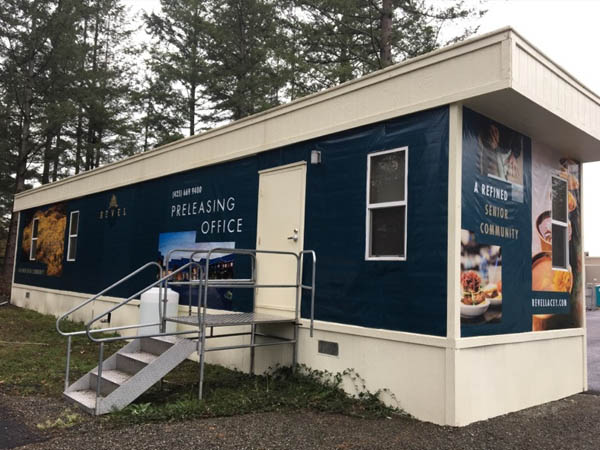 The Result
Each of the property's distinct branding is communicated throughout and tenants can stay safe and informed. FASTSIGNS® of Olympia-Lacey, WA is owned by Grace Kendall.