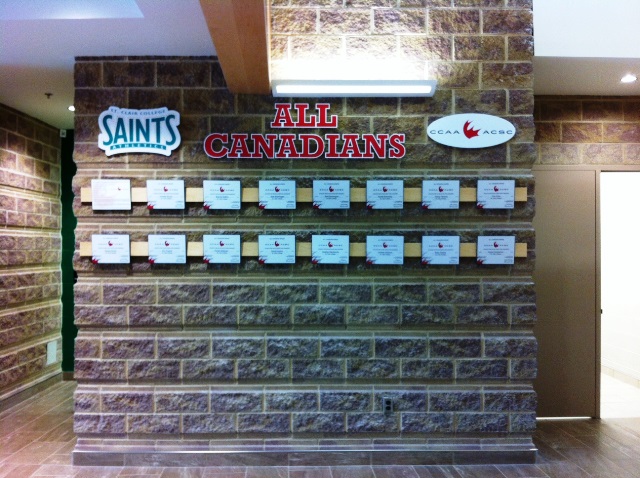 Branding a University's Athletics Facility Using Signage and Visual Graphics for the Grand Opening
The Challenge
St. Clair College in Windsor, Ontario was building a new athletics centre, SportsPlex, and needed a durable, vandal resistant solution for displaying awards that could be expanded in the future. The college had many glass walls and windows, which presented a safety hazard for people.
The Solution
FASTSIGNS® worked with St. Clair College to develop visual solutions that would blend with the modern facility's new décor and aesthetics.
FASTSIGNS designed, produced and installed two display walls for the awards, including the All Canadian and National Champion awards. The displays were created by combining solid wood panels with hardware in order to hang the wood mounted, printed plaques. FASTSIGNS provided vinyl prints for acrylic letters and mounted the logos directly to the wall.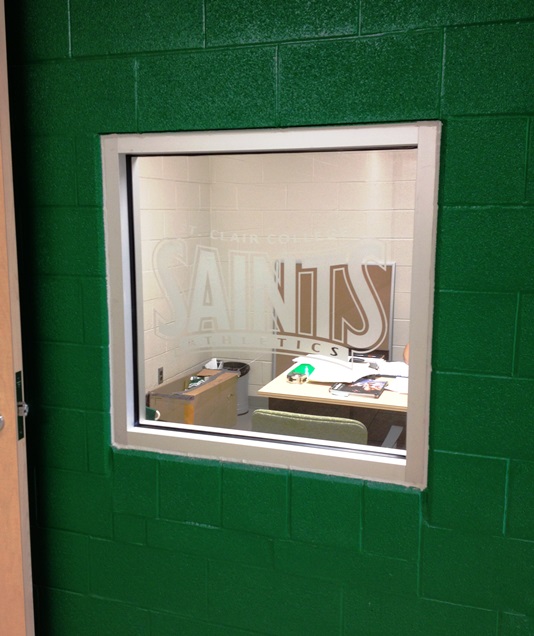 To resolve the safety issue presented by the glass walls and windows as well as provide recognition for donors, FASTSIGNS provided logos and donor names along the corridor and office spaces using window graphics that fit with the décor for installation before the grand opening.
The Result
The athletics department of St. Clair College was very happy with the quality of work by FASTSIGNS and the ability to provide signage and visual graphics prior to the grand opening. "We are developing a real niche market with the work we have done for the education field," FASTSIGNS' Jackie Raymond said.

*FASTSIGNS® of Windsor, Ontario is owned by Donna Bilodeau and Jackie Raymond.