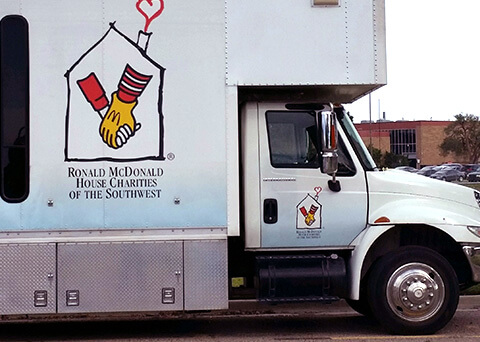 Ronald McDonald House
Building Signs and Wall Graphics Help Welcome and Provide Comfort for Families
The Challenge:
Ronald McDonald House Charities offer shelter and resources for families who have children staying in a hospital. The Lubbock, Texas location had three needs: raise the visibility of their physical location to make it easier for the families to find them, find a way to visually recognize donors, and display a quilt provided by The Security Blanket Society.
The Solution:
FASTSIGNS® installed two aluminum signs on a prominent corner of the building's exterior to provide visibility from the access road and the nearby freeway.
Inside, a donor recognition wall with vinyl silhouettes of children at play and colorful leaves communicates that "Healing Happens Together". Each leaf has the name of a donor; new leaves are added annually as new donations are received. The donor wall also has a tree graphic that includes frames with company logos for their adopt-a-room sponsors. Some frames have inspirational messages that can be easily replaced as sponsorships are obtained. To protect the quilt that now hangs on the wall, FASTSIGNS® created a protective covering made of clear acrylic.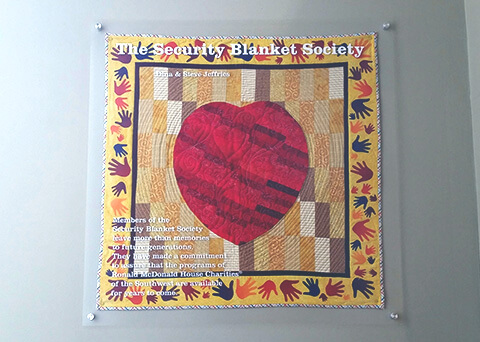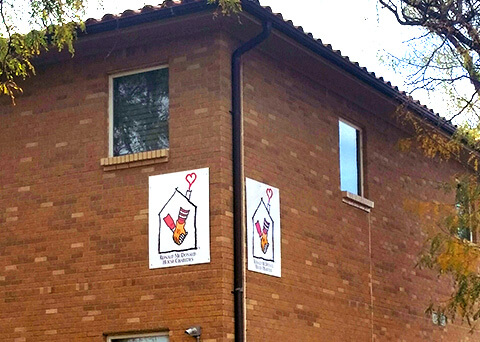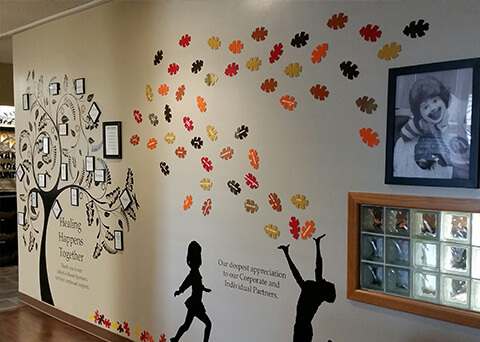 The Result:
The exterior building signs help donors, families and visitors locate the Ronald McDonald House. The donor wall recognizes people and companies, and the blanket hangs safely and proudly for all to see and be comforted.
*FASTSIGNS® of Lubbock, TX is owned by Michael Walker, Jerry Walker and Ben Lesser.