Old Bridge Medical Arts
Case Study: Old Bridge Medical Arts
The Challenge
For over five years, FASTSIGNS® has worked with the Raritan Bay Medical Center on comprehensive solutions using signs and graphics. The medical center's Old Bridge Medical Arts building has relied on a directory board that needed altering every month, as doctors and office names were constantly changing.
The medical center wanted to make the building directory updates easier and needed to generate more attention for their promotions and events. The traditional bulletin board needed a major overhaul and the hospital requested a modern, updated look. Overall, the hospital wanted to promote their brand image in a more attractive manner and FASTSIGNS was pleased to help.
The Solution
After consulting with marketing representatives from the medical center, FASTSIGNS created a plan to replace the old building directory and announcement bulletin board with engaging digital signs. The team added dimensional letters to brand the wall where the digital signs were placed. FASTSIGNS created a custom brochure rack, complete with finished brochures that the team designed and printed.
The two 42" e-poster digital signs are the perfect fit for Old Bridge Medical Arts' main entrance, which receives a tremendous amount of traffic from patients, staff and visitors. The first e-poster has replaced the building directory and is preloaded with Ad Player software that FASTSIGNS configures for the hospital. This digital sign displays the names of over 35 different building tenants and more than 70 doctors. "The legibility of the digital signs is great," FASTSIGNS' Tim Belmont said. "The customer has elderly clients coming in and it's always concise and in alphabetical order."
The second e-poster has replaced the outdated bulletin board and promotes events or programs that medical center would traditionally advertise with posters or flyers such as weight loss services, advertising for rehab services and facts about the hospital's sleep center.
FASTSIGNS' graphic designers upload content changes to a standard USB flash drive. In the case of the directory, FASTSIGNS has provided the graphics for the hospital and made it possible for the hospital to change doctor and office names as needed. This "plug and play" solution can be upgraded to a web-based enterprise system. "It's a big improvement for over what they were using," Belmont explained.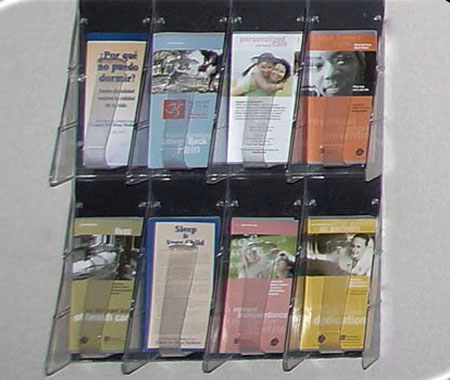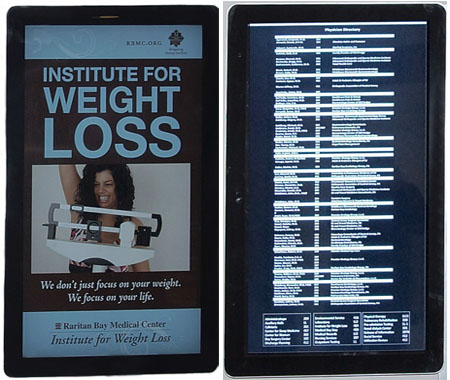 The Result
The e-posters, combined with the new wall graphics and brochure rack, portray eye-catching imagery. These digital signs present a positive, professional image for the hospital in a heavily trafficked building that receives visitors, urgent care patients, doctors, drug reps, insurance agents and employees.
FASTSIGNS has helped the medical center save time and money with the new digital signage. The eposters are receiving positive feedback and are helping the hospital to portray a high tech, savvy brand image.
*FASTSIGNS® of Lawrenceville, New Jersey is owned by Bill and Joan Belmont.