Signage Showcase: Muhammad Ali Center
Muhammad Ali, arguably the greatest boxing champion of all-time, passed away on June 3, 2016. Upon hearing of his death, thousands of Ali fans flocked to his hometown of Louisville, Kentucky, to celebrate his lasting impact on sports and society. The Ali Center, a museum and cultural center that opened in Louisville in 2005, would soon be flooded with visitors looking to reconnect with their hero's history. Let's take a look at how the Ali Center used a variety of signage solutions to create an experience that Ali fans would never forget.
Entrance

The center welcomes guests with colorful signs at the entrance of the museum. The dimensional letters, with a diverse set of fonts and colors, reflects the multicultural background of Ali and the communities that celebrate him.
Quote Mural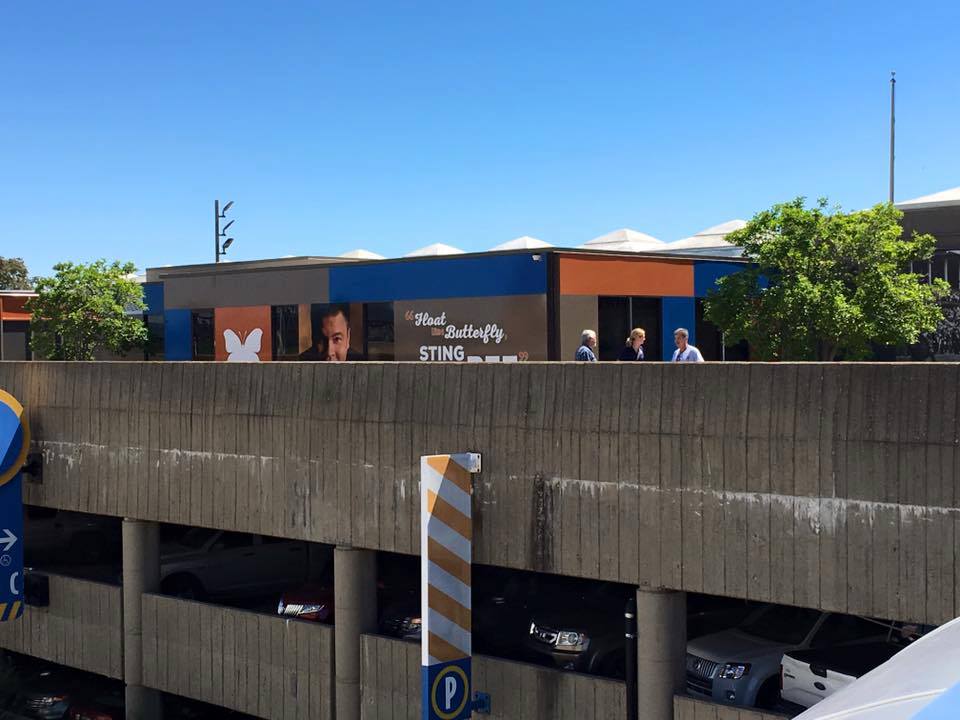 Perhaps Ali's most famous quote, "Float like a butterfly, sting like a bee" is presented on a mural outside of the museum. The impressive display stretches nearly 30 feet with bold wall graphics and a powerful portrait of an expressive Ali.
Wayfinding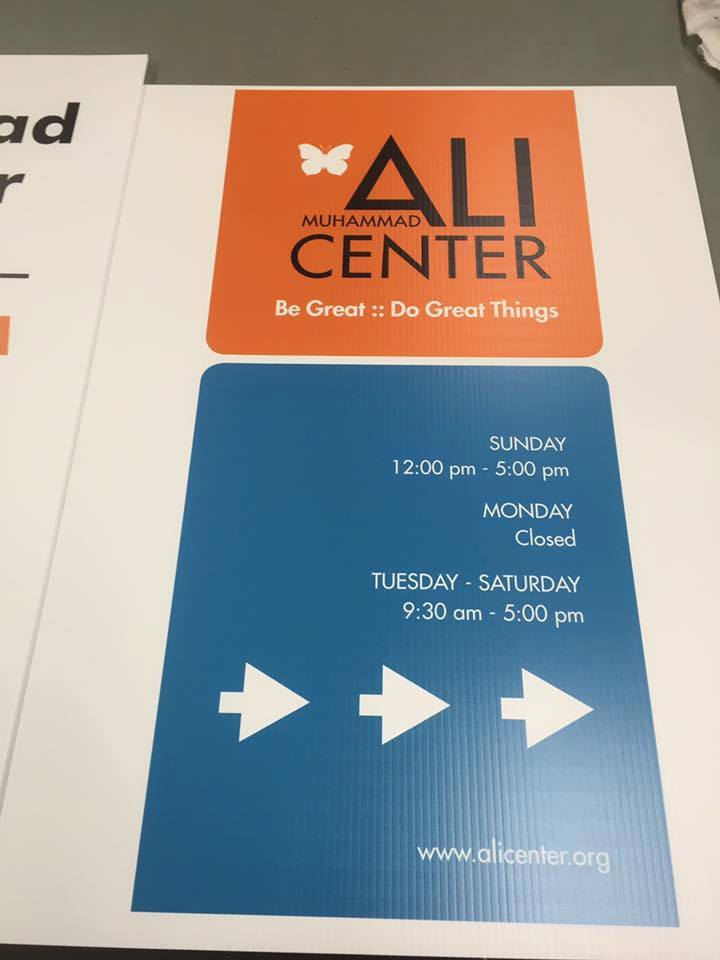 Enter the museum, and you'll find hours, directions and the Ali Center logo and motto: "Be Great. Do Great Things". Basic wayfinding signage, although it comes with less fanfare than banners or murals, will always be a valuable piece of the museum puzzle.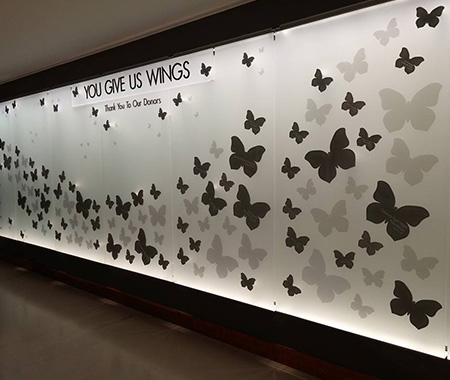 Non-profit museums like the Ali Center rely on the donations of a generous few. These donors deserve recognition, and many museums choose to show their appreciation with donor walls. The Ali donor wall is a beautiful tribute, recognizing each with their own butterfly and a fitting message: "You give us wings."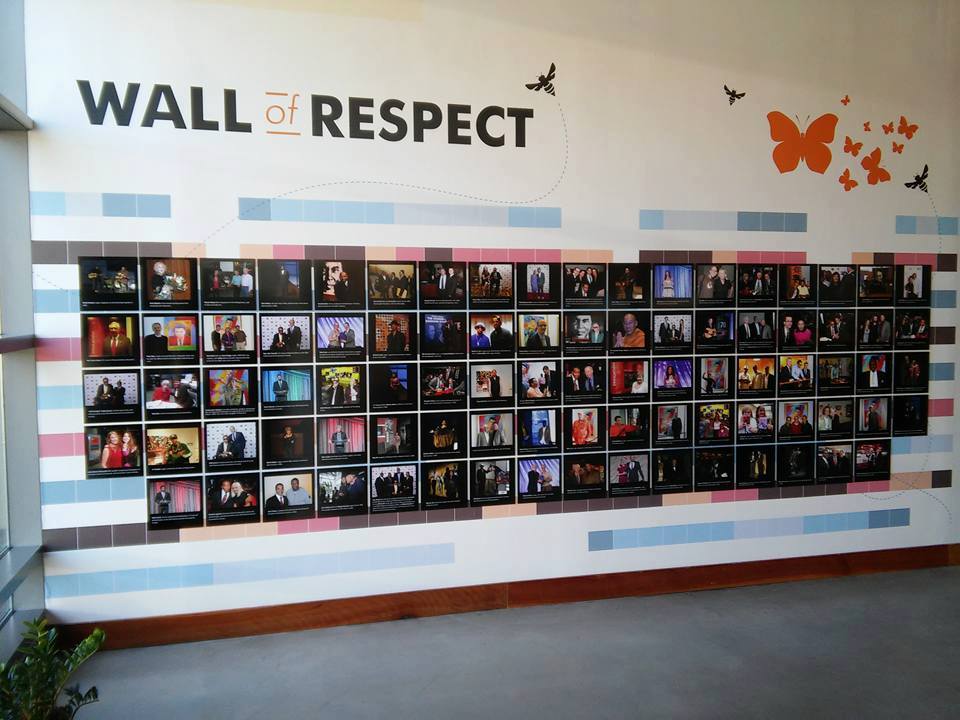 Move along through the museum, and the Wall of Respect quickly jumps out with its consistent butterfly theme. Another well-executed wall graphic frames the display – a collection of photos of Ali admirers and their memories of "The People's Champion".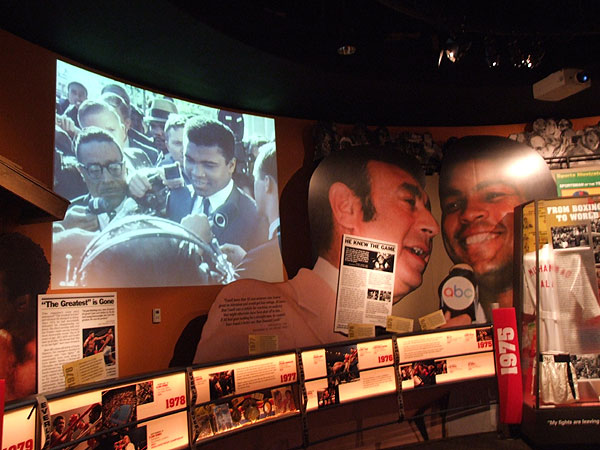 Photo credit: Stevietheman
As you hit the heart of the museum, the main display area showcases a collage of cutouts, glass displays and digital screens replaying Ali's finest moments. Magazine covers, a backlit timeline and more quote murals create an immersive experience that shows just how many people were affected by Ali's words and actions.
The Muhammad Ali Center would see a record amount of visitors that month with Ali fans coming from all parts of the world. A public memorial service was held on June 10, 2016, at the KFC! Yum Center in front of a sold-out crowd. The Ali Center showed how signage can be used to create a vibrant environment and powerful experience in a museum atmosphere. If you have any ideas for displays in your museum, contact our professionals at 800-FASTSIGNS.