Be Relax
Creating a Destination for Relaxation Using Visual Graphics in Busy Airports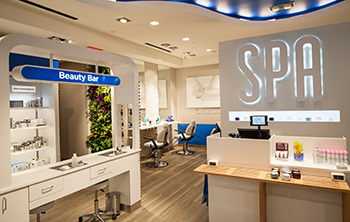 The Opportunity
Be Relax® offers a unique spa boutique where travelers can unwind at the airport before taking off. The international company has expanded their retail locations to major U.S. airports and contacted FASTSIGNS of Kirkland for help with signage and visual graphics.
The Challenge
Be Relax wanted FASTSIGNS to extend their spa concept to retail stores within John F. Kennedy International and Logan International Airports. The real challenge for FASTSIGNS was creating an atmosphere for Be Relax's massage and beauty services that would meet the needs of weary air travelers seeking a quiet oasis for relaxation.
The Solution
FASTSIGNS unveiled a plan for visual communications to brand the wellness stores. Working with both the Manager of Construction and Design for Be Relax and the General Contractor, FASTSIGNS created comprehensive solutions for signage to align with Be Relax's corporate brand guidelines, fit the unique layout of each store's design and create a relaxing customer experience.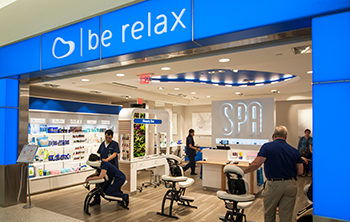 Although Be Relax originally requested light boxes for backlit photos, FASTSIGNS suggested a more cost-effective alternative for wall décor: canvas that looked like sophisticated artwork.
"We showed Be Relax examples of canvas print photos that we created for other clients," remarked Greg Shugarts, owner of the Kirkland FASTSIGNS. "We designed a set of canvas prints for the first Be Relax location and it was exactly what our customer was looking for."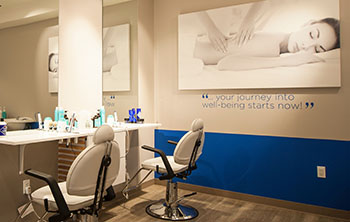 The FASTSIGNS team provided custom wall graphics to engage customers with soothing messages such as "Loosen up before your flight" and "Your journey into well-being starts now." Customers also receive subtle reminders of Be Relax's brand message with vinyl lettering at the point of sale where spa visitors check out and make purchases.
To emphasize the store's "Beauty Bar" display, FASTSIGNS used acrylic for the double-sided LED backlit sign and created white dimensional letters to standoff the translucent blue color.
"Be Relax needed a backlit sign and wanted to make sure their dimensional letters looked great," Shugarts emphasized. "Our team made the letters "pop" with white letters and overlaid a blue panel to make the design work."
Creating an inviting atmosphere was a fun, creative task as FASTSIGNS added simple, yet classic images of a drop of water, a flower and a stack of stones to the interior décor. FASTSIGNS produced removable decals for in-store fixtures that can be changed in the future.
Working in airports is a challenging task since FASTSIGNS needed to install all of the signage after hours when the terminals were not busy. Shugarts relied on an established network of FASTSIGNS franchisees to complete the airport installation projects.

The Result
FASTSIGNS provided the finishing touches with in-store signage and visual graphics for Be Relax and has provided off-set printing for print brochures. Rather than relying on separate sign companies for each geographic location, FASTSIGNS provided a turnkey solution at each major airport. Be Relax plans to open additional locations in other major airports and Shugart's FASTSIGNS team will support the retailer as they continue to grow.