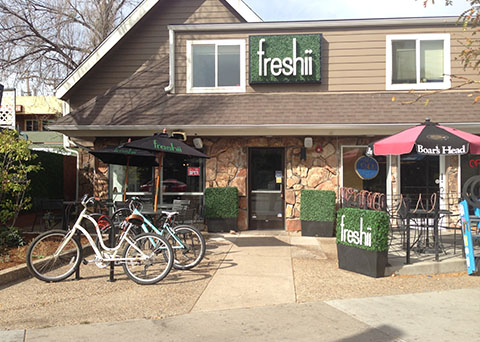 Freshii
Fresh, Unique Visual Solutions for a Restaurant's Grand Opening
The Challenge:
Freshii is a fast-casual restaurant that provides healthy meal choices to customers on the go. Business owner Max Baumgartner opened a new Freshii location in Boulder, CO, across the street from the state's largest university. The restaurant needed to increase awareness, generate excitement and stand out from the competition. The franchise restaurant also needed building signs and visual graphics that were brand compliant.
The Solution:
For the exterior building signage, FASTSIGNS® provided illuminated channel letters placed on a light box with dark green faux foliage to comply with Freshii's brand guidelines and to create a unique look. The greenery was used throughout the restaurant to add color year round and to differentiate the brand from other restaurants in the area. Branded stand- alone signs at the entrance were made with planter boxes, wood, faux foliage and dimensional letters.
Inside the building, FASTSIGNS created a custom wall with additional greenery and provided window panels with black and white graphics featuring menu items. To brighten up the restaurant, FASTSIGNS provided a unique LED wall sign communicating Freshii's motto, "Eat. Energize." FASTSIGNS extended the Freshii brand further using custom decals, printed posters, table throws and banners for various promotions and sponsorship opportunities, along with a cut out sign for people to take pictures with and promote the new Freshii location on social media.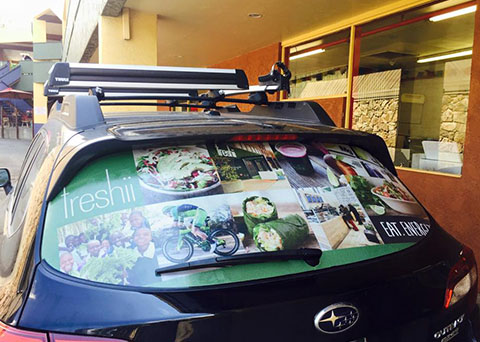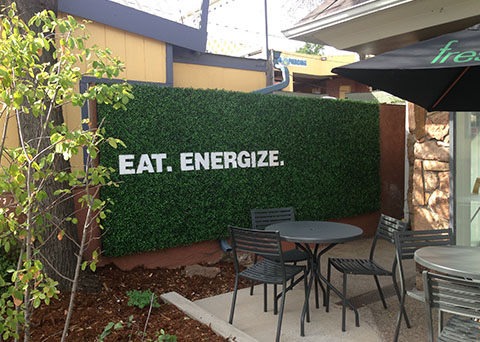 The Result:
FASTSIGNS helped build awareness for the new Freshii location using unique visual communication solutions and maintaining the franchise restaurant's brand standards. "The solutions we provided definitely played a big role in Freshii's grand opening in Boulder," said FASTSIGNS' Bob Okun. "The signs and visual graphics exhibited the Freshii brand, enhanced visibility and transformed an old, uninhabited space into something new and exciting."
*FASTSIGNS of Boulder, CO is owned by Ani and Bob Okun.