Guckenheimer
Sign and Graphic Solutions Transform Employee Eating Spaces
The Challenge
Guckenheimer creates exceptional dining experiences in the form of cafeterias for corporate offices across the country. Their challenge was to come up with modern, engaging designs for menus and décor that could be included in their proposals to close deals on cafeteria placements. The packages needed to be tailored to fit their clients' branding and company culture, while ensuring food stations are labeled clearly and accurately. The graphics needed to fit within set budgets and be fast to produce, easy to install and have a low cost to change menu items as prices and demand evolve over time.
The Solution
After conducting site surveys and in-depth conversations about how the designs could be tailored to fit the clients' culture, FASTSIGNS® came up with design packages Guckenheimer now uses in their sales process.
Magnetic systems display the menus and once the initial sign backings are in place, the café managers can install new graphics themselves for a very low cost. Dimensional overhead signage with wire cable systems labels various food stations, making it easy for patrons to find their way around. Oversized prints of fruits and vegetables, full coverage wall designs with inspiring quotes and company-themed designs give a feeling of a cohesive, inviting space.
Full trade show display packages with sample menus showcase designs and functionality at marketing events to convey how Guckenheimer can transform a space.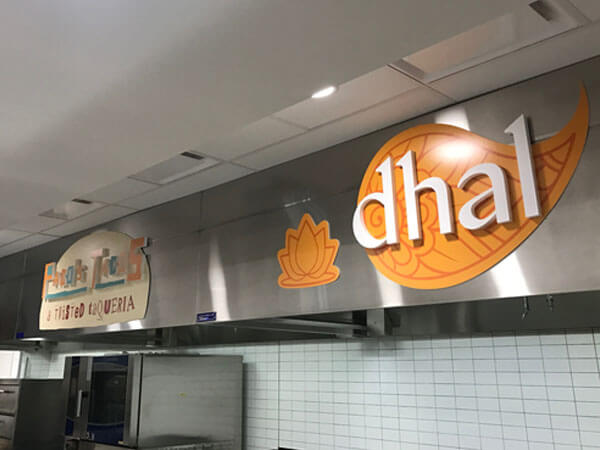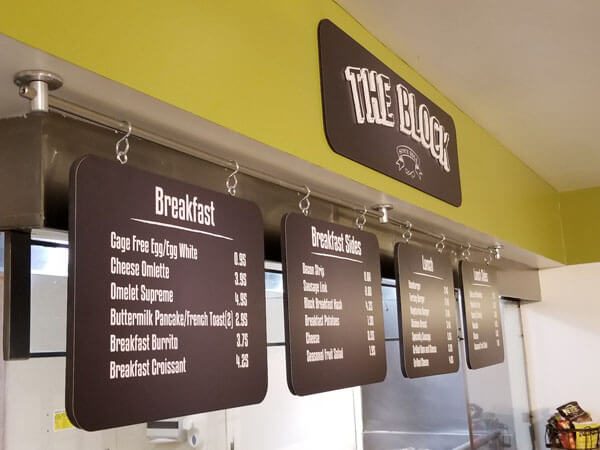 The Result
Because of the partnership developed with FASTSIGNS, Guckenheimer was able to open their cafeterias faster than ever to maximize revenue generation and please their demanding client base. Over 35 cafeteria locations have received new graphics to date, improving employee dining experiences.
FASTSIGNS of San Mateo, CA is owned by Linda and David Skromme.