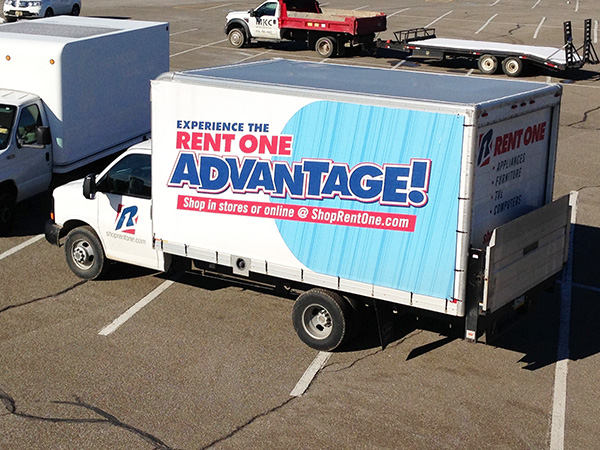 Rent One
Case Study: Building Brand Awareness for Rent One with Vehicle Wraps and Visual Graphics
The Opportunity
Rent One provides name brand rent-to-own (RTO) merchandise and operates 60 stores in nine states. When Rent One contacted FASTSIGNS® of Erie, PA for help with visual graphics, the company was expanding into new markets.
The Challenge
Rent One purchased nine existing rental stores and needed to complete rebranding for all locations. To retain customer loyalty during their brand makeover, the company asked FASTSIGNS to modernize their vehicle graphics and ensure brand consistency for signage.
The Solution
Capturing Rent One's brand message across all signage required FASTSIGNS to overcome hurdles with local ordinances in multiple locations. The FASTSIGNS team coordinated the landlord requirements to rebrand their retail signage for the newly acquired Rent One stores.
FASTSIGNS presented solutions for exterior signs and channel letters lit with LEDs to spotlight Rent One's unique logo with the letter "R" that transforms into the number "1."
The team completed unique point of purchase displays inside that stand off the wall. To notify customers about their name change from Blue Ribbon Rental to Rent One, FASTSIGNS created banners to celebrate the unveiling of their logo. Rent One's brand identity campaign encompassed a sophisticated new look for all interior and exterior signs.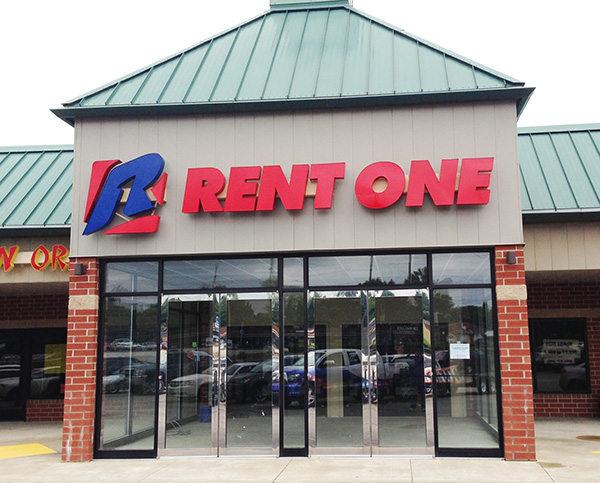 "Rent One wanted to safeguard brand integrity and efficiency in transformation," FASTSIGNS' Dan Stutzman remarked. "We worked with a building contractor to coordinate installation dates and quick turnarounds for each location."
The FASTSIGNS team rolled up their sleeves to solve the problem of dated vehicle graphics. With a team of four, FASTSIGNS removed and re-applied graphics on 29 vehicles in three states within one week. The debut of vehicle wraps included partial vehicle graphics, vinyl lettering with online promotions, and graphics with the company's tagline to accommodate the fleet of vans and box trucks perfectly.
The Result
FASTSIGNS unveiled a complete makeover for Rent One's retail environment to celebrate their grand opening. From permits to sign installations to fleet graphics, the successful completion of multiple branding projects was a direct result of FASTSIGNS' consistent communication and clear plan to help Rent One achieve their objectives of getting noticed and building awareness.
Steve Carrico, Vice President and Property Development Manager of Rent One, offered his kudos to the FASTSIGNS team for making his job substantially easier. "I really want to thank you all for the attentive and skillful completion of an incredibly successful project," Carrico remarked.
*FASTSIGNS® of Erie, Pennsylvania is owned by Dan and Naomi Stutzman.