As South Metro Denver mourns the loss of Kendrick Castillo and others who were injured after a student opened fire at STEM School Highlands Ranch on May 7, FASTSIGNS® of Englewood - Littleton, CO has joined efforts to support their devastated community. FASTSIGNS will be creating STEM Strong yard signs to support the students, teachers and first responders.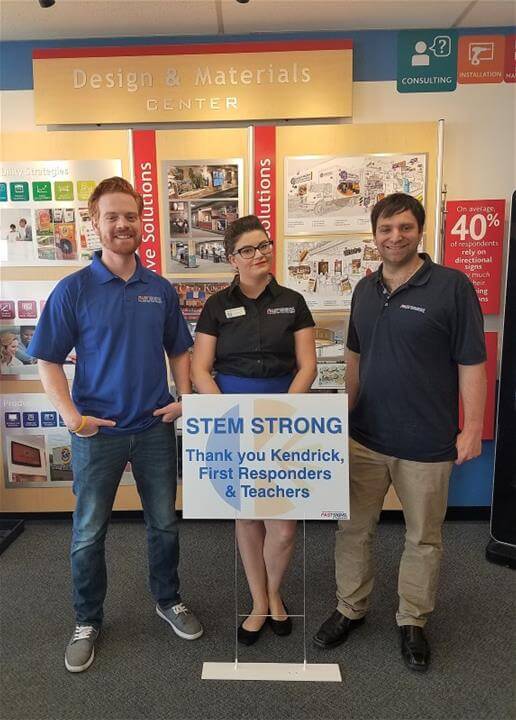 Emily Brandle, a local Douglas County School District parent and teacher, originally reached out to FASTSIGNS to purchase signs in an effort to support the community, and FASTSIGNS offered to donate the signs if people would be willing to donate to Kendrick's fund.
"I wanted to create a visual reminder to all of those involved and for our grieving community to show that we are forever grateful for their actions, their love, and for Kendrick's ultimate sacrifice," said Brandle. "It is my hope that this sign also serves as a reminder to our community to not become complacent in the days and weeks after this horrific tragedy and to fight for change."
These specially made signs will be available to the public starting Friday afternoon, May 10 at FASTSIGNS® of Englewood - Littleton, CO, located at 5124 S. Broadway. A suggested donation of $10 in the form of cash or check is requested for each sign. All funds collected will be delivered to Wells Fargo for Kendrick Castillo's memorial fund.
"As a Highlands Ranch resident myself, we are deeply saddened that a school was targeted for another act of violence. Our community is rallying around the students, teachers and families affected by this tragedy and around the first responders who were there to help," said Larissa Croll, Co-Franchisee at FASTSIGNS® of Englewood - Littleton, CO. "Kendrick, Brendan and Joshua are heroes for what they did and we're glad we could do something to help honor Kendrick's memory."
To hear Larissa Croll's interview with Evan Kruegel at KDVR news, visit the link here.
About FASTSIGNS
FASTSIGNS® of Englewood - Littleton, CO is a locally and independently owned and operated sign, graphics and visual communications company that provides comprehensive visual marketing solutions to customers of all sizes—across all industries—to help them attract more attention, communicate their message, sell more products, help visitors find their way and extend their branding across all of their customer touch points including décor, events, wearables, digital signage and marketing materials. To learn more, visit www.fastsigns.com/238 or call (303) 997-2050.