From face shields to social distancing signs, FASTSIGNS® of Englewood - Littleton, CO is helping others during pandemic
(ENGLEWOOD, Colo.) April 15, 2020—FASTSIGNS® of Englewood - Littleton, CO believes in supporting the community and fellow small business owners. In an effort to do this, the FASTSIGNS team has changed gears from selling just signs and graphics to fabricating new products to try to be as helpful as possible during these challenging times.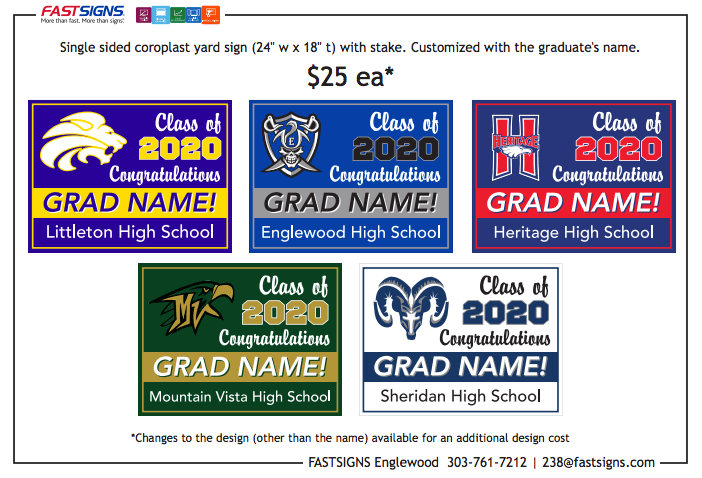 "The first thing we did when it became apparent that the normal way of doing business was going to have to change for local businesses was to offer a 25% discount off any COVID-19 related signage," said Larissa Croll, franchisee at FASTSIGNS® of Englewood - Littleton, CO. "We know that buying signs that say 'Our drive-thru is open' and 'Please maintain six feet of distance' isn't what people want to have to spend their money on right now. But we recognize that these signs are vital to businesses during this pandemic, so we're trying to help out in any way we can."
The team also spent time developing solutions to make face shields, desk shields and intubation boxes to assist essential workers as they go about their duties. Because these Personal Protection Equipment (PPE) items are all made from the same plastics typically used to make various signs and graphics, the FASTSIGNS team found the shift to be a natural one. Their shields and intubation boxes are now in use at several area hospitals and healthcare facilities and are being used by some in-home healthcare workers.
Alisa Hamel, Outside Sales Representative at FASTSIGNS® of Englewood - Littleton, CO, recently got the opportunity to share how FASTSIGNS is helping the community in an on-air interview on local radio station, Alice 105.9. In addition to discussing PPE and safety signage, hosts Slacker and Steve were thrilled to hear about the team's production of social distancing floor graphics for grocery stores and other essential retailers. To hear the entire interview, visit the link here.
Additionally, FASTSIGNS® of Englewood - Littleton, CO is now selling graduation yard signs for many of the local high schools and universities. With graduations and parties for the Class of 2020 cancelled, the team felt yard signage was a good way for Seniors to celebrate during this unprecedented year. Word has been spreading on social media, and the orders have started to go out the door.
"We are honored that we are able to help our community in these ways, and we are grateful for the kindness we have received from others," said Croll. "My hope is that we're able to make a difference, no matter how small, for local businesses, essential workers, and members of the community during these trying times."