Kevin Mengel receives Exton's Harold Martin Business Leadership Award
(EXTON, Pa.) October 11, 2016 – Kevin Mengel, owner of two FASTSIGNS franchise locations in Exton and King of Prussia, was honored with the 2016 Harold Martin Business Leadership Award presented by the Exton Region Chamber of Commerce.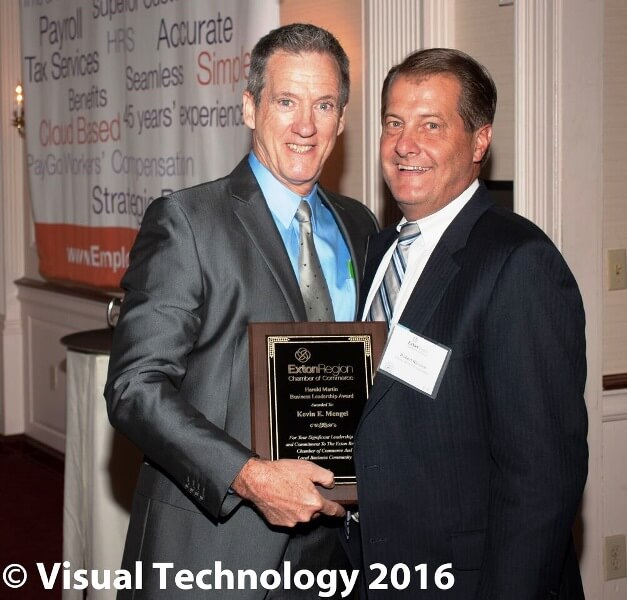 This annual award, named after "Mr. Exton" for his commitment to the region and its people, recognizes a business professional from the Exton region who has achieved a significant and acknowledged level of success and demonstrates leadership and a long-standing, unselfish commitment to improving the quality of life in the community.
"I am very honored and humbled to accept this award; it's a memory that I'll hold on to forever," Mengel said. "To me, this award represents community involvement. When I left the corporate world and had the opportunity to become an entrepreneur, one of the biggest benefits I experienced was being able to reconnect with my community, my neighbors, my friends and my family."
Mengel opened his first FASTSIGNS business in Berwyn in 1992 and quickly became involved in the community. He joined the Mainline Chamber of Commerce and founded a fundraiser to raise money for students unable to afford school, Dollars for Scholars. From 1994 to 1999, he served on the board of the American Red Cross of Chester County. In 2000, Mengel opened his second FASTSIGNS center in Exton and joined the Exton Region Chamber of Commerce, where he has been a member for 16 years and has served as Chairman of the Board twice.
In 2015, Mengel was honored with the Heart of FASTSIGNS Award, which recognizes his selfless generosity. When a fellow FASTSIGNS franchisee's business had burned down, Mengel opened up his doors so that the franchisee could continue operating and serving customers during the fire's aftermath.
"When I made the decision to open my own business, I was blessed to find a family with FASTSIGNS. At the time, there were only 125 FASTSIGNS family members, today there are more than 600," Mengel said.
About FASTSIGNS
FASTSIGNS is an independently owned and operated sign, graphics and visual communications company that provides comprehensive visual marketing solutions to customers of all sizes - across all industries - to help them attract more attention, communicate their message, sell more products, help visitors find their way and extend their branding across all of their customer touch points including décor, events, wearables, digital signage and marketing materials. To learn more, visit:
FASTSIGNS® of Exton, PA
(610) 822-9312
fastsigns.com/368
FASTSIGNS® of Exton, PA
(610) 822-9312
fastsigns.com/149
###