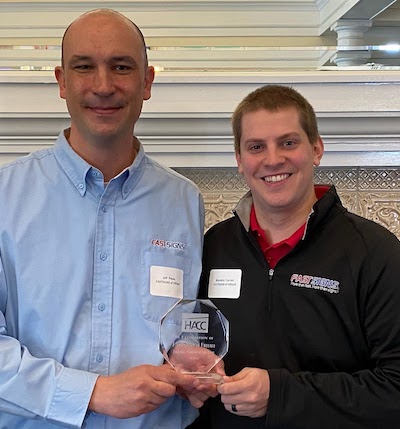 ​
(HILLIARD, OH) April 21, 2022 —FASTSIGNS® of Hilliard, Ohio, an established local sign and graphics provider, recently won the "Emerging Business of the Year-2022" presented by the Hilliard Area Chamber of Commerce.
The center was selected by a process that included analysis and comparison of all nominated businesses. The criteria for winning this local award included being in business less than five years in the Hilliard area, being a member of the Chamber, and showing business growth and community involvement.
"We are incredibly honored to receive this recognition, and we are thankful for loyal customers and business owners in the area who continue to believe in us and support us," said Jeff Pevec, General Manager of FASTSIGNS of Hilliard.
FASTSIGNS of Hilliard is located at 4469 Cemetery Road, Hilliard, OH 43026 and is open Monday through Friday from 9:00 a.m. to 5:30 p.m.
FASTSIGNS® of Hilliard is a locally and independently owned and operated visual ideas company. FASTSIGNS is an industry leader that began over 35 years ago and has over 750 centers in the U.S. and internationally. We celebrate the spirit of creativity and the power of possibilities. Working with FASTSIGNS can leave a lasting impression for your business. What we make together is a brilliant reflection of your brand, your personality…your statement.
FASTSIGNS is frequently recognized for franchisee satisfaction and through franchising awards which include being ranked #1 on Entrepreneur's Highly Competitive Franchise 500® List for the sixth consecutive year for 2022 as well as being named a 2022 Best-in-Category Franchise by Franchise Business Review.
Let us help you "Make Your Statement." Visit https://www.fastsigns.com/hilliard-oh/ or call 614.412.4152.
Contacts:
Jeff Pevec
FASTSIGNS® of Hilliard
614.710.1312
Jeff.Pevec@fastsigns.com