(CARROLLTON, Texas) — As 2017 nears completion, companies and organizations preparing for the new year should assess their current branding and visual communications to ensure consistency in both the goals and positioning of the company, and in the visual depiction of the brand in all of the places their messaging is being seen or heard.
"Successful brands convey who they are and what they do to their customers, prospects and employees,  and they do it in all of their interactions and visual touch points," said Catherine Monson, CEO of FASTSIGNS International, Inc. "To ensure that a brand is correctly represented based on a new strategy, an expansion in the product or service offering or other changes that have occurred, marketing leadership should regularly evaluate their visual communications to ensure that they reflect the brand in its current state, and then refresh, realign or rebrand as needed."
Tobin Restoration, a cleaning and restoration service company, decided to refresh their brand as part of their move to a new facility. A new, more modern and readable logo was developed and then applied to all of their exterior signage, company vehicles and marketing materials.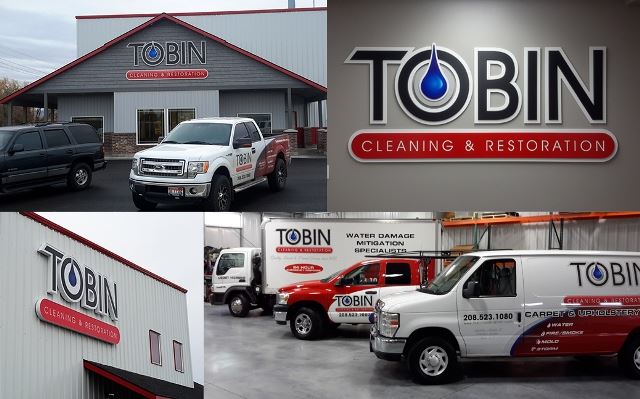 Faith Technologies also worked with FASTSIGNS® to create a strategic floor-by-floor visual plan to make their headquarters tour-ready and provide an engaging and educational customer experience.
FASTSIGNS recommends asking these starter questions when considering a refresh, realign or rebrand:
Do your signs and visual graphics reflect the brand you are today?
Do your signs and visual graphics tell a consistent story?
Does your competition look and market better than you do?
Are your employees proud of where they work?
Does your place of business invite prospects, customers and vendors to visit?
Refreshing a brand's graphics can provide new energy, especially for an organization whose brand visuals no longer best represent their current business. Creating graphic elements that can be extended to all areas of influence provides important visual brand consistency.
About FASTSIGNS®
FASTSIGNS International, Inc. is the largest sign and visual communications franchisor in North America, and is the worldwide franchisor of more than 660 independently owned and operated FASTSIGNS® centers in eight countries including the U.S., Canada, England, Saudi Arabia, UAE, Grand Cayman, Mexico and Australia (where centers operate as SIGNWAVE®).
FASTSIGNS locations provide comprehensive sign and visual graphic solutions to help companies of all sizes and across all industries attract more attention, communicate their message, sell more products, help visitors find their way and extend their branding across all of their customer touch points including décor, events, wearables and marketing materials. Learn more about sign and visual graphic solutions or find a location at fastsigns.com. Follow the brand on Twitter @FASTSIGNS, Facebook at facebook.com/FASTSIGNS or on LinkedIn. For information about the FASTSIGNS franchise opportunity, contact Mark Jameson at (214) 346-5679.