(Carrollton, TEXAS) — From the moment someone arrives on your property until the moment they depart, wayfinding signs and visual graphics help create a more productive, organized environment, quickly and safely getting people where they want to go. Effective wayfinding solutions provide information at various physical decision points, solving communications challenges.
"Wayfinding that is well executed and seamless provides intangible benefits many property managers and business owners may not realize," said Drue Townsend, Senior VP of Marketing. "Great wayfinding signs and graphics provide the right information in the right location at the moment of need, and can help staff be more efficient, allow people to successfully navigate through unfamiliar settings and communicate that a facility is organized and professional."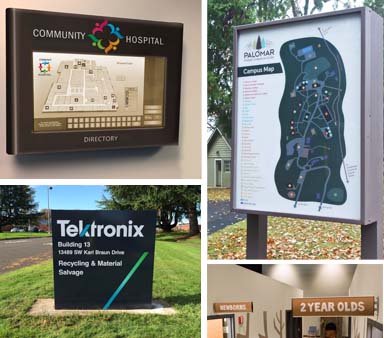 Outside, wayfinding signs should direct vehicle and pedestrian traffic, leading visitors and employees to clearly marked entrances. Inside, standalone directional signs or complete wayfinding systems can complement décor while helping people find their way.
Whether inside or out, companies and organizations need to ensure that their wayfinding sign program meets the Americans with Disability Act (ADA) specifications. From directing people to specific parking spaces to pointing the way to accessible entrances and exits, there are numerous wayfinding-related requirements for ADA compliant signage.
"You can guide people to their destination and create a better visitor experience by using well-planned wayfinding signs and visual graphics on walls, windows, pavements, floors, poles and beyond," said Townsend. "Successful wayfinding solutions get people where they need to go, eliminating confusion." 
About FASTSIGNS®
FASTSIGNS International, Inc. is the largest sign and visual communications franchisor in North America, and is the worldwide franchisor of more than 660 independently owned and operated FASTSIGNS® centers in eight countries including the U.S., Canada, England, Saudi Arabia, UAE, Grand Cayman, Mexico and Australia (where centers operate as SIGNWAVE®).
FASTSIGNS locations provide comprehensive sign and visual graphic solutions to help companies of all sizes and across all industries attract more attention, communicate their message, sell more products, help visitors find their way and extend their branding across all of their customer touch points including décor, events, wearables and marketing materials. Learn more about sign and visual graphic solutions or find a location at fastsigns.com. Follow the brand on Twitter @FASTSIGNS, Facebook at facebook.com/FASTSIGNS or on LinkedIn. For information about the FASTSIGNS franchise opportunity, contact Mark Jameson at (214) 346-5679.