(ST. LOUIS) — During the 2017 FASTSIGNS® Outside Sales Summit held August 17-19 in St. Louis, Missouri, FASTSIGNS franchisees and their employees, vendors and the FASTSIGNS International, Inc. corporate staff participated in the FASTSIGNS Community Giveback project to help the local St. Louis community by providing back-to-school care packages for children in need.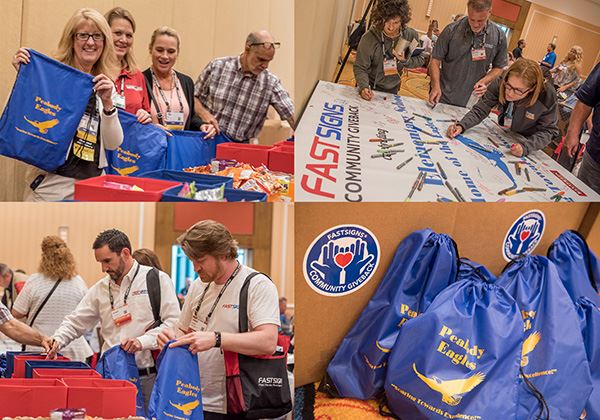 "The FASTSIGNS Community Giveback project is an opportunity for our meeting attendees, who came to St. Louis from locations across North America, to make a positive impact in the city we are visiting," said Catherine Monson, CEO of FASTSIGNS International, Inc. "We're truly honored to help bring joy to the students, families and faculty of Peabody Elementary.
Why this project to help Peabody Elementary? Over 5,000 students in St. Louis started the school year homeless. Peabody Elementary, located less than two miles from downtown and near where the FASTSIGNS Outside Sales Summit was held, serves a public housing complex with 250 economically disadvantaged students. Through the FASTSIGNS Community Giveback project, over 300 Outside Sales Summit attendees helped assemble care packages for the school. Each Pre-K through fifth grade student received a drawstring backpack filled with snacks, age-appropriate school supplies, a toy and a personal note of encouragement. Additionally, a large supply box packed with classroom necessities was given to each teacher.
"The staff and students of Peabody Elementary School are eternally grateful to FASTSIGNS for helping to make the beginning of the 2017-2018 school year a success," said Monica Miller-Seawood, Principal of Peabody Elementary School. "The personalized welcome back note cards completed by FASTSIGNS agents helped place huge smiles on our students' faces. The students were delighted to know they personally wrote encouraging words to them."
Thanks to the FASTSIGNS Community Giveback sponsors E.L. Hatton Sales Co./Banners Up, Miller Weldmaster, N. Glantz & Son, Grimco Inc. and Orbus for their generous contributions to raise $2,500 for the school items.
About FASTSIGNS®
FASTSIGNS International, Inc. is the largest sign and visual communications franchisor in North America, and is the worldwide franchisor of more than 660 independently owned and operated FASTSIGNS® centers in eight countries including the U.S., Canada, England, Saudi Arabia, UAE, Grand Cayman, Mexico and Australia (where centers operate as SIGNWAVE®).
FASTSIGNS locations provide comprehensive sign and visual graphic solutions to help companies of all sizes and across all industries attract more attention, communicate their message, sell more products, help visitors find their way and extend their branding across all of their customer touch points including décor, events, wearables and marketing materials. Learn more about sign and visual graphic solutions or find a location at fastsigns.com. Follow the brand on Twitter @FASTSIGNS, Facebook at facebook.com/FASTSIGNS or on LinkedIn. For information about the FASTSIGNS franchise opportunity, contact Mark Jameson at (214) 346-5679.