(CARROLLTON, Texas) —FASTSIGNS International, Inc., a leading sign, graphics and visual communications franchisor, held its annual International Convention in Phoenix, Arizona earlier this month.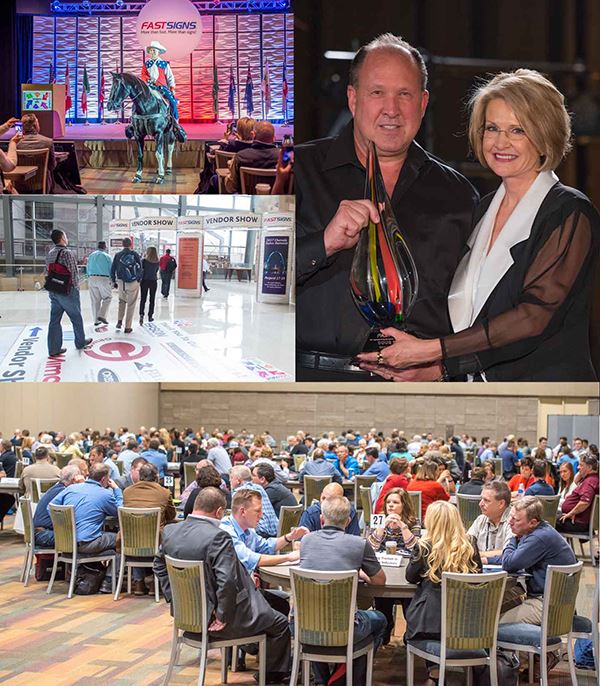 During the four-day "Pathways to More" event, FASTSIGNS® presented general session and classroom educational sessions, peer panels and roundtables, and heard from emerging business trend expert Seth Mattison, National Football League legend Joe Theismann, and Profit Mastery Chairman and Founder Steve LeFever.
"Attendees included 622 FASTSIGNS and SIGNWAVE® franchisees and some of their center team members from 335 different locations in seven countries, making it the largest gathering in our 31-year history," said Catherine Monson, CEO of FASTSIGNS International, Inc. "Our convention is a time to celebrate the amazing achievements of our network, provide educational and networking opportunities, and get people excited about all they can accomplish this year."
Highlights from the convention included:
2016 system-wide sales reaching a record $450,000,000.
126 FASTSIGNS/SIGNWAVE centers exceeding $1 million in annual sales, including 13 centers exceeding $2 million in annual sales, three centers exceeding $3 million in annual sales and three centers exceeding $4 million in annual sales.
Learning that FASTSIGNS International, Inc. was ranked #1 in the Sign and Graphics category and #95 overall in Entrepreneur magazine's Franchise 500
The FASTSIGNS Award, which recognizes the franchisee who best represents the FASTSIGNS name in both the business community and within the FASTSIGNS network, was awarded to Doug Brauer (who has locations in both Appleton, Wisconsin and Green Bay, Wisconsin).
The Wide-Format & Signage/FASTSIGNS Project of the Year was presented to Jon Toy, owner of FASTSIGNS of York, Pennsylvania, for his Penn State York project.
The 76,500-square-foot FASTSIGNS vendor show included 176 vendors, and students from Arizona State University's Print and Imaging Lab program were invited for a tour of the otherwise private FASTSIGNS vendor show.
Grimco, a national wholesale sign supply company with coast to coast locations, was named FASTSIGNS Vendor of the Year.
Five franchisees were selected by other franchisees to be honored for their local charitable initiatives in FASTSIGNS' first internal "Show Us How You Care" contest.
About FASTSIGNS®
FASTSIGNS International, Inc. is the largest sign and visual communications franchisor in North America, and is the worldwide franchisor of more than 650 independently owned and operated FASTSIGNS® centers in nine countries including the US, Canada, England, Saudi Arabia, UAE, Grand Cayman, Mexico and Australia (where centers operate as SIGNWAVE®).
FASTSIGNS consultants provide comprehensive visual marketing solutions and help companies of all sizes and across all industries attract more attention, communicate their message, sell more products, help visitors find their way and extend their branding across all of their customer touch points including décor, events, wearables and marketing materials. Learn more about sign and visual graphic solutions at fastsigns.com. Follow us on Twitter @FASTSIGNS or Facebook at facebook.com/FASTSIGNS. Call 800-FASTSIGNS to be connected to a location near you. For information about the FASTSIGNS franchise opportunity, contact Mark Jameson at (214) 346-5679.