(EVERETT, Wash.) – Under the new ownership of Daniel Jolly; his wife, Christi Jolly; and his father, David Jolly, FASTSIGNS® of Everett will relocate to a larger facility located at 2802 Colby Ave., in the heart of downtown Everett between Hewitt Avenue and California Street.
Daniel Jolly acquired the local sign and visual graphics company earlier this year. He also owns and operates an existing photography business, Clear Image Frame and Photo. While studying photography during college, he worked at Clear Image's facility in Lynnwood, Washington.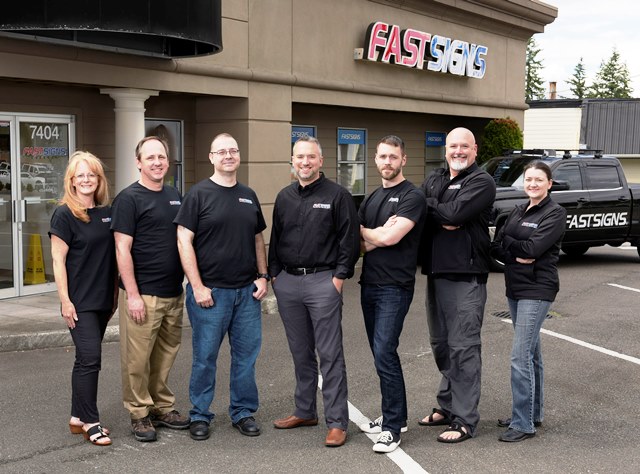 In 2009, he took ownership of the business and its three locations. He also serves on the board of directors of the Independent Photo Imagers, a national organization that aims to connect and support business owners in digital, print, photo, signage, graphics and art.
"While we are still fairly new to FASTSIGNS, we are not new to the visual communications industry," Daniel Jolly said. "With our experience in imaging, displays and commercial printing, we saw a big opportunity to expand into signage and visual graphics. By acquiring FASTSIGNS of Everett, we continue to deliver thoughtfully-designed visual comminutions solutions that help customers reach their goals and grow their business."
FASTSIGNS of Everett has served businesses and organizations in the area since 2005. The company provides a wide range of custom signs, graphics and visual marketing solutions including wall, window and floor graphics, dimensional letters, trade show displays, ADA-compliant signs, wayfinding solutions, digital signage and content creation, vehicle decals and more.
"We're excited about the many opportunities Everett has to offer—not only for growing our FASTSIGNS franchise business—but also helping other local businesses get their message out in the community and reach their full potential," Jolly said. "Our new location will not only be more easily accessible for our customers, but it has an improved layout for our design and production team."
FASTSIGNS of Everett will officially relocate in August 2017. Until then, it is in full operation at its current facility located at 7404 Evergreen Way, Suite A. The business is open Monday through Friday from 8:30 a.m. to 5 p.m. and can be reached at (425) 438-9350.
About FASTSIGNS®
FASTSIGNS® of Everett is an independently owned and operated sign, graphics and visual communications company that provides comprehensive visual marketing solutions to customers of all sizes—across all industries—to help them attract more attention, communicate their message, sell more products, help visitors find their way and extend their branding across all of their customer touch points including décor, events, wearables, digital signage and marketing materials. To learn more, visit fastsigns.com/471 or call (425) 438-9350.