(MOORESVILLE, N.C.) —Husband and wife team Div and Aditi Bhingradia recently opened a new FASTSIGNS® location in Mooresville, North Carolina, providing a wide range of sign and visual graphics. They celebrated their grand opening with a ribbon cutting ceremony on Oct. 5 with the Mooresville-South Iredell Chamber of Commerce.
"Mooresville and the surrounding areas are seeing a lot of growth and we are thrilled to be a part of such a vibrant community," said owner Div Bhingradia. "At FASTSIGNS of Mooresville, our goal is to provide the right visual communications solutions to help businesses and organizations reach their goals. Every customer has a unique challenge or need, and we are here to help."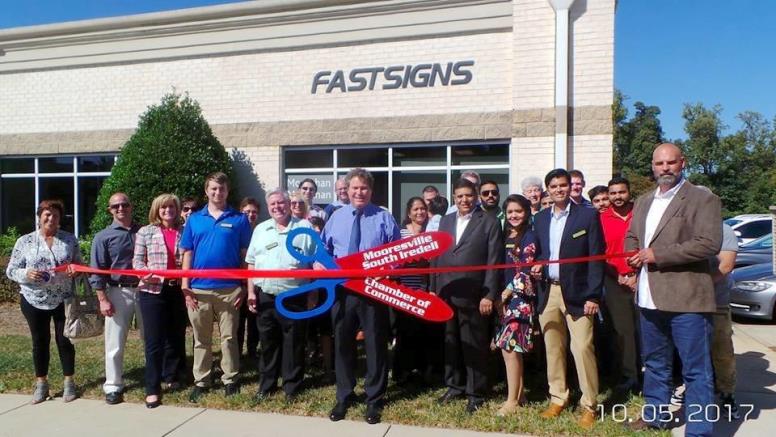 Prior to opening FASTSIGNS of Mooresville, Div owned another small business for 10 years and is passionate about delivering exceptional customer service. Div's wife, Aditi, serves as the center's customer service manager. Tom Schnaidt is the center's sales manager, bringing over 20 years of experience. And Brent Kiker is the center's creative graphic designer.
"With our talented team and advanced production equipment, we can manage all aspects of our client projects—from initial consultation to design, production, delivery and installation," Div said.
FASTSIGNS of Mooresville is located at 132 Joe Knox Ave. and is open Monday through Friday from 8 a.m. to 5 p.m. The team can be reached at (704) 360-3805.
About FASTSIGNS®
FASTSIGNS® of Mooresville is a locally and independently owned and operated sign, graphics and visual communications company that provides comprehensive visual marketing solutions to customers of all sizes—across all industries—to help them attract more attention, communicate their message, sell more products, help visitors find their way and extend their branding across all of their customer touch points including décor, events, wearables, digital signage and marketing materials. To learn more, visit fastsigns.com/2174 or call (704) 360-3805.